How 'Builder Incentives' Can Get You a Deal in Today's Tough Market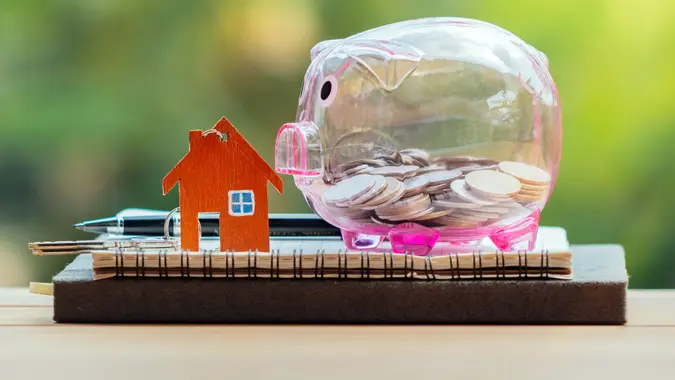 Nednapa / iStock.com
Anyone on the market for a new home knows the search can be a depressing one, marked by sky high prices, historically low inventory and mortgage rates that have doubled since last year. But easing mortgage rates and prices, along with home builders use of popular sales incentives, have helped to boost new home sales so far this year.
Housing Market 2023: Prices Are Now So High That Banks Are Losing Money on Mortgages
Learn: How To Build Your Savings From Scratch
According to Axios, in February, the three biggest homebuilders in the U.S. — D.R. Horton, Lennar and Pulte — all celebrated their highest stock prices in a year, largely due to incentives like mortgage buydowns, reduced or free house options or upgrades and covering closing costs.
As Realtor.com explains, "Builder incentives are promotions offered by developers that, much like a coupon, cut the cost of purchasing property in that community. Incentives are increasingly common today to entice cash-strapped buyers to make an offer, yet these discounts aren't always as simple as a straight price cut."
Make Your Money Work for You
While price cuts are used to lure buyers (the average price reduction has remained around 6% for the past four months), more common are offers to help reduce financing costs, like buying down interest rates and paying off some or all closing costs.
Mortgage buydowns can save buyers anywhere from a few thousand dollars on a two-year term (perhaps with the hope of refinancing once market quiet down) to tens of thousands of dollars on a 30-year mortgage, depending on the rate, price and down payment.
Per Axios, Lennar has offered fixed-rate mortgages at around 5% to new buyers and Pulte has offered 30-year fixed rates as low as 4.25%.
The type of incentive on offer will depend on what the builder thinks is most appropriate for the development and buyer, says Bob Seeman, vice president of sales, new homes at Realtor.com.
"For example, if the economy is struggling, lower interest rates and cash at close may help buyers qualify that would otherwise be unable to afford a particular community," says Seeman. "If it's a high-end community, then property upgrades are more likely to be a successful incentive."
Make Your Money Work for You
As Realtor.com states, financial incentives are handled through the builder's preferred lender. Bringing in your own lender will negate any builder incentive but you might be getting a better rate from your institution anyway. New buyers need to compare what the builder is offering and what agreement they can close with a lender and always need to read the fine print for conditions in the case of a builder incentive house purchase.   
In January 2022, the supply of homes for sale in the U.S. reached a record low. Not keeping up with the demand of an increasing population wanting to buy (particularly millennials), the predominance of institutional investors (companies that buy large amounts of inventory for profit) and homeowners' reluctancy to sell when locked into mortgages with rates far below today's levels (as of May 11, Freddie Mac has the 30-year fixed rate at 6.35%) all influenced the current housing shortage in real estate.   
With respect to this last factor, Redfin states that 85% of homeowners with mortgages have a rate below 5%, which has discouraged many from moving and taking on a higher monthly housing costs. That's where new builders, with incentives in hand, are coming to the rescue.
Sales of new single-family homes increased almost 10% in March, per the Department of Housing and Urban Development and the Census Bureau and as USA Today notes, 33% of homes listed for sale in March were new homes in various stages of construction (compared to an average of 13% between 2000 to 2019).
Make Your Money Work for You
According to the National Association of Home Builders (NAHB), 57% of builders offered some kind of incentive in February. In November, the NAHB reported that 29% of builders paid closing costs or fees, 27% offered options or upgrades at no or reduced cost, 26% paid to reduce the buyer's interest rate temporarily and 24% paid to reduce the buyer's interest rate permanently.
It's anyone's guess whether home prices will rebound this year, but when it comes to saving a thousands of dollars on a new home or securing a rate or upgrade incentive from a builder, potential buyers might need to make haste or miss out. According to Seeman, this period of sales incentives may not last long.
Take Our Poll: Are You Planning To Buy or Sell a House This Year?
Explore: These Are the 10 Most Overpriced Housing Markets in the US — 5 Are in Florida
"You'll notice most of the incentive programs are time-boxed in order to give builders as much flexibility as possible to adapt and adjust incentives depending on market conditions," says Seeman. "As a result, if a buyer is ready to move, we recommend grabbing a good incentive when they see it."
Make Your Money Work for You
More From GOBankingRates
Make Your Money Work for You