How ChatGPT Can Help You Save Money on Home Renovations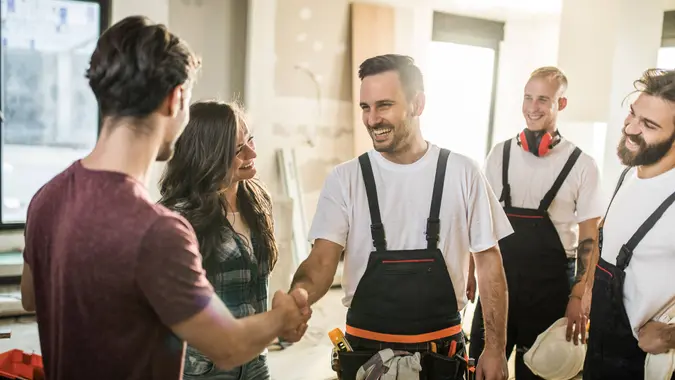 skynesher / Getty Images
ChatGPT is making headlines seemingly every day regarding its AI capabilities. By asking ChatGPT just a simple question, people across the world are getting easy-to-read information about nearly any topic imaginable, including how to save money on home renovations.
While ChatGPT can't provide all the answers — and you'll definitely want to verify the information you receive — it can certainly give you a head start and point you in the right direction. Here are the specific things ChatGPT can save you money on when it comes to home renovations, along with suggestions as to how you can make the AI's answers even more valuable.
Giving You an Overall Cost Estimate
If you have no idea what your home renovations are going to cost, ChatGPT can at least give you a ballpark range for what to expect. For example, if you ask ChatGPT how much it will cost to replace your kitchen, you might get a generic range of $10,000 to $20,000.
This won't be much help if you're making a specific budget and looking to nail down every penny. However, if you're just starting out, it can put a reasonable range in your head.
Pricing Specific Items
If there's information available on the internet about the price of specific items, ChatGPT can help you there and possibly save you money in the process. For example, if you're looking for the price of a specific type of cabinet, an electrical part or a countertop slab, ChatGPT may be able to find it for you (provided that suppliers list this information somewhere on the internet).
Make Your Money Work for You
It can also tell you which type of flooring tends to be more inexpensive, for example, or which type of tile fits into your budget.
Locating the Right Specialists or Workers
If you've never renovated a home before, you might be unaware of all the different types of workers or specialists you might need. Depending on your project, you might need to hire everyone from an architect and an engineer to a drywall specialist, a painter, a plumber, an electrician and more.
Overlooking any of these specialists could result in the delay or even failure of your project, so having a list of what you need ahead of time is a good strategy. This is an area in which ChatGPT can excel, as there's not a lot of human interpretation needed to choose the type of professional you will need for your job.
Estimating a Timeline
One place where ChatGPT can shine is in giving you a basic framework for your house renovation project as a whole, including your timeline. This is because there are plenty of home renovation plans available on the internet, and the AI can collect information from all of these real-world plans and advise you as to a general timeline.
Since costs can vary dramatically from the type of your project to your taste to your location, pricing details might not be as accurate using ChatGPT. But timelines are more or less universal, given some specific variables, so the information ChatGPT provides can be more accurate.
Caveat: Verify, Verify, Verify
Regardless of how valuable the information you get from ChatGPT seems, remember that you should always verify it with a second or even third source. Regardless of the way many people think of "artificial intelligence," ChatGPT isn't actually "intelligent," in terms of thinking and creating on its own. It can collect information and present it in an intelligent manner, but it doesn't have the capacity to analyze the information it collects or interpret it in any way.
Make Your Money Work for You
Essentially, it functions as a search engine on steroids, looking up information about the questions you ask and presenting the results that come up. In that sense, you should only "trust" ChatGPT the same way you would a Google search. While it can point you in the right direction and even teach you some things, you'll want to do some legwork on your own to find out if the information you're reading really applies to your home renovation situation.
So, Can You Really Save Money on Home Renovations Using ChatGPT?
The real answer to this question is both yes and no. ChatGPT is a source of information that you can use to help guide your home renovation project. In that sense, it can give you an idea as to what to expect in terms of making a budget and creating a timeline.
However, if you have more expensive tastes, refuse to follow a budget, or live in an area where ChatGPT can't get reliable pricing information, the AI can't really help you in terms of saving money. If you think of ChatGPT as what it really is — a compiler and presenter of information it collects from the internet as a whole — it can't really "save" you money. But it can certainly save you time, and it can possibly present you with lower-cost options that you can select to keep more money in your pocket when it comes to your home renovation.
More From GOBankingRates
Make Your Money Work for You