How To Predict Costs for Your Annual Home Renovations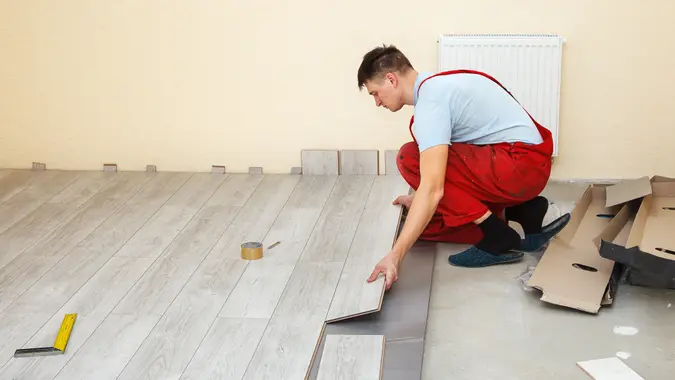 ©Shutterstock.com
It's no secret that home renovations entail a lot of time — and a lot of money. Whether you're dreaming of a new kitchen or want to remodel your bathroom, experts agree you will need to conduct thorough research on the extent of the project and the cost, as it will probably take a good chunk of money out of your savings.
Indeed, homeowners are spending a lot on home maintenance. A new GOBankingRates survey found that almost 20% of respondents spent more than $7,000 last year on home renovations, with 12% spending $7,001 to $10,000 and 8% spending more than $10,000.
"It's not the answer most people want to hear, but you have to really do comprehensive and realistic research, including not just the cost to do the work and the materials but also any permits, inspections and other administrative costs that can get very pricey," said Bobbi Rebell, founder of Financial Wellness Strategies and author of "Launching Financial Grownups: Live Your Richest Life by Helping Your (Almost) Adult Kids Be Everyday Money Smart."
There are a few steps you can take to try to predict the costs of a renovation, which might help your budget.
Research and Gather Quotes
First and foremost: Compare. Indeed, one of the most reliable ways to get an accurate estimate of your annual home renovations is to get multiple quotes from contractors or professionals, said Paul Brundell, CEO and founder at Brundell Property Group and Kosy Living. 
"When you do this, I'd advise asking for very detailed predictions, outlining the cost of the materials, labor and any additional expenses," Brundell said. "Try to source these professionals from your local area, as there may be costs that are due to your location's access, materials and businesses."
Make Your Money Work for You
Take Our Poll: Are You Planning To Buy or Sell a House This Year?
You can research the average costs of various renovation projects in your area by consulting online resources, speaking with local contractors and visiting home improvement stores, said Joseph Catanzaro, CFP and financial advisor at Oak & Stone Capital Advisors.
"Gathering quotes from multiple contractors or professionals for specific projects can provide a more accurate estimate of costs," Catanzaro said.
Consult With Professionals
By seeking advice from professionals, such as architects or experienced contractors, you might more accurately be able to predict the cost of renovations, Catanzaro said.
"Professionals can provide insights into the specific requirements, potential challenges and associated costs of the project, ensuring a more accurate prediction," he added.
Set a Realistic Budget
Before starting any renovation project, you should establish a realistic budget based on your financial capabilities. By setting a budget, you can prioritize essential renovations and find cost-effective solutions to stay within your financial limits, Catanzaro said.
Another tip is to ask the contractors to quote you for a turnkey project and then for labor only. 
"There could be added costs for demolition, which could be removed if you are willing to do some of the prep work yourself, allowing you to save upward of $10,000, depending on the scope of the project," explained Eddie Karram, CEO and founder at Bellareed Luxury Pools.
Consider DIY or Partial DIY
Catanzaro added that homeowners can save money by taking a DIY approach for certain renovation tasks.
Make Your Money Work for You
"Simple projects like painting, installing light fixtures or landscaping can often be done without professional help," he said. "For more complex projects, homeowners can choose to do certain tasks themselves, such as demolition or cleanup, and hire professionals for specialized work, thus reducing labor costs."
Another option is to oversee the renovation yourself, Karram said, and cut the general contractor fee by working with the trades directly. 
"This could eliminate on average 10% of the total cost," he said.
By buying the material yourself, you can save on the markup the contractor would add if he were to purchase on your behalf, which could eliminate 15% of the total cost, Karram said.
Know Which Renovations Are Costlier
"As renovations go, kitchen work is the Big Kahuna. They can add a lot of resale value to a home, but it's easy for the costs on such an upgrade to run amok," said Peter C. Earle, economist at American Institute for Economic Research.
High-end materials, appliances and fixtures can dramatically increase the price, explained Greg Batista, engineer, contractor and owner of G. Batista Engineering and Construction in Ft. Lauderdale, Florida. "However, these renovations also have high returns, as updated kitchens and bathrooms are a top selling point for potential buyers."
Bathroom renovations can be expensive for the same reason as kitchens, experts said.
"The plumbing, tiling and cabinetry involved often require high-quality materials to make them more durable," Brundell said. "The installation of fixtures pushes up the cost, too, and luxurious elements such as walk-in showers and high-end finishes all make this type of renovation particularly expensive."
Finally, basement conversions are also high on the list of expensive renovations, as basements often need waterproofing and insulation, Brundell said.  
More From GOBankingRates