I'm an Insurance Agent: Here's How Creating a Home Inventory Can Save You Thousands When Disaster Strikes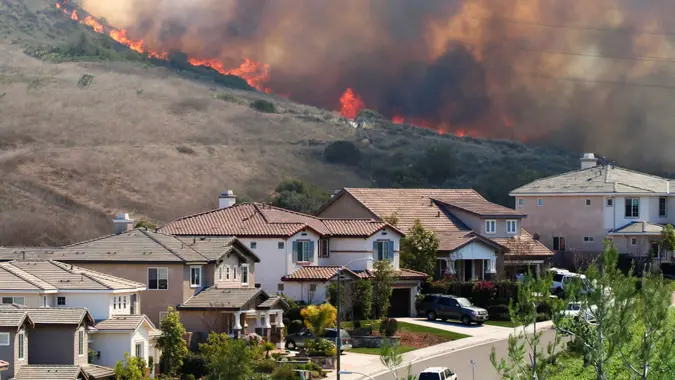 f00sion / Getty Images
Nobody likes to think about disaster striking their home — whether it's a wildfire, theft, flood or something else — but being prepared is the best way to mitigate damage and make sure you can recover as quickly as possible.
One important strategy for homeowners and renters alike is to create a home inventory, something that will speed up the claims process if a disaster does happen. This could help you recoup between hundreds and hundreds of thousands of dollars, depending on the value of your home and what's in it.
GOBankingRates spoke to Matthew Davis, an insurance agent with GDI Insurance Agency in Turlock, California, to discuss how to create a home inventory — and why it's so important.
The Purpose of a Home Inventory
"From an insurance standpoint, the purpose of a home inventory is so you have a record in case of the worst-case scenario and you lose everything through wildfire, earthquake, flood, or massive theft," Davis said.
While this might seem obvious, people often think they will simply remember what they have — but they won't. Davis advises, "People should not trust their memory! Let say it's a total fire loss for your home — you'll have so much you're worried about such as shelter, rebuilding, getting your kids to school, etc."
While insurance policies do run on a fair amount of "good faith" even without an inventory, meaning things that are reasonable for people to have, Davis said anything outside of the norm absolutely needs to be inventoried and listed. "So expensive electronics, clothing, designer handbags, or jewelry should be listed on your policy," Davis said.
Make Your Money Work for You
The perks of having done an inventory is that insurance companies will "pay you a bigger chunk up front, which will keep you from having a cash flow pinch."
How To Do a Home Inventory
Though a home inventory sounds like an exhausting thing to do, rest assured — you don't have to write down every single item in your home. Instead, Davis recommended, "Go through your home with your smartphone and take a video recording of every wall in the house, even inside drawers and closets."
You can also take photographs using a smartphone or camera, but sometimes photo quality is not as clear as video. Additionally, he advised going slow when making your video so that every item can be clearly seen. You may also want to update your inventory every few years if you've purchased anything new of significant value, such as furniture, electronics or appliances.
The Value of a Homeowner's Policy
Unless you've got truly irreplaceable and expensive items in your home, Davis said that a standard homeowners' policy "gives quite a bit of coverage," as much as $350,000. Most of the time, in his experience, clients don't come anywhere near the full limit. A renter's policy, on the other hand, will not be as robust, but it often doesn't need to be.
While insurance companies don't account for inflation in policies, what they will do is replace items at today's market value. "So if you have a four-year-old TV, the insurance company isn't going to buy you a four-year-old TV, they'll replace it at today's value," he said.
Make Your Money Work for You
Unusual, Heirloom, Collectible or High-Value Items
If you have items that are above and beyond what insurance companies consider reasonable — such as fine art, collectibles, high value jewelry, silverware, fine China, designer clothing, firearms and so on — you want to make absolutely sure these are inventoried. Beyond that, you should also consider having several other back-ups, including appraisals and proof of purchase.
"When you're doing that inventory, send a list with values in email to your insurance agent, and have them look at it and make sure there's no limitation on it in your policy," he advised. "Some things, like jewelry, fine art and firearms have a limit per item."
If the value of your items goes above your coverage, you can add on additional coverage. The way to find out is to check your insurance policy's "contents coverage" clause to see what the limits are.
"The whole philosophy behind a homeowner's or renter's insurance policy is to make your whole and replacements should be of like kind and quality. But your insurance company won't know what's missing."
While Davis said he doesn't believe in "nickel-and-diming to get every penny out of the policy," he does feel it's important to be compensated for what you truly had. "No one cares about a couple packages of paper plates, but a set of silverware handed down might be a big deal."
Don't Think It Can't Happen
While the actual percentage of people who need to take advantage of one of these policies in a disaster is quite low, Davis cautioned, "If you think you have a 5% chance of losing tens of thousands losing property, why not take a few minutes to document what you have?"
Make Your Money Work for You
Lastly, he pointed out that your agent or broker is a resource. "They receive a commission for your policy to help the policy holder. They can always give you a quote to increase or add coverage and you don't always have to take it."
More From GOBankingRates