7 Ways To Save Money on Moving Expenses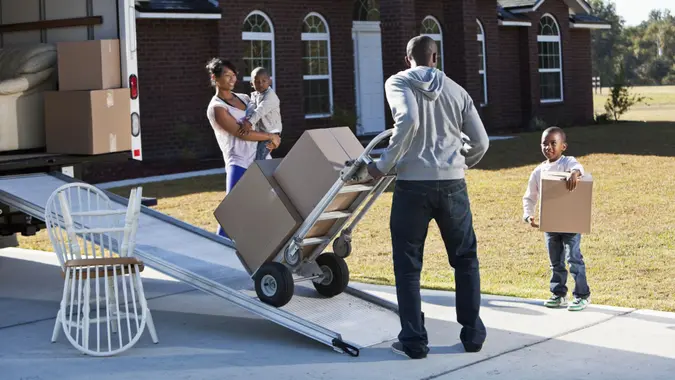 kali9 / Getty Images
Moving, whether you're leaving a space as small as a studio apartment or as big as a five-bedroom house, is a time-consuming, expensive process for everyone involved. Most will do their best to streamline the moving process and keep it fairly inexpensive. However, it's not uncommon for last-minute expenses to creep up like needing to buy extra boxes or realizing you may need to enlist the help of professional movers. 
Save More: Unplug These Appliances That Hike Up Your Electricity Bill
Related: 3 Ways Smart People Save Money When Filing Their Taxes
If you're planning to move this year, the best strategy is to prepare in advance and look into every option available for cutting moving costs. These tips will help save money on overall moving expenses.
Review Moving Insurance Options
Depending on how far away you're moving and the way you're packing up your belongings, you might not think about investing in moving insurance. Mike Glanz, founder of HireAHelper, recommends not overlooking options such as the following moving insurance types.
Make Your Money Work for You
Standard Repair Coverage Insurance
Glanz said this is the most basic and common form of moving insurance. However, it may not be ideal for those moving expensive possessions. 
"This level of insurance only offers $0.60 per pound per item towards replacement or repair," Glanz said. Using the example of someone moving a $500 TV, which is accidentally dropped and broken by their movers, Glanz said they would only receive $18 to cover the costs. 
Full-Value Replacement Coverage
This is another insurance offering available from most moving service providers. Glanz said it covers the full value of every item listed in your inventory. This type of coverage is usually available as a paid upgrade, but Glanz said it's relatively cheap.
Take Our Poll: What Are Your Financial Priorities in 2023?
Think About the Season When You're Moving
Several factors impact the cost of a move including distance, overall weight and season. 
The peak moving seasons, Glanz said, are spring and summer. As a result, moving companies will have higher pricing than they would in off seasons like fall and winter. Those planning to move this year may try to schedule their move for the fall months to find affordable moving prices. Ryan Carrigan, co-founder of moveBuddha, said those who move during the off-season will avoid the 20% to 30% premium usually charged by moving companies during busy summer months.
Make Your Money Work for You
Try a Hybrid Moving Approach
Those planning to move don't necessarily need to hire an expensive full-service moving company to get where they need to go. A cheaper option, Glanz recommends, is choosing to hire hourly movers to load and unload a rented moving truck that you can drive yourself. 
"Using this hybrid moving approach — part DIY and part full-service — means a move normally costing $2,600 can be done for $800," Glanz said. 
Be First on the Schedule
Some who are moving may not be able to utilize a hybrid moving approach and will require a full-service moving company. If you find this matches your situation, Carrigan recommends scheduling your move to be one of the first that day.
"Moving companies usually schedule two to three moves per day for each crew," Carrigan said. "Book your move for the earliest time slot so the movers are fresh and not tired yet. They'll complete the move faster, which will save you money, and the crew is less likely to damage items."
Shop Around
Planning to work with a moving company? Don't settle for the first option that pops up in a Google search. Shop around and get at least three to four quotes from moving companies, Carrigan said. The more quotes you can get, the better idea you'll have of the pricing and how to properly budget for it.
Make Your Money Work for You
Pay Attention To How You Pack Fragile Items
Poorly packing fragile items can result in damage to priceless materials costing a significant amount of money. Carrigan recommends those planning to move with the help of a moving company follow the mover's packing standards. This does more than protect priceless items. It can save you from paying expensive fees incurred by poor packing practices.
"We often see people pack these items improperly, only to be charged a lot in packing fees when the movers have to repack them on moving day," Carrigan said.
Don't Buy Boxes
It's not uncommon to see people dashing to supply stores and purchasing extra boxes for their move at the last minute. 
Glanz recommends avoiding this expense by searching marketplace platforms, like Facebook Marketplace or Craigslist, to see if any free boxes are available. Those active on Nextdoor may also post to see if anyone in the neighborhood has free boxes they can use for moving purposes.
More From GOBankingRates
Make Your Money Work for You