Planning a 2022 Wedding? Here's How Inflation Will Affect Your Budget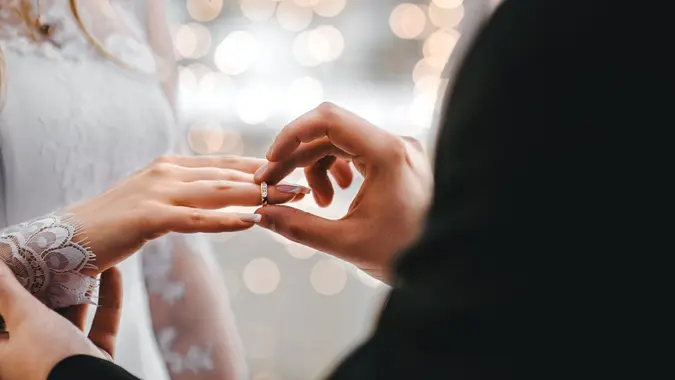 KirylV / Shutterstock.com
If you got engaged over the holidays, you may now be planning a 2022 wedding — and you should be prepared to spend more than usual for weddings in the coming year. According to wedding industry pros, inflation is affecting the costs of most aspects of a wedding, from the venue to the vendors.
Here are the wedding expenses that will be more costly in 2022.
Florals
"Flowers have always been in high demand, but the flower industry has also been hit hard by inclement weather," said Yaz Quiles, owner of Pop! By Yaz, who has been featured on HGTV's "Table Wars." "Combine that with the challenges of COVID and you have a recipe for increased prices and limited availability across the board. Couples will have to plan ahead, order well in advance and be flexible with their choices."
Quiles says it's worth it to enlist a professional to help you get the best deals on flowers for your wedding.
"Working with a wedding planner or professional florist will help you navigate adhere to your budget and timeline," she said.
Still, many florists are having to charge more due to the increased cost of supplies.
"The prices of flowers and supplies like vases have risen so much this year," said Carolyn Kulb, owner of Folk Art Flowers. "Some types of flowers have doubled in price since 2020. Otherwise, we are looking at around 15%-20% inflation as a baseline for flowers and supplies. This is all assuming we can obtain the things we need. Right now, we are waiting anywhere from two to six months for some of the vessels, candleholders, etc. we need for our weddings, because of the supply chain. There was also a white flower shortage in the fall this year which led to three- to six-times increases in prices! It's been wild. Since we book people up to a year in advance, this means we have been eating inflation costs this year. Many florists are now incorporating flower price changes into their contracts so that if a specific flower increases in price, the client agrees to pay the difference or allow for a lower-cost substitution."
Make Your Money Work for You
Venue
The venue is typically one of the largest wedding expenses, and in 2022, couples can expect to spend even more of their budget on the event space.
"As a planner, I see fees increase annually, but this year couples can expect these fees to increase exponentially — think 20%-40% due to high demand, staff shortage and supply chain delays, especially for outdoor venues," Quiles said. "Venues also see this as a perfect opportunity to make up some of that revenue that they lost out on the year prior."
Entertainment
Many bands and DJs will be charging more this year due to a variety of factors, said Ivan Moore, a professional wedding DJ and owner of Synapse Entertainment.
"In my DJ world, gas prices are one factor that has me raising my prices," Moore said. "I drive thousands of DJ-related miles per year for events, meetings and site visits. Since I have to pay more for gas, my expenses go up and that cost gets passed on to the customer. Equipment is another area where rising costs will get passed down. Most DJ companies are constantly evaluating their current equipment and seeing if anything needs to be replaced. In the past year, I have upgraded some lighting, speakers and my ceremony audio setup. The prices for equipment, if it is even available, have definitely increased. These costs get passed on the customer."
Make Your Money Work for You
Event Rentals and Decor
Marie Kubin, CEO of Rent My Wedding, which rents out event supplies such as lighting set-ups and photo booths, said that she and similar vendors will be raising their prices due to increased labor and supply costs.
"Labor costs are being affected most by inflation," she said. "This translates to increased costs for almost all wedding services. At our nationwide wedding company, labor costs have gone up by 33%. We found that after the pandemic lockdowns, we were unable to hire new employees at the same rates. We had to increase our pay rates by 33% in order to fill open positions."
Wedding decor has also become more expensive.
"This is due to product shortages and supply chain issues," Kubin said. "For example, our cost has increased by 26% from our wedding lighting supplier, not to mention the lead time to receive a new order is now three to six months instead of three to six days."
In many cases, these increased costs will be passed on to the couple.
Catering
"The vendors whose prices are increasing the most due to inflation are those that have the most cost inputs, such as food costs for caterers," said Kim Hefner, wedding photographer and owner of Wild and Found Photography.
Laura Maddox of Magnolia Events & Planning said that cost of food and supplies for caterers may increase by as much as 30%, which is then passed on to the clients.
How To Stay on Budget in 2022
"Today's weddings have become more elaborate with an enormous number of details," Quiles said. "These can make the day special, but those small details can easily add up — and usually are not appropriately budgeted in advance. If a couple is on a budget, I recommend allocating the bulk of the dollars on key items such as venue, catering and content capture. Couples should be more discerning on their other selections that may be nice but not mandatory, while keeping the guest experience top of mind."
More From GOBankingRates