Most Scenic Proposal Spots in Every State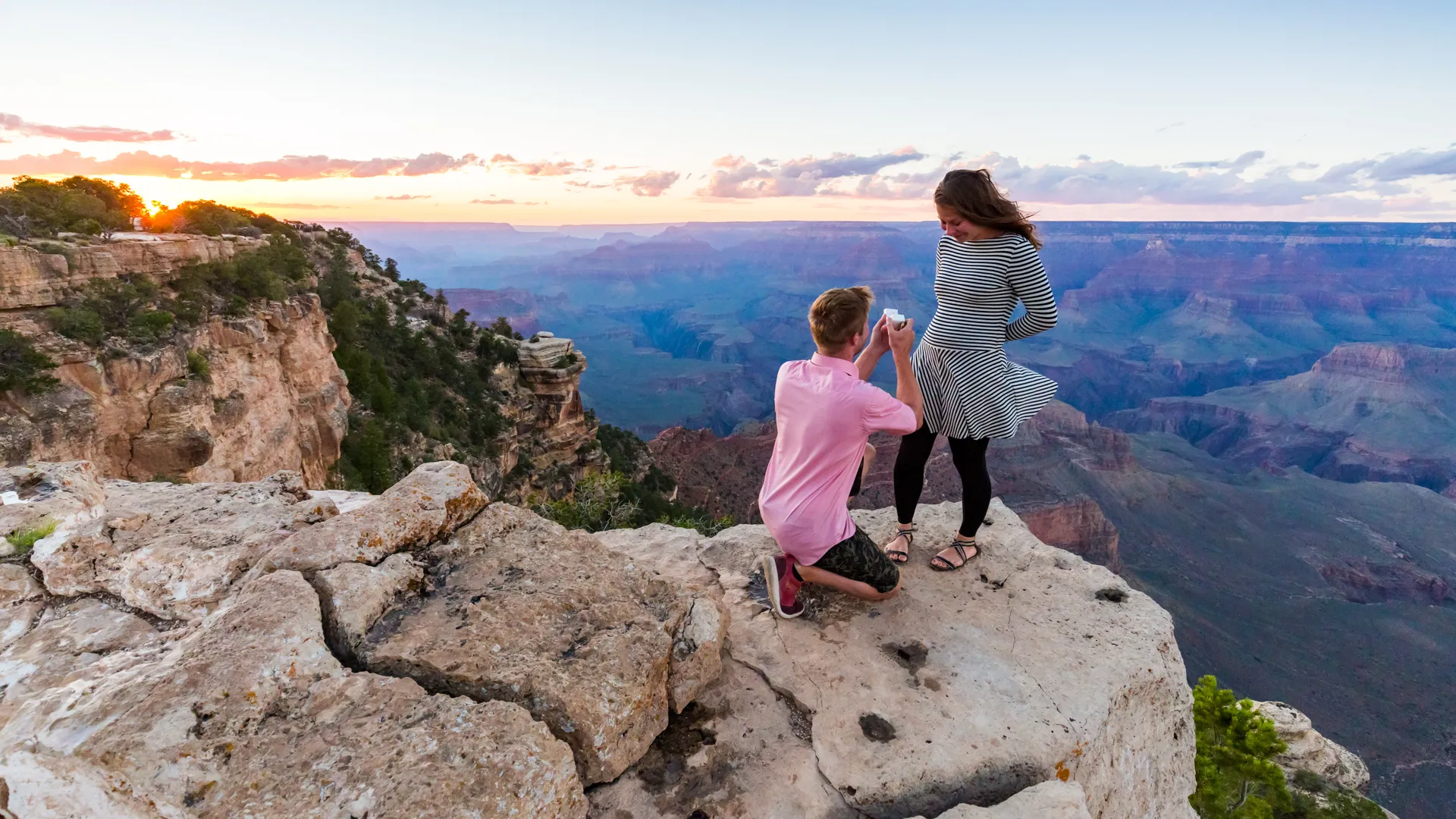 If you're ready to take the next step in your relationship, planning the perfect proposal can seem daunting. You might be racking your brain for good proposal ideas or struggling to find the perfect place to pop the question.
Click through to see the most beautiful places to propose in every state.
Alabama: Moss Rock Preserve
Moss Rock is a 350-acre nature preserve in Hoover with over 10 miles of walking trails. It's famous for its unique sandstone glade ecosystem, massive boulders and magical waterfalls. This is a stunning backdrop for a free and romantic marriage proposal idea.
Alaska: Glacier Gardens
Glacier Gardens is actually a massive rainforest with 17 million acres of protected land with views of surrounding Juneau. If you're looking for marriage proposal ideas, consider the heart archway made out of flowers.
Arizona: The Grand Canyon
One of the most magical natural wonders, the Grand Canyon's panorama is simply breathtaking. Head to the South Rim for the best and most accessible overlooks. To stay on budget, make sure you watch out for the Grand Canyon's hidden expenses.
Make Your Money Work for You
Arkansas: Thorncrown Chapel
For unique engagement proposal ideas, head to a holy sanctuary in Eureka Springs. Made of glass and wood, Thorncrown is one of the most architecturally impressive buildings of this century, while still managing to look like it's straight out of a fairy tale.
California: Big Sur
Dramatic cliffs and crashing waves provide a romantic background for a proposal. Go for a long scenic drive down the coast for some quality alone time. Highway One has plenty of pull-offs near Bixby Bridge to pop the question.
Colorado: Steamboat Resort
The slopes are the perfect place for snow bunnies to get cozy. You can pop the question at the top of the mountain and celebrate with après at the bottom.
Connecticut: Wood Acres Farm
Wood Acres Farms in Terryville is a winter wonderland brought to life. There, draft horses take you on a 45-minute romantic sleigh ride on snowy, wooded trails.
Delaware: Riverfront Rink
Lace up your skates and take your honey for a spin at Riverfront Rink in Wilmington. The river and city views offer a romantic backdrop for a proposal.
Florida: Magic Kingdom Park
Getting engaged at Disney World's Magic Kingdom, the quintessential proposal spot, is a childhood dream for many people.
For a dramatic setting, wait until nighttime for the fireworks display. If you decide it's worth the extra cost, get the VIP treatment at Disney World.
Georgia: SkyView Atlanta
Suspended 20 stories above Centennial Park, Atlanta's Ferris wheel provides breathtaking views of downtown. You can even rent private gondola cars for a more intimate experience.
Make Your Money Work for You
Hawaii: Stargazing at Mauna Kea
Literally anywhere in Hawaii is proposal-worthy, but if you really want to step up your game, go to the top of a volcano. Up the ante even more? Go to the visitor center at sunset and watch as the night sky unfolds before your eyes.
Idaho: Julia Davis Park
Created as a memorial for Thomas Davis' late wife, the Boise park was quite literally a labor of love, which makes it the perfect place to start your future. The 43-acre green space is filled with paddle boats, gazebos and a rose garden.
Illinois: The Signature Lounge at the 96th
Chicago has no shortage of proposal places. But to really see the skyline spread out before your eyes, you won't do much better than toasting high up in the John Hancock building.
Indiana: Indianapolis Motor Speedway
For the adrenaline junkies out there, Indianapolis is the Racing Capital of the World. There's nothing quite like the excitement of a car race to discuss racing off into the future together. When there's not an event happening, you can tour the facility or even go for a lap around the track.
Iowa: The Bridges of Madison County
Symbolically, bridges represent crossing into new territory, which is perfect for taking this new step in your relationship. There are six bridges throughout Iowa's Mississippi Valley.
Kansas: Botanica Wichita
A horticulture dream, Botanica has 30 themed gardens and exhibits, which provide a number of good proposal spots from the Chinese Garden to the Butterfly/Pansy House.
Kentucky: Rivue Restaurant and Lounge
A rotating dining room overlooking Louisville and the river, Rivue claims it's "a view to dine for." Grab a cocktail, pop the question and enjoy the beautiful view with your meal.
Louisiana: The Roosevelt New Orleans
A classic Waldorf Astoria property, the Roosevelt oozes French Quarter charm. The rooms aren't cheap, but they're worth the splurge.
Maine: The Keeper's House Inn and the Isle au Haut Lighthouse
This coastal inn and lighthouse are set 6 miles out to sea and listed on the National Register of Historic Places. Lit by oil lamps, candles and kerosene lanterns, the experience is memorable, to say the least.
Maryland: Federal Hill
Grab a bench in this neighborhood overlooking Baltimore's Inner Harbor. Reminisce about one of your first dates that likely ended up in the exact same spot.
Massachusetts: Fenway Park
One of the most beloved ballparks in America, sports fans go nuts over the Green Monster. When games aren't happening, you can tour the stadium. If you want to go big, it might be worth investing in a proposal-by-Jumbotron. Odds are you won't strike out.
Michigan: Cliff Bell's
A dark, sultry jazz club that opened during prohibition, Cliff Bell's in Detroit exudes old-world elegance. It's one of the most famous speakeasies in the world and worth making your story part of its history.
Minnesota: The Sunken Garden at Como Park Conservatory
This greenhouse in St. Paul is a beautiful backdrop to engagements and date nights. The sunken garden's seasonally changing and artful floral display is the perfect spot for a romantic proposal.
Mississippi: Pierce Castle
Pierce Castle in Decatur is one of the most popular wedding venues in Mississippi, but that's not to say couples can't swing through for a look-see before the big day. Because every fairy-tale romance deserves a castle.
Missouri: Bridal Cave
Sometimes, the most amazing places are below ground. This impressive cave in the Ozarks is full of massive rock formations, which will leave you breathless. If you like the spot, you can also get married there.
Montana: Yellowstone Under Canvas
What's more romantic than snuggled-up glamping at Yellowstone? Set to a backdrop of incredible nature, these luxury tents are the perfect place to unwind and propose in style.
Nebraska: Smith Falls State Park
You can find Nebraska's highest waterfall in Valentine. At Smith Falls, go to the beautiful footbridge and overlook for your scenic proposal spot.
Nevada: Top of the World Restaurant
Las Vegas has plenty of places to propose, elope and wed. But the revolving Top of the World Restaurant in the Stratosphere Casino, Hotel & Tower overlooks the whole strip.
Enjoy the bright lights of the big city dazzling as you dine. You can also find a plethora of fun and free things to do in Vegas while you're there.
New Hampshire: Mount Washington Summit
Summiting Mount Washington, the highest peak on the East Coast, is no easy feat. But the views from the observatory are second to none. If you can handle the alpine chill and the 8-mile ascent, the adventure is a great way to start your journey.
New Jersey: Adventure Aquarium
At Adventure Aquarium in Camden, you can propose without even getting wet. The massive tanks envelop you, creating a surreal "Under the Sea" marine environment.
New Mexico: Albuquerque International Balloon Fiesta
An annual nine-day event, Balloon Fiesta is one of the most magical events in the world as hundreds of colorful hot air balloons ascend into the sky. Rides can be purchased and reserved separately. Flying over the river and mountains makes for one breathtaking landscape.
New York: Top of the Rock Observation Deck
With unobstructed views of both Central Park and midtown Manhattan, the Top of the Rock is an iconic view of the city that never sleeps.
North Carolina: The Biltmore House and Gardens
Asheville's shining gem, the Biltmore Mansion, is a grand 8,000-acre property in the Blue Ridge Mountains. The garden and grounds are a beautiful place to get lost in time — and propose.
North Dakota: Dakota Carriage Company
Go old school with a horse and buggy ride in Davenport. A variety of stagecoaches are available to rent, from grand wagons to Cinderella-style carriages for a fun marriage proposal idea.
Ohio: The Chateau Laroche
A unique roadside castle in Loveland might be the perfect place to propose. Chateau Laroche is a great backdrop on the bank of the Little Miami River.
Oklahoma: Love Lock Fountain at Lake Eufaula State Park
Lake Eufaula, a 102,000-acre reservoir, is a great place to observe wildlife and foliage. As a sentimental gesture, bring a lock to symbolize securing your future together.
Oregon: Multnomah Falls
Multnomah Falls at the Columbia River Gorge National Scenic Area is the most visited natural attraction in the Pacific Northwest. The Multnomah Falls Lodge offers great views of the falls for a romantic way to propose.
Pennsylvania: Stone Villa Wine Cellars
Sip and swirl by the riverside, on one of the prettiest properties in the Laurel Highlands, as you begin your new life together.
Rhode Island: Mohegan Bluffs
Mohegan Bluffs can be reached by a steep climb and offer dramatic views of the Atlantic Ocean amid raw, rugged nature. From the 200-foot-high clay cliffs, you might even be able to see all the way to Montauk, at the tip of Long Island, if weather permits.
South Carolina: Magnolia Plantation and Garden
One of "America's Most Beautiful Gardens" as chosen by Travel + Leisure, it is the oldest public garden in America. This 300-year-old fixture in Charleston can be a memorable setting for your proposal.
South Dakota: Main Street Square Rapid City
Look to this city center for proposal ideas. Surrounded by sculptures, eateries, galleries and even an ice skating rink, this large public space is bustling yet intimate.
Tennessee: Clingman's Dome
The highest point in America's most visited national park, Clingman's Dome offers 360-degree views of the Smoky Mountains. Plan a sunset visit to make the evening even more special.
Texas: Irving Gondola
Since everything's bigger in Texas, you have to do it up. For a truly romantic experience, cruise the canals and waterways of Irving in a gondola.
Utah: The Grand America Hotel
Charmingly opulent, the Grand America is a sophisticated property designed for luxury retreats. It's also the perfect scenic spot for a romantic proposal in Salt Lake City.
Vermont: Liberty Hill Farm & Inn
One of the pioneers in agritourism, Liberty Hill Farm in Rochester is a charming home and working farm where privacy is a priority. You can get hands-on tending to the animals or lose yourself in the wildflower fields.
Virginia: LOVEworks
Since Virginia is for lovers, one of the many LOVE statues is a safe bet. You can find these art installations all over the state, from vineyards to beaches.
Washington: Chihuly Garden and Glass
Housed in a breathtaking museum of blown glass in Seattle, Chihuly's sculptures are otherworldly and elaborate. Head to the Glasshouse for views of the Space Needle looming overhead.
West Virginia: Grist Mill in Babcock State Park
Head to Clifftop for a romantic proposal idea. In Babcock State Park, the Grist Mill is one of the most photographed spots in the state and has become a symbol of West Virginia.
Wisconsin: Bartolotta's Lake Park Bistro
For a classic, romantic way to propose, go for French cuisine overlooking Milwaukee's waterfront. This can be a great spot to share a tasting menu and some bubbly as the sun goes down.
Wyoming: Jackson Hole Aerial Tram
For staggering 360-degree views of the Tetons, take the Jackson Hole Aerial Tram. The landscape below is the perfect place to set the mood for your proposal.

BEFORE YOU GO
See Today's Best
Banking Offers