How Hiring a Wedding Planner Can Cut Wedding Costs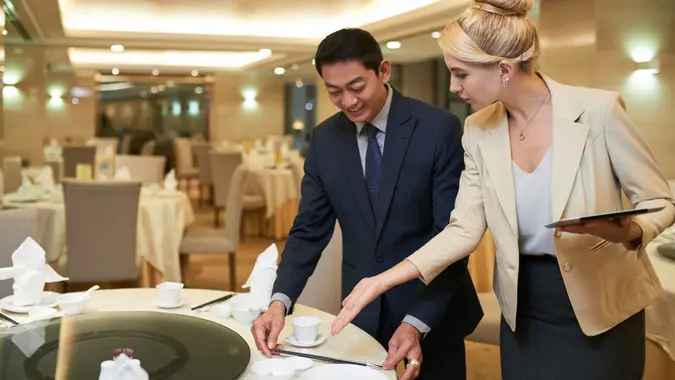 DragonImages / Getty Images/iStockphoto
When planning a wedding, it is common for couples to feel like they have to splurge and go all out on their spending. In order to ease spending anxiety and help couples navigate all the responsibilities associated with planning a wedding, many couples opt to hire a wedding planner to help with event coordination.

See: 5 Things You Must Do When Your Savings Reach $50,000
To provide some insight on the ways wedding planners can help cut wedding costs and help clients stay under or within their budget, here is some expert info from planners themselves.
How Do Wedding Planners Help Clients Save?
Wedding experts bring their expertise to wedding planning in a way that goes above and beyond what a couple making their own plans would be able to do.
"They know where the 'gotcha' clauses are in contracts and where lack of experience increases costs, i.e., more hors d'oeuvres choices than necessary and more bites per person than necessary when a full meal is included afterward," said Marley Majcher, CEO of The Party Goddess, a full-service event planning and catering company. 
In addition to knowing how to read contracts to the advantage of their client, wedding planners can make expert suggestions such as having a signature drink alongside beer and wine instead of an open bar and planning the wedding on Sunday instead of Saturday night, according to Majcher. These suggestions cut costs without guests noticing.
Make Your Money Work for You
In What Budget Areas Do Wedding Planners Save the Most?
The most significant portions of the wedding budget wedding planners assist with include the venue, food and event entertainment.
"Planners can save clients quite a bit of money by recommending a fabulous DJ who will get everyone on the dance floor instead of a live band whose niche music appeals to some but doesn't resonate with all," Majcher said.
In addition to cutting costs on music, wedding planners often have established relationships with other people in the wedding industry that allow them to get deals for their clients the couple would not be privy to on their own.
"Often planners have relationships with wedding venues and can not only get lower prices but can often get a couple of costly line items thrown in gratis because of their connections," Majcher said.
In addition to helping their clients save on costs, wedding planners also help busy couples save on time.
"Doing the work to speak with vendors on behalf of the client, couples are not missing hours of work time," said JoAnn Moore, professional wedding planner and CEO of JoAnn Moore Weddings & Events. "Finding the right vendor is time-consuming. Let the planner assist with the list and work with the vendor to include all the needs for the client that the clients may not know to inquire."
How Much Does a Wedding Planner Cost?
The incredible thing about using a wedding planner is you can pick the type of planner you want based on your budget and wedding planning needs. The most common types of planners used are full time, partial, month-of or day-of. Full-time planners help couples with everything from developing a color palette to creating a seating chart and day-of responsibilities. Partial planners are able to help with specific wedding tasks such as creating a budget or choosing a venue. Month-of coordinators help out with last-minute details and day-of help pull together the event on the day.
Make Your Money Work for You
According to The Knot 2021 Real Weddings Study, the average cost of a wedding planner was $1,700 in 2021. However, bear in mind that number may be higher or lower depending on the type of wedding planner used and the amount of responsibility they have. To put this in perspective, on average, couples spend $28,000 on their wedding ceremony and reception and had a total wedding cost of $34,000 in 2021, according to The Knot. While spending a couple of thousand dollars on a wedding planner is still a big investment, in the grand scheme of things, it is a small portion of the wedding budget that may bring very valuable cost benefits and peace of mind.
How To Avoid Getting Scammed When Choosing Your Wedding Planner
Catfishers aren't only on dating apps. There are many inexperienced planners online who have created a fake wedding planner website with photos stolen from the internet and fudged years of experience. If you are about to drop around $1,000 to $2,000 on a wedding planner, it is important to do a few minutes of research before committing in order to avoid a wedding planner scam.
"Ask what kind of insurance the planner carries and with what limits (then ask to see it!) and also ask for three references of similar events the planner has done," Majcher said. "When you call the references, ask specific questions like, 'What was the speed of communication?' and 'Were expectations met and budgets respected?'"
More From GOBankingRates