How Long Can You Stay With a Friend if You've Been Evicted?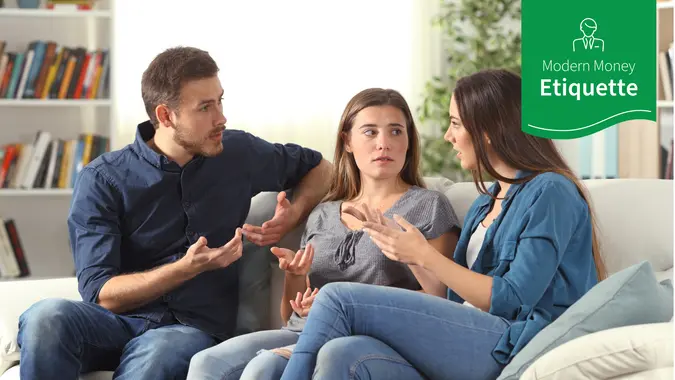 AntonioGuillem / iStock.com
If you have recently been evicted, some of your close friends may offer to open up their homes to you if you need a place to stay. This can be a lifesaving moment for many individuals as they work to get back on their feet. 
However, the initial intent of a short-term stay for a few weeks can turn into a few months. The last thing anyone wants is to become an unwanted guest or a liability in someone else's home.
If you plan to stay with a friend after being evicted, keep the following etiquette considerations in mind to ensure clear expectations about the stay.
Does Your Friend Live in a Place Where Guests Can Stay Long?
Friends who own houses may not face this issue as much as friends who live in apartment complexes or other rental properties.
Brian LeBow, broker and CEO at Bell Properties Inc., said if the evicted person is staying with a friend or family member in another rental, most leases prohibit overnight guests for more than 14 nights in a year. Fine print may also prohibit guests for no more than seven nights in a single month. At this point, LeBow said the evicted person is no longer legally considered a guest. They must apply to be on the lease. 
Before choosing a friend to stay with, it's important to make sure this friend lives in a place where the evicted friend can stay if it takes a little longer to get back on their feet.
Make Your Money Work for You
Good Etiquette: Create a Written Agreement
If your friend opens up their home to you, and you can stay a little while longer if you absolutely need to, LeBow said evicted guests must create an agreement at the onset. Ideally, this agreement should be in writing and signed by both parties to ensure there are no issues during the temporary housing stay.
Here are a few areas to cover in a written agreement together. (We'll explore each item in-depth in a moment.)
Length of stay
Financial contributions
Chores and household responsibilities
Clear expectations and boundaries
Regular check-ins
Length of Stay
Larissa House, LCSW and psychotherapist at Therapy with Larissa House, has been the friend who opened up her home to a loved one in need of a place to stay before. Good etiquette requires having a clear conversation about the length of the stay, even if it can be a bit tricky to pinpoint the exact date the evicted person plans to move out.
"Clearly express what you need at this point in time and ask what your friend needs from you," said House. "Ask your friend how long they feel comfortable with you staying there at this point in time but agree to be flexible knowing this may change."
Financial Contributions
What can you contribute to the home while you are staying there? This might mean paying for your share of groceries or a portion of utilities. House said an evicted person will work together with their friend to determine what they can financially contribute during their stay. 
Once you come to an agreement, stick to it. "If your financial situation changes or improves even the slightest bit, reflect it in what you offer to your friend," said House.
Make Your Money Work for You
Similarly, now is not the time for lavish spending. If you are staying with a friend because you have been evicted, do not come home with bags of new purchases or order delivery takeout every night. House said you still deserve to have good things, but looking like you're living more luxuriously than your friend can lead to resentment. This can lead to tension and ultimately an uncomfortable roommate experience which may end prematurely.
Chores and Household Responsibilities
Even if your friend tells you not to worry about doing chores or other household tasks, an evicted person should insist upon doing something to help out. "Clearly identify which household tasks you will be responsible for," said House. "Identify with your friend the household tasks you will take care of and when."
Clean up after yourself and don't cause more work for your friend. Keep shared spaces, like kitchens, clean and tidy even if it's not your specific identified task.
Clear Expectations and Boundaries
House recommends setting expectations and boundaries such as parts of the house the evicted friend is allowed to access. Those sleeping out on the living room couch, for example, may be given expectations for folding up their bedding each morning. 
Other aspects to cover include community food versus individual food, quiet hours and policies for having guests come over. Never make assumptions as a guest in someone's home.
"If you don't know if something is okay, such as staying out late, having a friend over, if it's okay you're still there, or if it's okay if you stay another week, ask. If you don't know something with 100% certainty, ask," said House.
Make Your Money Work for You
Regular Check-Ins
Schedule regular check-ins to see how everything is progressing with your evicted friend. If they are viewing apartments or other living situations, how is it going for them? Do they need any help? These check-ins are essential for seeing how things are going with your friend as they work to get back on their feet again.
Be Thankful
While someone who has been evicted may not feel particularly good about needing to stay with a friend, House said remember they have something positive they can contribute to their friend's life. Be thankful for the opportunity to stay in this space and make lemonade from life's lemons.
"Figure out what is good in you that you can contribute to improving your friend's life, even if it has nothing to do with money, and share it with them," said House. "You are still a worthy human being who can make your friend's life better."
More From GOBankingRates