10 Affordable Wedding Destinations That Look Expensive

7 min Read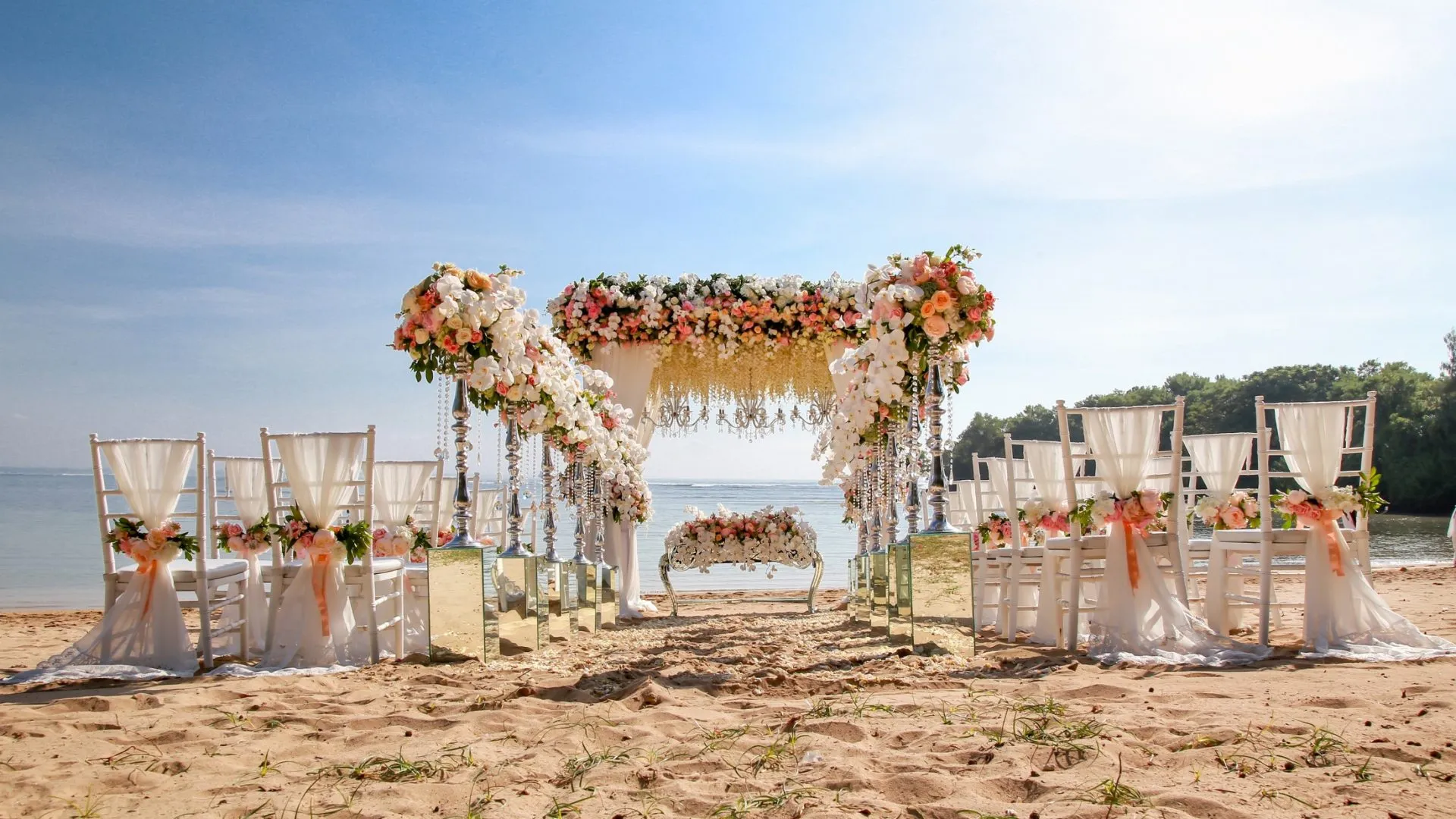 As supply chain issues continue to inflict chaos on society and inflation pummels our paychecks, the cost of weddings are soaring. In 2021, the average wedding cost $28,000, according to The Knot Real Weddings Study — and that number could go up this year, as couples tackle rising prices in virtually every sector of the industry. Not to mention the cost of the gasoline that fuels the car with the obligatory "Just Married" banner. Yikes! 
See: 9 Bills You Should Never Put on Autopay
Find Out: Here's How Much Cash You Need Stashed If a National Emergency Happens
Typically the most expensive part of a wedding is the venue, with couples spending an average of $10,700 on their venues in 2021, according to The Knot. Far from modest, most wedding venues are chosen because of their picture-perfect elegance — and sometimes over-the-top embellishments. Just take a scroll through Instagram using the #wedding, and you'll find venues that look like they cost $10,000 just to walk around in. 
It's fair to say that nobody wants their wedding to look cheap; in fact, most want their special day to look like it cost a fortune. But does a wedding that looks like it cost tens of thousands of dollars really need to cost that much? Not if you choose the right destination. Plenty of places provide breathtaking scenery and romantic allure at very reasonable costs. It's just about knowing where to go. 
Let's explore 10 locations that wedding industry experts say are among the most affordable — and the most gorgeous. 
Make Your Money Work for You
Budapest, Hungary
"As a city filled with hills and viewpoints, you won't have to travel far [in Budapest] for an incredible sunset or views across the city," said Xanthe Steer, travel blogger and owner of Places Unpacked. "This adds to its value as a wedding destination and gives a luxury feel to any ceremony."
The cost of living in Budapest is famously low, and that carries over into the events space.
"Whilst the average cost of a wedding in the US is approximately $28,000, in Hungary you can expect to spend around $5,000," said Steer. 
Timber Creek Overlook in Zion National Park
"National Parks, in general, can be picturesque but cost-effective wedding choices," said Larry Snider, VP of operations of Casago Vacation Rentals. "The wildflower display in Zion Park, however, makes it exceptionally fit for a wedding. I wouldn't call it fancy, per se, but it's a beautiful place to have an outdoor wedding on a budget: a special-use permit for the park is only $100."
The U.S. Virgin Islands 
"The U.S. Virgin Islands have incredible beaches, rainforests and mountainous spots," said Kathryn Cooper, owner and destination wedding photographer at Kathryn Cooper Weddings. "The truth is, the islands are part of the USA (no passport needed), and they have everything from budget wedding packages to create-your-own luxury destination weddings. You can get a most gorgeous, all-inclusive elopement on a beautiful beach for under $1,000, or have friends and family come while still throwing a very affordable, gorgeous celebration."
Destin, Florida 
"Destin has affordable yet beautiful hotels that offer luxurious amenities and wonderful views," said Jean Chen, co-founder, and COO of Cicinia, a fashion company focused on wedding and bridesmaid dresses. "Holding a beach wedding on Destin beach starts at $1,500 and may increase depending on how you want to customize it."
To get more bang for your buck, Chen highly recommends scheduling your Destin destination wedding for the off-season (a trick that should help you save on costs no matter where you exchange your vows). 
Make Your Money Work for You
Boracay, Philippines
"Boracay is one of the most sought after tourist destinations in the Philippines, brought about by its majestic seascape and infamous white sand, and compared to the rates in Malibu or any other beach destination, Boracay is extremely cheap," said Caitlyn Parish, a chief digital officer at Cicinia. "On average, a Boracay destination wedding will only cost you (more or less) $6,000 for 50 to 60 guests. Additional costs range from $70 to $80 per head." 
Istanbul, Turkey 
"As far as the background goes, the Mediterranean climate makes your outdoor photos look exactly like Italy," said Angela Cappetta, owner of Angela Cappetta, a media company specializing in destination weddings. "The light there is incredible."
As for exactly how much a wedding in Istanbul costs, Cappetta admits it's hard to pin down a precise number. 
"There is no way to predict that, as it fully depends on job scope," Capetta said. "However, let's just say a Turkish wedding cake (cut with a sword, of course) is pennies on the dollar compared to a Sylvia Weinstock confection. The Mediterranean lifestyle makes venues in Turkey not care how late you run, so there are very minimal fees for overtime, etc. Therefore, couples who get married there, save so much money on the food and entertainment, that they have buckets of money leftover to bring in a destination photographer of my level."
Croatia
"My top pick for this is Croatia, which is one of the best places where couples can get the most for their money," said Sarah Kline, president of Time For Travel, a member of Ensemble Travel Group. "You can charter your own yacht in Croatia for a week to cruise along the Dalmatian coast for up to 40 guests for around $2,000 per person all-inclusive. Croatia has some of the most beautiful scenery and beaches and is similar to Italy, but much less expensive. The captain can even marry you!"
Make Your Money Work for You
Maui, Hawaii
"I was recently married in Maui, Hawaii," said Chris Davies, owner of the website faunafacts.com. "It was an absolutely stunning location, and my guests were all amazed at how beautiful and expensive it looked. In reality, however, Maui is a very affordable destination for a wedding: the average cost of a Maui wedding is around $5,000, which is much less than most people expect." 
Playa del Carmen, Mexico
"Playa del Carmen is a beautiful and popular tourist destination located on the east coast of Mexico," said Fred Hoffman, founder of The True Wilderness. "It's known for its clear turquoise waters, white sand beaches and lush jungles."
Though weddings in this idyllic locale can get harrowingly pricey, you can swing nuptials on a budget. 
"There are many affordable hotels and resorts that offer wedding packages, some of which start at less than $1,000," Hoffman said. "Additionally, there are a number of private villas and apartments that can be rented for an affordable price." 
Cancún, Mexico 
"When you look at the top 5 destinations for last year, the Cancún region takes the cake and the average wedding cost was $5,500 for 2021," said Elizabeth Urraza, sales manager at Paradise Weddings, noting that the price can be on the lower end of the spectrum because of the nature of resort weddings.  
"A resort wedding is like you crowd-sourcing the entire thing," Urraza said. "Since guests also stay at the resort they help offset the cost of the wedding so you get a huge bang for your buck. Take Dreams Natura Resort & Spa for example: A 100-guest destination [is] giving $5,000 cashback minimum on a $12,000 (fully loaded) wedding package. So that's a 100-guest wedding in paradise for $6,000." 
More From GOBankingRates
About the Author