Don't Book a Cruise at This Time of Day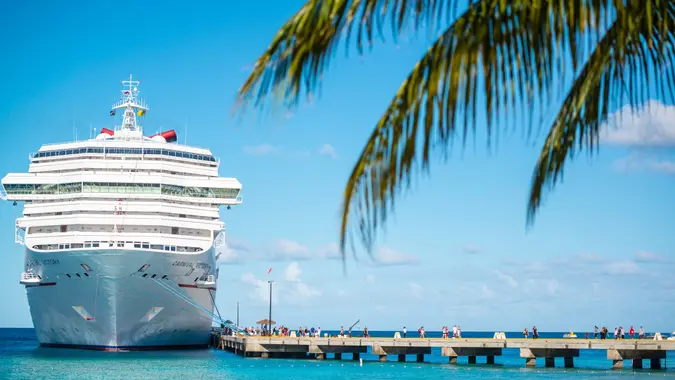 anouchka / iStock.com
Taking a cruise can be an exciting way to spend your holiday, whether it's for a few days or a couple of weeks. But while you're planning when and where to go, it's also important to consider when you're booking your tickets. After all, the time you buy can have a significant impact on how much you end up spending.
If you're interested in taking a cruise somewhere, here are the worst and best times to buy your tickets, as well as some strategies to cut costs.
Best Time To Buy Cruise Tickets: Early Morning or Late Evening
If you're in the market for cruise tickets, you might want to start shopping around in the early morning or late evening, as these are the times when you're likely to get the best deals.
"The best times of the day to book a cruise are during the early morning or late evening, as [at] these times, travel websites and platforms usually have fewer visitors, which can lead to better deals and availability as cruise lines adjust their prices," said Jason Beukema, founder and owner at Groove Cruise.
Justin Albertynas, CEO of Ratepunk, added, "Most of the cruise line promotions are launched in the early hours of the day, so if you're an early riser, this might be an ideal time for you to score a deal. But sometimes, due to unforeseen circumstances, travel agents and cruise lines will have cancellations throughout the day. Those canceled cabins then — most of the time — get released at a discounted price. So, the best times are early mornings and late evenings."
Make Your Money Work for You
Don't Buy Cruise Tickets After 3 P.M.
Cruise lines often adjust their pricing throughout the day, but you might not want to buy tickets in the middle of the afternoon or when demand is high.
"In my experience, the worst time of day to book a cruise is any time after 3 p.m.," said Mac Steer, owner and director at Simify. "I have found that, especially during busy seasons, the best time to book a cruise is early in the morning. This is because cruise lines tend to release their most popular itineraries first thing in the morning and then sell out quickly. If you try to book later in the day, even if it's only a few hours later, you may find yourself paying more than you should or not getting the itinerary you want."
Avoid Booking a Cruise on the Weekend
If you're thinking about booking a cruise on a Saturday or a Sunday, you might want to hold off until the next weekday.
"The worst time to book a cruise is, without a doubt, weekend afternoons," said Albertynas. "This is a peak browsing time for many potential cruisers, so you're less likely to get those special deals, as cruise lines and booking sites are well aware of the heightened interest."
Giacomo Piva, travel industry analyst and co-founder of Radical Storage, added, "Tuesdays and Thursdays are generally seen as the best day to book a cruise."
Don't Book a Cruise During Holidays or Summer Vacation
While summer and certain holidays are prime vacation times, they're also typically more expensive.
Make Your Money Work for You
"Sailing during summer, spring break and holidays typically makes your cruise much more expensive," said Scott Lieberman, founder of TouchdownMoney.com. "This is because it's when demand is highest. Instead, see if you can cruise in the autumn or during January or February. For northerners, a February cruise to the Bahamas might be just what you need!"
Book a Cruise During Wave Season To Save Money
Buying cruise tickets during wave season, which refers to the months following the major winter holidays, could also be a good way to save money.
"As always, the early bird gets the worm. Book early in the year — after the holidays, between January through March, aka 'wave season' — to optimize on the best rates and as early as possible for cruises in the future, even if it's next year or two years away," said Pamela Holt, travel expert and host of "Me, Myself & The World: The Art of Solo Travel" on Amazon Prime. "Some of the best deals come out right when they open the sailing — up to 30 months in advance."
But if you don't manage to book tickets during the wave season, you could still secure some great deals.
"If you miss this three-month window, meta-search engines, such as Compare that Cruise, allow you to search and compare thousands of deals across multiple sites to find a good price, filter[ed] by your cabin preferences and travel dates," said Piva. "It saves holidaymakers considerable time and helps them locate the best deal for them."
Book During the Shoulder Season
The shoulder season is the time just before or after the peak season.
"Traveling just before or after the peak season can get you better prices and fewer crowds," said Albertynas. "Shoulder season is roughly March-April and September-October. This season is my favorite time to travel due to the marginally fewer crowds and best prices of the entire year."
Make Your Money Work for You
Try To Book Earlier as Opposed to Later
"In my opinion, the strategy for booking a cruise is similar to the strategy for booking plane tickets. Generally, the earlier you book, the better," said Brittany Mendez, CMO of FloridaPanhandle.com. "However, with a cruise, you can — and probably should — book out way earlier in advance than you can with flights. If you can book a year in advance, that's going to not only get you good prices, but also the best chances at the rooms you want."
While booking a year or more in advance might not always be realistic, the further out you can buy tickets, the better the deal you're likely to get. In contrast, the closer to your travel dates you book, the more you'll typically end up paying.
"One of our biggest tips from a timing perspective is looking at the overall booking window and booking early or late to find the most savings," said Colleen McDaniel, editor-in-chief of Cruise Critic. "By booking a year or more out from the sail date, you're able to take advantage of early booking incentives that the lines offer — things like complimentary drink packages, onboard credit and cabin upgrades. When those costs are taken into account, you're often able to save hundreds — if not thousands — on the final cost of your cruise."
Booking last-minute might also save you money, though this might only work if your travel dates are flexible.
"On the other side, if you wait until three months before your sail date — what's considered last-minute in the cruise world, based on final payments being due at that time — you can often save on the cost of your cruise fare, as lines begin cutting prices to fill their remaining cabins," said McDaniel.
Make Your Money Work for You
More From GOBankingRates