Don't Book a Vacation on This Day of the Week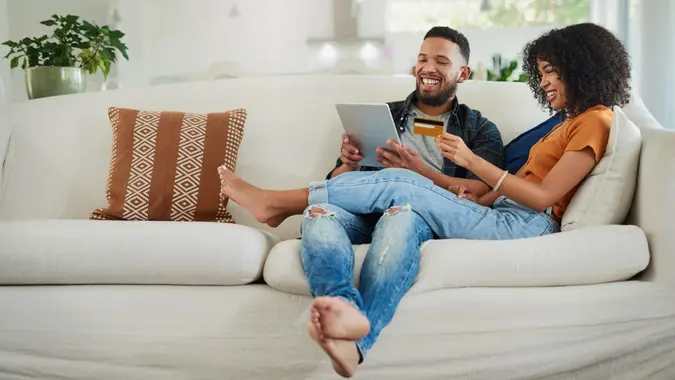 LaylaBird / Getty Images
Summer will be here sooner than you think, so it's probably time to book your summer travel. However, you may not know that the day you book your trip can play a role in the prices you pay, and not every day of the week is great for doing so.
GOBankingRates spoke with a few travel experts, and they recommend not booking vacations on these days of the week — along with offering some other tips.
Fridays Are the Worst
The worst day to book a trip is Friday, and it's also the worst day to take one, according to Jessica Schmidt of Uprooted Traveler, a site that helps readers plan their travels and outdoor adventures. "It's historically the busiest day of the week at airports and thus, will come with longer wait times, more crowded flights, and higher price points for most airfare. You'll also usually pay a premium for things like hotel rooms, rental cars or transportation via rideshare."
Make Your Money Work for You
Weekends Are Bad, Too
The truth is that weekends (Friday through Sunday) are generally a bad time to book, according to Dawn Halpin of Wandertopia. Halpin pointed out that Sundays tend to be the worst day of the weekend because prices are higher due to increased demand from leisure travelers. "Airlines often hike up prices for weekend travel as many people plan their vacations over the weekends."
On the other hand, booking flights on weekdays, especially Tuesdays and Wednesdays, can often result in lower prices as there is typically less demand for business travel during those days.
Similar to flights, Fridays and Saturdays are typically the most expensive days to book hotels, Halpin said, as they tend to cater to leisure travelers. "Hotels often charge higher rates during weekends when demand is high. Conversely, booking hotels on weekdays, particularly Mondays and Tuesdays, can often yield lower rates as business travel tends to slow down during those days."
Take Our Poll: Would You Move for a Job That Paid You a $10,000 Signing Bonus?
Halpin concluded by saying that, "While there are no hard and fast rules, Sundays and weekends, in general, may not be the best days to book vacations if you're looking for the best deals on flights, hotels, and want to avoid crowds. Instead, consider booking flights and hotels on weekdays, particularly Tuesdays and Wednesdays, for potentially lower prices and less crowded experiences. However, it's always a good idea to research and compare prices across different days and factors before finalizing your travel plans."
Make Your Money Work for You
Book as Far Out as Possible
Nathan Russo, director of operations at FloridaPanhandle.com, agrees that weekends are not great for booking flights because, "These are the days of the week in which travel is at its peak, and more people traveling means higher prices. With a higher demand, prices for airfare and hotels can be anywhere from 10-30% more expensive."
He recommends that if you know that you are going to have to travel during those days for a trip in the future, try to book out as early as possible because prices also get increasingly more expensive the closer you get to the date.
Martin Betch co-founder of Hi-van, a travel company that specializes in creating unforgettable trips, said that if you have to book on a weekend, he said Fridays and Saturdays are the most expensive days for flights, while Sundays are usually the most expensive day for hotels. "On top of that, many airlines also charge extra fees on weekends for things like baggage or seat selection."
Instead, look for deals during the weekdays, when there is usually less competition and fewer people traveling.
Make Your Money Work for You
Don't Book During Peak Travel
In addition to avoiding weekends and booking instead on Tuesdays and Wednesdays, Balaram Thapa, director and travel advisor with Nepal Hiking Team, added, "It's also worth noting that booking your vacation during peak travel seasons, such as holidays and summer break, will have a significant impact on the pricing as well."
Therefore, it's always best to keep an eye on airfare deals and hotel promotions and book early to get the best possible rates. As a general rule, flexibility is the key to finding great deals on travel.
Be Flexible With Travel Dates
One of the better ways to get great deals on hotels, in particular, is to be flexible with your travel dates, said Anthony Eastwood, travel expert and founder of Barcelona Inside and Out.
"For example, checking in to a hotel on a Monday or Tuesday could save you a decent amount compared to checking in on a weekend. Recent research from Expedia has actually shown that booking on a Monday can save you as much as 15% compared to a Friday."
Make Your Money Work for You
He went on to say that finding the best hotel deals is not just about being a savvy traveler, but also about understanding the nuances of the travel industry. "If you really want to find a great deal, I'd suggest working with a trusted travel agent or expert as they will be able to help you access exclusive rates and share insider knowledge."
Booking Last Minute and Other Tips
If you have the flexibility, Adeel Khan, product manage at BusinessClass.com, recommended, "Consider booking last-minute: While it may not work for everyone, booking your vacation at the last minute can sometimes result in lower prices. This is because airlines and hotels may be looking to fill empty seats or rooms."
Additionally, he suggested using fare prediction tools like Hopper and Google Flights to help you determine the best time to book your flight based on historical data.
Lastly, he said, "Instead of always booking a flight to a popular destination, consider flying to a nearby airport or taking a road trip. This can sometimes result in lower prices and allow you to explore a new area."
More From GOBankingRates
Make Your Money Work for You
Make Your Money Work for You