Don't Pay for a Ride With Uber at This Time of Day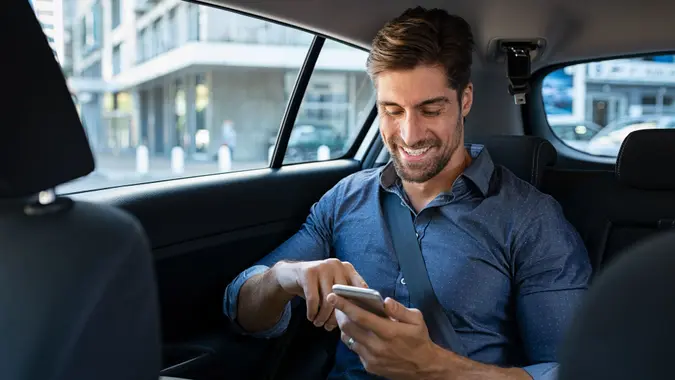 Ridofranz / Getty Images/iStockphoto
Uber is a rideshare service that was founded back in 2009. Now, it's available in all 50 states, Washington D.C., and Puerto Rico as well hundreds of cities around the world.
One of the things that makes Uber so popular is its convenience. In fact, people can schedule rides at any time of the day or week and, in most cases, get a driver quickly. They can even reserve rides up to 90 days in advance. All of this combined with rates that are typically cheaper than a standard taxi makes Uber an affordable service that's accessible to anyone with a smartphone and the app.
But even Uber has its drawbacks. Depending on what time of the day you need a ride, you could be faced with longer wait times, more cancelations, or higher-than-usual fees.
If you've ever taken an Uber, or if you're thinking about doing so, these are the worst — and best — times to pay for a ride.
Don't Book Uber Early in the Morning
Early in the morning is when a lot of people are up and about, especially on workdays. Many of these people rely on rideshare services like Uber to get them to work. Others may use it to catch an early morning flight.
If you need to get somewhere first thing in the morning and have another option, you might want to use it rather than Uber.
Make Your Money Work for You
"The worst times of day to book a ride with Uber are early mornings, particularly those early mornings when you're trying to get to the airport at 4 AM," said Scott Lieberman, Founder of TouchdownMoney.com.
Not only could you be looking at a more expensive airport ride, but you might also have trouble securing a ride if you wait until the last minute to book. Reserving a ride could help, but remember that this also tends to cost more, added Lieberman. It does come with the added benefit of peace of mind, though, which could very well be worth the extra charge.
If you live far from an airport or don't need to take a flight, this might not be as big of an issue. You'll still need to consider standard working hours, though. Depending on where you live, you might want to book a ride a little bit before or after when people tend to start heading to work.
"The best times of day to book a ride with Uber, in my opinion, is in the mornings before office hours start, and in the evenings starting around 6 or 7pm," said Span Chen, Growth Director at Airgram.
Don't Pay for an Uber Ride During Rush Hour
Another time to avoid getting a ride with Uber is during rush hour, according to Chen. Rush hour varies depending on where you live, but it tends to be from around 7-9 a.m. and 4-6 p.m. in bigger cities.
During rush hour, you're more likely to get caught in traffic and wait longer for a driver in your area. You may have better luck getting a ride if you choose a carpool option, though.
Make Your Money Work for You
Rush hour rides may also be impacted by surge pricing, which happens when more people are looking for a ride than there are drivers. Surge pricing might mean higher pay for drivers, but it also means more expensive rides for you.
Tips for Booking an Uber Ride
Whether you need to get to work or the airport, or you're heading out for errands, there are some strategies you can use to maximize efficiency and lower costs when booking rides with Uber. Here are some of the big ones:
Book a ride in a busy area. "You can save money on booking a ride with Uber by positioning yourself in busier parts of your city," said Lieberman. "Drivers try to go where the money is, which means they're typically in downtown or busier areas of your city during high traffic times, like rush hour or events. The more drivers, the lower the prices you'll pay because of high driver competition."
Avoid holidays. These are times of high demand and limited supply, so they're best avoided, noted Chen.
Avoid booking during major events. While busy events tend to have more drivers, there's a higher risk of surge pricing. Booking during these times can backfire "because the number of Uber requests will outpace the number of drivers," said Lieberman. "So, in those instances, try to wait it out by going to a local restaurant or bar. You can save a lot of money just by waiting a little!"
Compare rideshare services. Uber is just one rideshare service, meaning there are others that might work suit you better at different times. "My advice for saving money when booking a ride with Uber is to check the [prices] for multiple services and compare the fares in real-time to find the lowest prices," said Chen. "Also, use Uber Rewards to receive discounts for frequent travelers."
Reserve your ride early. If you're trying to get somewhere at a specific time, such as the airport, it might be worth paying extra for a reservation.
Consider late night or midafternoon rides. If you're not in a hurry and are primed for some off-peak shopping or trips, consider booking a ride during lunchtime or after dinner. You might have to wait a bit longer for a ride in some cases, but you can also typically get lower fares.
More From GOBankingRates