Going Abroad? 7 Unexpected Travel Costs To Save For Now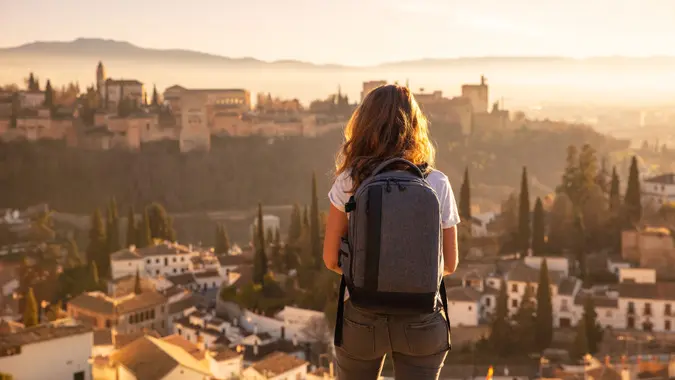 margouillatphotos / Getty Images/iStockphoto
If you're planning to vacation outside of the United States, you're probably making a budget that includes airfare, hotels, meals, and souvenirs.
Travelers say there are a few other items you should add to your budget as well–some you might not have thought about. Some of the items we get for free or for cheap in America actually cost a good amount of cash in other countries.
Here are the things you might not have considered adding to your international travel budget that you need to think about.
Phone Expenses
Think if you've got an unlimited data plan, your phone is all set to go abroad? Tarek El Ali, the CEO of Smart Insurance Agents, says that might not be the case.
"While we're accustomed to unlimited texting, calling, and data usage in the USA, this isn't the norm in other countries. For instance, during my visit to Turkey, I ran out of 4G data and had to recharge my phone plan," Ali said.
Check before you go to see if your carrier and phone plan will work in the country you're traveling to. If not, ask how much it will cost so you can account for that expenditure. 
Limited Availability of Public Laundromats
You might be trying to pack light on your trip, thinking you'll have access to laundromats everywhere you go. Ali says he thought the same thing, but was quickly proven wrong.
Make Your Money Work for You
"While locating a nearby laundromat and cleaning my clothes in a coin-operated washer for a mere $2 is effortless in the US, the same convenience is lacking in most other countries. I had to pay for laundry services to have my garments cleaned and dried, with hotel services typically costing twice as much."
Again, do some research before you travel to plan out if you'll need to bring extra cash for washing your clothes. 
Toilet Fees
Not all countries offer public restrooms for free.
"While this may be a small fee, it is not uncommon to have to pay for public toilets in airports or in public locations, and often coins are required," said Keri Baugh, a blogger at Bon Voyage With Kids. "Having some pocket change in the local currency is helpful in case nature calls, and you need to pay."
Bank Fees
Like with your cell phone, you might think that prices and ATM fees work the same abroad, but that's something you'll have to check with your bank to confirm.
"For example, in the past, Bank of America partnered with Barclay's and BNP Paribas when we lived in England and France, and this helped save us money on fees," Baugh said.
It's also a good idea to let your bank and credit card company know you'll be traveling so your charges don't get mistaken for fraud. 
Credit Card Fees
You might think paying with a credit card will prevent any sort of bank fee, but credit cards come with their own set of fees.
Make Your Money Work for You
"Most credit cards will also add on about 2.5% as an automatic currency conversion fee, known as a foreign exchange fee," Mercedes Zach, a travel expert at Asaptickets, said.
"Getting an international travel credit card with free foreign exchange is one of the ways to cut these fees, and additionally, be sure to pay in the local currency, as selecting your home currency usually entails even bigger charges," Zach advised. 
Tourist Taxes
Unfortunately, you might get taxed just for vacationing.
"A common hidden cost for U.S. citizens traveling to Europe is the city or tourist tax they will have to pay once they arrive to their hotel or accommodation," said Marina Guastavino, CEO of Directo Travel Extension.
"This is something you will have to pay regardless of how you book your accommodation and is paid directly to the hotel. Fees can go from as low as 1 euro to almost 10 euros in some cases," Guastavino said.
Make sure you've considered this extra fee might be coming after you check out of your hotel. 
Entry Visa Fees
Another thing to budget for: you might be asked to fork out cash as soon as you enter a country.
"Some countries charge for entry visa fees, so it's wise to research this before you go and ensure you have the amount needed," Baugh said.
More From GOBankingRates
Make Your Money Work for You