Thinking About a Pet-Friendly Vacation? These US Cities Are the Most Accommodating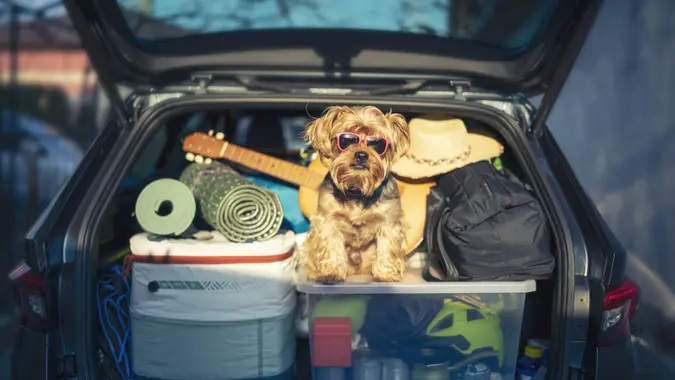 ArtistGNDphotography / Getty Images/iStockphoto
It's should come as no surprise that many Americans regard their pets as significantly more than simple companions. The mental and physical benefits owners may gain from viewing their pets as a part of the family are often significant, per Psychology Today. It isn't any wonder that owners want to spend their valuable leisure time with those who give them the most joy — and unconditional love.
According to 2021 American Pet Products Association [APPA] statistics, 70% of U.S. households own a pet and spend $124 billion on them. Increasingly, owners are spending money on shared experiences for themselves and their pets, like vacations.
However, traveling with a beloved dog or cat is more complicated than going for a walk or engaging in fun indoor activities. It takes planning — and a destination that will be hospitable and equipped to handle the needs of both pet and owner. Luckily, more and more accommodations are making it easy to take a trip that you and your pets can experience together.
Using data from vacation rental marketplace Vrbo, the Family Destinations Guide looked at 50 of the most populated cities in the U.S. and searched listings to formulate accommodation stats for the most pet-friendly domestic travel destinations.
Aside from strong showings by northern cities like Chicago, New York and Philadelphia, the Family Destinations Guide's rankings are dominated by warm-weather locations, with Texas (four), California (four) and Florida (two) having the most entries in the top 20.
Make Your Money Work for You
As the second-biggest state in America, Texas provides plenty of state park space for you and your pet. According to the study, Houston was found to be the most pet-friendly destination in the U.S. (with 478 pet-accommodating listings on Vrbo), followed by Lone Star neighbors Dallas (470), San Antonio (463) and Austin (416).
Here is the list of the top 20 U.S. destinations, per the Family Destinations Guide, with the number of pet-considerate accommodation listings accompanying in brackets:
Houston, Texas (478).
Dallas, Texas (470).
San Diego, California (467).
Jacksonville, Florida (466).
Orlando, Florida (464).
San Antonio, Texas (463).
Phoenix, Arizona (458).
Los Angeles, California (440).
Chicago, Illinois (440).
New York, New York (439).
Philadelphia, Pennsylvania (428).
Las Vegas, Nevada (424).
Denver, Colorado (419).
Austin, Texas (416).
Seattle, Washington (390).
Atlanta, Georgia (340).
San Francisco, California (336).
Washington, D.C. (298).
San Jose, California (250).
Boston, Massachusetts (143).
More From GOBankingRates