What Does the Highest-Rated Luxury Cruise Line in the Caribbean Cost?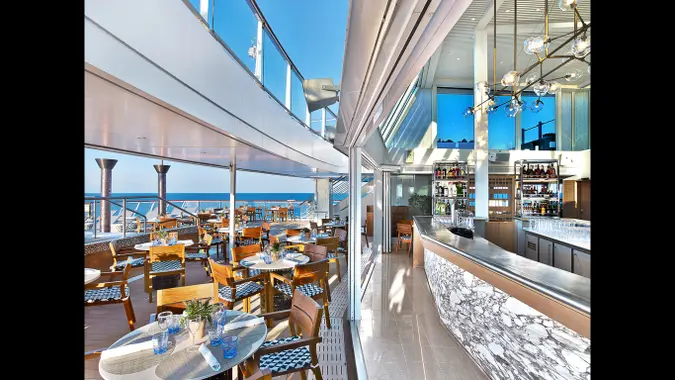 ©Photo Courtesy of Viking Cruises
Viking Ocean Cruises has earned the top honor for U.S. News and World Report's Best Luxury Cruise Lines of 2023. The boutique-style ships are a far cry from the over-crowded, overzealous, although arguably more affordable, cruise liners that most people imagine. 
Explore: GOBankingRates' Best Credit Cards for 2023
Discover: 3 Easy Tips To Turn Your Credit Woes Into Wows
Each of Viking's nine vessels accommodates up to 930 passengers. The cabins range from significantly above par (all are verandas) to dripping in decadence. While the highly ranked cruise ship company prides itself on "destination-heavy itineraries," it spared no expense for onboard experiences. Common areas are designed with sophistication and cater to the all-adult clientele.
Read on to find out just how much it will cost you to set sail on the Caribbean in the lap of luxury.
Set Sail from Ft. Lauderdale
15-day Caribbean Cruise price: $4,999 to $13,499 per person
Perhaps Viking's most popular Caribbean excursion is the 15-day Panama Canal & Central America cruise. After embarkation from Ft. Lauderdale, Florida, you will spend Days 2 and 3 sailing the crystal clear waters of the Caribbean. The next three days are filled with opportunities to explore new destinations, including ports in Cozumel, Belize City and Roatan (Honduras).
Make Your Money Work for You
Endless Exploration
Day 7 is another day at sea during which you can enjoy the amenities of the Viking vessel. The next two days are filled with adventures as you port in Puerto Limón, Costa Rica, with an included excursion to the Tortuguero Canals. Day 9 brings you to the historic city of Colón, Panama, where you can choose to traverse the capital or enjoy one of the optional excursions such as the Rainforest and Aerial Tram trip.
Rounding Out the Fun
After a few days back at sea, which includes scenic sailing on the Panama Canal Partial Transit, you will complete your journey by visiting Montego Bay, Jamaica. Enjoy a leisurely day sightseeing or, for the adventure seeker, go by 4×4 through the countryside, before ending your cruise back in Ft. Lauderdale.
Veranda Staterooms
The most affordable accommodation is a 270-square-foot veranda priced at $4,999. The Oceanview stateroom includes a floor-to-ceiling sliding glass door that opens to a full-size veranda. The stateroom is also equipped with a large bathroom and a king-size bed, and 24-hour room service is available. 
Food and drinks (including house wines and beers) are complimentary, but guests can select the Silver Spirits beverage package for $19.95 per night. It covers drinks throughout the cruise (except Champagne and drinks over $15).
Upgraded Accommodations 
In lieu of the veranda, guests can opt for a number of other stateroom options. They increase drastically in price, depending on just how luxurious you'd like your vacation to be. For $6,799 you can sail the open seas in a 338-square-foot stateroom known as the Penthouse Veranda. It comes with priority reservations and a number of other perks. 
Make Your Money Work for You
If you really want to enjoy life throughout the trip, you can upgrade to the Explorer Suite for $13,499. The oceanview two-room suite varies in size from 757 to 1,163 square feet and includes a living and dining area. 
If you do plan on booking, now is the time to do it. The ships fill up fast. March, October and November are the most cost-friendly times to cruise the Caribbean, as you can expect to pay almost double other times of the year. Also, no kids are allowed. Viking cruises are exclusively 18 and up. Happy sailing!
More From GOBankingRates
Make Your Money Work for You