Is Your State Refund Taxable?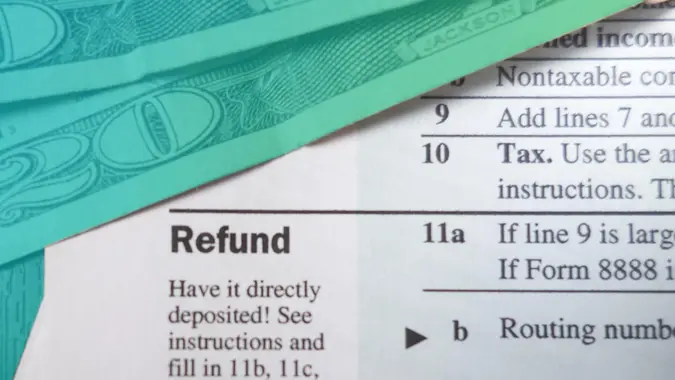 That state tax refund you just got is a nice little chunk of change; but, before you spend it, ask yourself this: Will I need to pay taxes on it when I file taxes next year?
Depending on the method you use when preparing your return, you might owe taxes on that state return. But how will you know for certain if you should put some of it aside for taxes?
Social Security Payment Schedule 2022: What Dates To Watch Out For
Discover: 9 Best Small Business Ideas To Make Money From Home
Read on to learn more about state taxes and when refunds turn into taxable income.
Will You Pay Taxes on Your State Refund?
If you received a state tax refund, you will receive a form 1099-G form that indicates the amount your state distributed to you. But does receiving the form mean you're required to report it as income when you file your next tax return?
For almost 90% of Americans, the answer is no.
POLL: Where Have You Cut Back Most Because of Inflation?
That's because nearly nine in 10 people take the standard deduction on their federal tax returns rather than itemize their deductions, according to the Internal Revenue Service. You are not required to report the refund as income if you didn't itemize your deductions on your federal tax return the tax year for which you received the refund.
Example: You received a refund of $300 in 2021 for your overpayment of taxes in 2020 and took the standard deduction. You received a form 1099-G that reflects the $300 refund. You do not need to include that as income on your 2021 filing.
Itemized vs. Standard Deduction
Either deduction reduces the amount of income you're taxed on. Taking a standard deduction is easier when you prepare your taxes. You don't need to keep receipts or document any deductible expenses.
For the 2021 tax year, the standard deduction for most is $12,550 per person — $25,100 per couple — and it will go up by $400 per individual and $800 per couple for the 2022 tax year. The standard deduction is higher for those who are blind, who are 65 or older or who qualify as head of household or a widow(er).
While the standard deduction is easier, skip it if itemizing will reduce your taxable income by an amount greater than the standard deduction. Itemizing makes sense for taxpayers who were affected by circumstances that include:
Mortgage interest and real estate taxes above the standard deduction
Large medical and dental expenses not paid by insurance
Big uninsured losses at your home for events such as flood and theft that weren't covered by insurance
Large contributions to qualifying charities
If you itemize, you likely will claim a state and local income tax deduction. That's why, if you itemize, you have to report your state tax refund as taxable income. Not doing so would give you double the tax benefit.
Who Must File a State Tax Return?
Seven states don't assess income tax, so you won't file a state return in Alaska, Florida, Nevada, South Dakota, Texas, Washington or Wyoming. If you live in New Hampshire or Tennessee, you're required to file a return if you have dividend or interest income, but your earned income isn't taxed.
Among states that collect income tax, the rules vary. Many states mandate that you file a state return if you filed federally. Some states don't require taxes if you earned below a specific amount or if you lived in the state for only a portion of year, while other states mandate it if you were just a short-term resident.
Even if you aren't required by your state to file a return, it's worth your while to do so if you overpaid your state taxes and have a refund coming, or if you are eligible for state tax credits. Your state won't process any money due to you unless you file a tax return.
Taxes are confusing. If you have any questions, a tax advisor or the website of your state's revenue or taxation department can offer more information.
More From GOBankingRates