6 Banks With Free Life Insurance, Goal-Planning Apps and More Amazing Non-Monetary Perks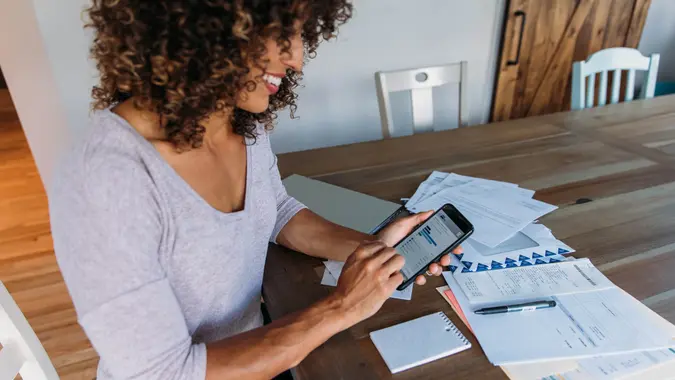 RichVintage / Getty Images
While most people expect to receive some sort of monetary benefit from choosing one bank over another, such as $200 for opening a new checking account, few people realize that many banks offer other freebies. From travel rewards to life-planning apps, banks across the country are drawing in customers with their non-monetary perks.
Find Out: Do You Really Need To Keep Your Emergency Fund Separate From Your Savings Account?
Experts: Here's How Much You Should Have in Your Checking Account
Whether you are a current customer or shopping around, you should check out all that the bank has to offer. And don't be shy to take advantage of these little-known incentives. As a customer, you have every right to reap the benefits, just don't forget to read the fine print. Some banks offer perks that come with strings attached. Here are six banks that promote solid freebies for their customers. 
Wells Fargo
Cellular phone protection
Travel and emergency assistance services
Free premier benefits
Wells Fargo offers a number of benefits for customers who use their Active Cash® Card. For instance, if you pay your monthly bill with your card you can receive cellular phone protection. The protection will reimburse you if the phone is damaged or stolen. The card also offers things like travel and emergency assistance services as well as auto rental collision damage waiver.
If you have $250,000 or more in qualifying balances with Wells Fargo you can qualify for free Premier services. In addition to 24/7 phone support, you can also receive things like goals-based planning. For accounts, under the $250,000 threshold, the cost of the service is $35 per month. 
Bank of America
Life planning
Lifestyle benefits
Bank of America offers a unique benefit to clients hoping to set short- and long-term financial goals. Bank of America Life Plan® is a digital tool that allows customers to set financial goals, get advice and track progress. There are 27 different categories to choose from including starting a business, welcoming a child and managing job loss. 
The bank's Preferred Rewards program gives customers lifestyle benefits for people enrolled in the Diamond or Diamond Honors tier. Lifestyle benefits include exclusive experiences and savings on luxury brands.  
Live Richer Podcast: Why Not Having a High-Yield Savings Account Can Be a Huge Mistake
Chase
Budgeting tools
Credit and identity monitoring
Chase wants to help customers set a budget and stick to it. Its Budget Tools include a monthly budget worksheet, articles to get you started and an expense calculator. The bank also has a budgeting feature on its mobile app. 
In addition to its budgeting help, the bank provides customers with credit score and identity monitoring. Even people without a Chase account can take advantage of a free credit score. 
Security Bank
Security Bank offers customers with All Access Checking Accounts free life insurance with no medical requirements. You must be between 18 and 60 years old and have no adverse health statements. The benefit is based on your Average Daily Balance (ADB). It is important to read through the information to ensure you qualify for this reward. 
US Bank
Free paper statements for seniors
Discounts on safety deposit boxes for workplace banking customers
Complimentary branded checks for wealth management customers
U.S. Bank's Smart Rewards™ program provides special rewards and services for people based on their age, military service or other classification. For instance, U.S. Bank offers seniors (individuals 65 and up) free paper statements with check images. 
In addition to age-specific benefits, the bank also offers special services for workplace banking and wealth management customers. Workplace banking customers can receive discounts on things like safe deposit boxes. Wealth management customers, on the other hand, receive complimentary wealth management-branded personal checks. They also have a dedicated concierge line and exclusive event invitations. 
SoFi
Financial planning
Membership experiences
Career coaching
SoFi gives its customers several benefits including financial planning, member experiences and more. Member experiences may be things like happy hours, career events or virtual get-togethers. The bank focuses on things like community, inclusivity and building relationships.
Career coaching is another perk that SoFi members can use. The benefit is 100% complimentary to all members and includes help with career transitions, job searches and personal branding. Members have the opportunity to work one-on-one with a person from SoFi's career team to set and reach goals. 
More From GOBankingRates