Banking 2023: Experts Predict 3 Major Changes Coming Next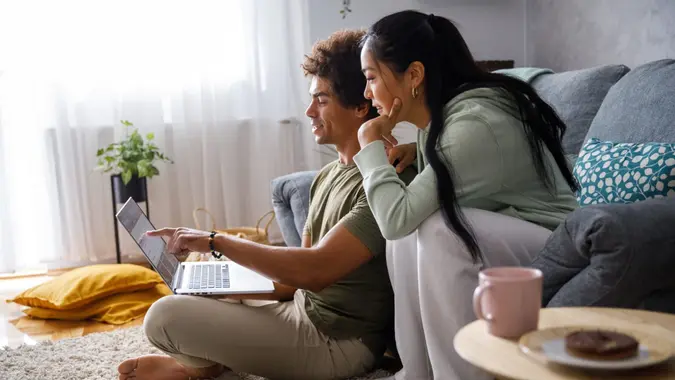 fotostorm / Getty Images
The banks of 2028 won't be unrecognizable compared to those you know today, but they will provide a smoother, simpler and faster customer experience — and they'll do it with fewer humans.

Check Out:
"Over the next five years, the banking industry is set to experience a wide array of changes that will revolutionize and influence how customers interact with their banks," said small-business and investor consultant Lucas "Luke" Solomon, founder of the smart banking site FX4Biz. "Many of these changes can be attributed to the massive influx of emerging technologies such as big data analytics, artificial intelligence (AI), machine learning (ML), blockchain, cloud computing, and robotic process automation (RPA)."
But the industry is also primed for changes beyond just the exciting sci-fi stuff. Banks are already reconsidering how they fit into their customers' lives in order to succeed in a rapidly changing landscape.
New Technology Will Lend a Human Touch to Automated Banking
The rise of "press one for this, press two for that" automated banking saved the industry a bundle of money, but it has been largely underwhelming in terms of customer experience. But a new generation of technology is bringing the human element back to automated banking without the need for actual humans — at least not many of them.
"One trend that we are already starting to see is the increased use of artificial intelligence and machine learning in banking," said Fluent in Finance founder Andrew Lokenauth, an investing and banking professional. "These technologies are being used to enhance customer service, improve risk management and streamline internal operations."
Sounds promising — but what does that mean exactly?
A small region credit union in the Midwest offers a glimpse into the future. Take a look.
The MLCU Model: Using Tech To Conserve Resources and Reimagine the Branch Experience
The biggest banks have the resources to develop robust digital infrastructure while also maintaining a full-time brick-and-mortar presence — but many smaller institutions do not. They'll survive the next five years only if they use emerging technologies like AI and ML to supplement their limited human resources and create a hybrid branch model.
For example, instead of migrating to a fully online platform, Michigan Legacy Credit Union (MLCU) is keeping its physical locations but transforming them into teller-less branches where smart ATMs do the heavy lifting. These next-level ATMs can facilitate standard deposits and withdrawals, but they're also fitted with a video teller platform that lets members open accounts, process fraud disputes, perform account maintenance like address changes and apply for loans or even close them out.
"With the rise of neobanks, combined with an increasing number of customers willing to handle their personal finances remotely as a result of the pandemic, brick-and-mortar banking is experiencing disruption, and the traditional bank teller and ATM experience is no longer enough," said MLCU president Carma Peters.
MLCU's website now lists the five original locations and a sixth "virtual branch."
Behind-the-Scenes Grunt Work? There's a Machine for That
Customers interfacing with digital tellers to submit loan applications through smart ATMs in branches with no human employees is just the most visible application for emerging technologies like AI and ML. But most of the work that banks will farm out to robots in the coming years won't be nearly as dramatic or apparent to customers.
"AI- and ML-based tools can automate mundane tasks within banks, such as identifying account fraud and credit-risk analysis," Solomon said. "RPA will allow financial institutions to transfer data faster than ever before while reducing costs associated with manual labor."
It's not that AI will replace humans in the banking industry. Instead, it will free them up to focus on their human customers.
"The future of banking will take shape by implementing a machine-learning platform that accelerates funding times, improves loan margins and reduces regulatory risk for banks, credit unions and fintech lenders," said Will Robinson, CEO of Encapture, which provides machine-learning services for banks and lenders. "This empowers banks to add in new forms of automation technology and allows their staff to focus more on customer experience and spend less time on manual tasks."
Robots as Masters of Regulatory Compliance
As an example, Robinson cited regulations like Section 1071 of the Dodd-Frank Act and the expansion of the Community Reinvestment Act.
Currently, most banks and lenders have to hire extra compliance staff to keep up with the strict reporting standards that those regulations require — but in the next five years, more banks will be able to leave it to the machines. 
"A document-focused machine-learning platform can read and extract data from any document, eliminating manual data scrubbing for banks," Robinson said. "With this automation in place, banks are able to focus on customer experience and data integrity, rather than the quarterly compliance and regulatory audits."
Banks Will Unbundle Their Services — Or Lose To Fintech Specialists
Goran Luledzija, CEO of fintech SaaS provider Localizely, believes that banks will forfeit the future only if the industry continues its commitment to a one-size-fits-all philosophy. To Luledzija, the local bank as the place where you keep your savings, handle your checking, apply for a mortgage and take out an auto loan all in one place is a 20th-century model that is already fading into obscurity.
"It's precisely this lack of granularity that's costing the traditional banking model the most," Luledzija said. "Currently, banks are holding onto the outdated idea that they need to be a one-stop shop for all things finance. In the meantime, different fintechs offering highly granular services are snatching customers away from banks and providing them with the exact same services, only faster and without strings attached."
Like the traditional department store, the traditional bank is by no means dead — but it will die if it doesn't restructure those traditions for the modern era.
"In my opinion, banks can still make it," Luledzija said. "They have immeasurable wealth in assets that they can leverage to get ahead of the competition and step away from last-century business models. It's only a matter of realizing they have to before it's too late."
More From GOBankingRates