How To Communicate With Your Bank When You Travel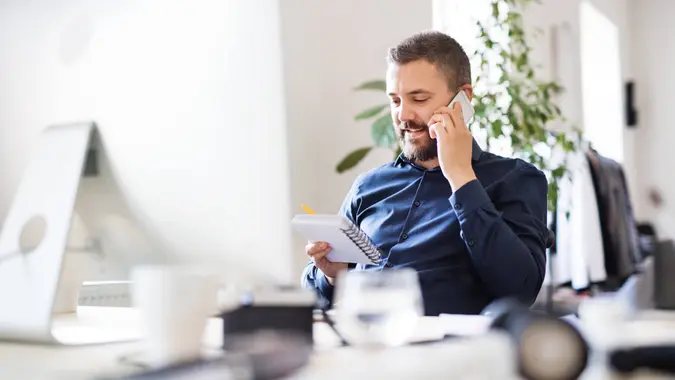 Halfpoint / Getty Images/iStockphoto
You're checking in at a hotel for a weeklong stay at a luxury resort across the world, or across the country, and the agent at the front desk informs you that your credit card has been declined. How can that be, you wonder? You have plenty of credit available, and your monthly Netflix charge is the only action this card ever sees.
Bingo.
Explore: GOBankingRates' Best Banks of 2023
See: 3 Ways Smart People Save Money When Filing Their Taxes
Read More: Gen Z and Millennials Favor National and Online Banks, Survey Shows — What Does That Mean for the Future of Credit Unions?
Given the sparse use of the card and the lack of any prior travel purchases, your issuer flagged your account for potential fraud. That leaves you stuck in an embarrassing situation at the desk, along with a problem you must fix before your vacation can proceed.
Financial institutions employ a mix of algorithms and artificial intelligence to keep your account safe, and atypical transactions or expenditures could raise suspicion — and be declined — if they don't fit a pattern of previous purchases. That's why some banks advise you to notify them if you're traveling out of your home region or making an unusually large purchase, even in your own ZIP code, to assure the transaction will occur without a hitch.
GOBankingRates' Top Picks: Best Savings Accounts
Notifying Your Card Company
When you've confirmed your travel dates and destinations, many banks advise that you take the extra step of notifying your credit card company of the details so that you can travel confidently. Wells Fargo, for one, recommends calling to speak with a customer service representative or adding your travel plan via your online account or mobile app. Citizens Bank, U.S. Bank, Citi and PNC Bank are among other banks that accept travel notifications online.
However, a growing number of major banks no longer advise letting the bank know of your travel plans because of their own increased security measures, with Bank of America, Chase and Capital One among them.
"With the added security of your Capital One chip card, travel notifications are no longer needed on your credit card," reads a notice posted to Capital One cardholders. "You don't have to tell us when and where you're traveling, inside or outside the United States. Your credit card is 100% covered for fraud while you're traveling and we will alert you if we see anything suspicious."
Boost Your Finances: 7 Simple Habits That Will Make You Richer in 2022
Taking Extra Steps Before Travel
One area where the banks agree is the need to update your mobile account before your departure to keep your account secure while traveling. With 89% of respondents in the Insider Intelligence's Mobile Banking Competitive Edge Study saying they use mobile banking, the majority of credit card holders can help themselves.
Banks, such as Capital One and Bank of America, advise making sure your contact information is up to date. If your cellphone won't work internationally, it's vital to have a current email address on file — and be sure to monitor the account. Then, set your account to receive alerts in case the bank needs to notify you about activity on your card. With many card issuers, you can sign up to receive instant notifications of purchases to help you stay on budget — and also to remain confident that no one else has tapped into your account.
Through mobile banking, you also may freeze your account should you misplace your card while traveling.
Find Out: How To Compound Your Income in 2022
Following Other Travel Tips
Wells Fargo recommends traveling with two credit cards — one you carry with you as your primary mode of spending and a secondary that you keep secured in a separate place in case you lose or experience another problem with your main card. Also, make note of the bank's international customer service number should you need to get in touch while on the road and store it with your passport, per Wells Fargo. The number likely is on the back of your card.
Bank of America also recommends making two copies of your credit cards, as well as your passport and other travel documents. Take a copy with you on your trip and store it in a secure place; leave the second one with a relative or trusted friend. Or, upload photos of them to the cloud to access your data from abroad. So far from home, it's wise to have access to this vital information in the event of loss, theft or another unforeseen event.
If in doubt about your bank's preferences when it comes to hearing your travel plans, reach out and ask, either in person with your teller, by telephone or via online chat. The adage "better safe than sorry" certainly applies here.
More From GOBankingRates