Warren Buffett Just Said More Banks Will 'Go Bust' — Is Your Money Safe?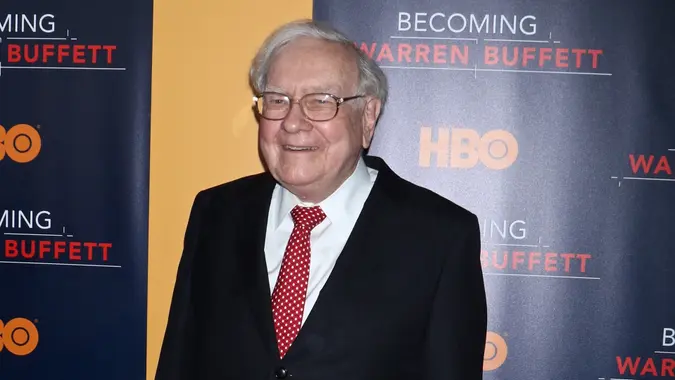 Gregory Pace/Shutterstock / Gregory Pace/Shutterstock
Berkshire Hathaway's Warren Buffett said there could be more bank failures in the future, adding, however, that depositors wouldn't be at risk.
"Banks go bust. But depositors aren't going to be hurt. We're not over bank failures, but depositors haven't had a crisis," the Oracle of Omaha said on CNBC's "Squawk Box" on April 12.
In March, the government had to step in following the collapse of Silicon Valley Bank and Signature Bank. The bank failures prompted emergency measures, including the creation of a new Bank Term Funding Program (BTFP). The BTFP makes additional funding available to eligible depository institutions to help ensure that banks have the ability to meet the needs of all their depositors, according to a Federal Reserve statement.
In other words, the program was created to avoid a bank run, and in turn, potential catastrophic consequences for the economy and consumers. It also helped restore a sense of confidence in the banking system and aims to quell jittery investors and depositors' fears of contagion, as GOBankingRates previously reported.
Buffett said the bank collapses revealed mismatched assets and liabilities as well as questionable accounting — some of the "dumb things" banks do and "bankers have been tempted to do" forever.
"Accounting procedures have driven some bankers to do some things that have helped their current earnings a little bit and caused the recurring temptation to get a little bit bigger spread on record, a little more than earnings," Buffett said.
Others have expressed similar views, including Shark Tank's Kevin O'Leary, who said last month that he, too, believed additional regional bank failures might happen despite the government's efforts to contain the damage, as GOBankingRates previously reported.
Take Our Poll: Are You Concerned About the Safety of Your Money in Your Bank Accounts?
"I say this is the beginning of the demise of small banks, for sure. And that we're going to end up with an oligopoly of very large institutions with an imputed concept that they're backed by the federal government. Not guaranteed, imputed," he said, according to the transcript of his remarks.
More From GOBankingRates