Shark Tank Investor Kevin O'Leary Predicts Regional Bank Failures — How Taxpayers Could End Up Paying For Them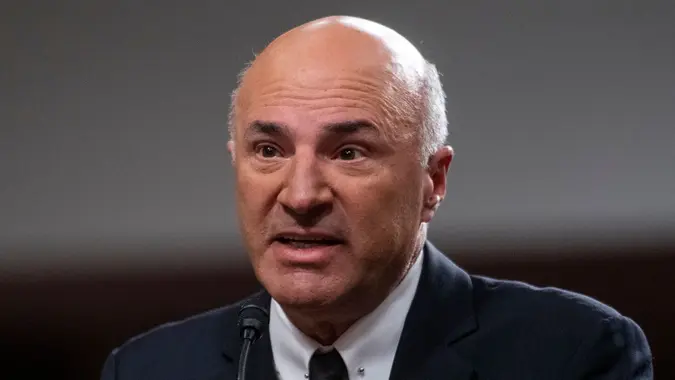 ©Shutterstock.com
Shark Tank's Kevin O'Leary said he believes additional regional bank failures might happen, despite the government's efforts to contain the damage. In turn, some experts believe taxpayers might bear the burden of some costs.
Speaking on CNN following the Senate hearings about Silicon Valley Bank and Signature Bank, O'Leary said that the banking system might undergo a consolidation, which in turn could lead to an "oligopoly."
"I say this is the beginning of the demise of small banks, for sure. And that we're going to end up with an oligopoly of very large institutions with an imputed concept that they're backed by the federal government. Not guaranteed, imputed," he said, according to the transcript of his remarks.
At the Senate hearings on March 29, Fed Governor Michael Barr, the central bank's vice chair for supervision, said that Silicon Valley Bank failed as it did not "effectively manage its interest rate and liquidity risk," adding that it was "a textbook case of mismanagement," according to prepared testimony remarks.
O'Leary added on CNN that he did not want to end up paying for "every idiot banker's mistake."
"It's not on me as a taxpayer. And there are many idiot bankers. I know it's harsh words, but let's put it the way it is. These people were incompetent, and that's what happened. Now, why do I own that problem? Particularly, if I don't live in California. I don't care what they do in California," he said, according to the transcript.
More: How To Guard Your Wealth From a Potential Banking Crisis With Gold
O'Leary's comments come on the heels of previous ones, saying on CNN earlier in the month that in essence, the Biden administration's bank recue represented a nationalization of the American banking system, which is now backstopped by the government and, ultimately, the taxpayer.
Some economists share that view, saying taxpayers could end up paying for these bank failures. As CBS noted, while taxpayers currently bear no direct cost for the failure of Silicon Valley Bank and Signature Bank , other banks may have to help defray the cost of covering uninsured deposits.
"Over time, those banks could pass higher costs on to customers, forcing everyone to pay more for services," according to CBS.
Following the collapses of Silicon Valley Bank and Signature Bank and the ensuing market turmoil it created, the government took several emergency measures. One of which, announced March 12, is the additional funding that is being made available through the creation of a new Bank Term Funding Program (BTFP), which is designed to help banks meet the needs of all of their depositors, as GOBankingRates previously reported.
The BTFP makes additional funding available to eligible depository institutions to help assure banks have the ability to meet the needs of all their depositors, according to a Federal Reserve statement. In other words, the program was created to avoid a bank run, and in turn, potential catastrophic consequences for the economy and consumers. It also helps restore a sense of confidence in the banking system and aims at quelling jittery investors and depositors' fears of contagion.
Learn: 4 Lessons for Startups From 'Shark Tank' Fails
Find: 9 Safe Investments With the Highest Returns
CBS noted, however, that even if taxpayers aren't directly on the hook, some economists said the banks' customers still stand to benefit from government support.
"Saying that the taxpayer won't pay anything ignores the fact that providing insurance to somebody who didn't pay for insurance is a gift," University of Chicago economics professor Anil Kashyap told CBS. "And that's kind of what happened.
More From GOBankingRates