'Shark Tank' Star Kevin O'Leary Won't Ever Invest in Bank Stock Again — Here's What He Prefers Instead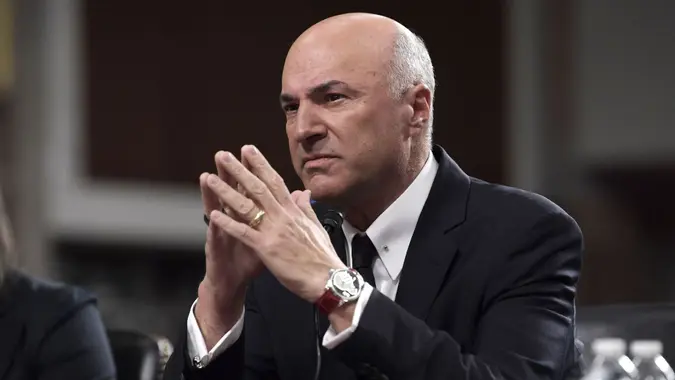 LENIN NOLLY/EPA-EFE/Shutterstock / LENIN NOLLY/EPA-EFE/Shutterstock
"Shark Tank" star Kevin O'Leary is known for his staunch opinions on the show's product demos — and on matters more broadly. But now "Mr. Wonderful" is taking a stance on the recent bank collapses, saying that, as an investor, he'd never put his money into bank stock again.
"What effectively happened… is that [President Biden] nationalized the American banking system," O'Leary told CNN after the demise of Silicon Valley Bank and Signature Bank, focusing on regulations that went into place to protect consumer money. The Canadian-born businessman then added, "It's no longer a risk. It's no longer private in any sense. It is now backstopped by the government, ultimately the taxpayer."
O'Leary believes these measures — though protective of consumer deposits — make banks less profitable because of heightened regulation, which changes how investors like himself view the asset.
Rather, the TV star and financial guru said that he prefers dividend stocks over bank stocks. "Over the last 40 years, 71% of the market returns came from dividends, not capital appreciation," he shared with CNN. "So rule one for me is I'll never own stuff that doesn't pay a dividend. Ever."
According to Fidelity Investments, dividend stocks can be beneficial in that "they provide a way for investors to get paid during rocky market periods, when capital gains are hard to achieve." And, "They may provide some hedge against inflation, especially when they grow over time."
The idea with these types of stocks is that they "accelerate the payback on the investment" with a defined dividend period. For example, there may be terms of an annual or quarterly dividend that pays out based on how well the stock did in that time period. Having this option (payback) is a "safety-net approach" to investing, according to Fidelity.
O'Leary shared two of his top dividend stocks with CNN, noting that his returns on both Microsoft and Home Depot investments have paid off nicely. According to Moneywise, tech stocks aren't normally set up as dividend options, but Microsoft is an exception — over five years its quarterly payouts have increased by 62%. Home Depot is also a stock that flourished over the pandemic. "In Home Depot's fiscal 2022, sales increased 4.1% year over year while earnings per share improved by 7.5%," per Moneywise.
Home Depot is also a dividend stock GOBankingRates recommends for 2023. The other top high-yield dividend stocks to invest in this year — per this GBR guide — include AbbVie, JPMorgan Chase and Coca-Cola.
More From GOBankingRates