How I Invested $100K and Turned It Into $1 Million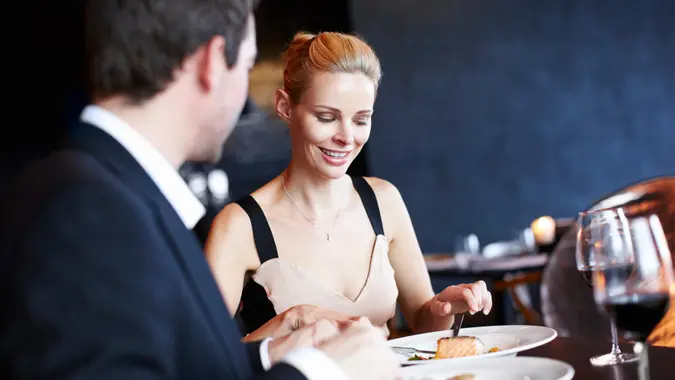 Troels Graugaard / iStock.com
Investment strategies in the stock market can range from short-term passive investing to long-term retirement accounts to better stabilize your future. Depending on your risk tolerance and when you started investing in stocks or exploring the S&P 500, making it to the million-dollar marker may not be out of the realm of possibility for you.
In this day and age, you don't have to be born rich to live comfortably, you can take note of what other experts have done and become a self-made millionaire. 
Read: 3 Things You Must Do When Your Savings Reach $50,000
How To Invest Like a Millionaire
Even without passive income or much money at all to his name growing up, American businessman and co-founder and CEO of RSE Ventures, Matt Higgins, has turned humble beginnings into a personal fortune. When asked about his financial journey, Higgins had this to say:
I often wonder what I'd do if I went broke and had to start all over again. Luckily, thanks to AI, there's never been a more exciting time to make money. I was especially inspired after reading about a college student who launched an AI business making $64,000 a month.
A Step-by-Step Guide: How I Turned $100K Into $1 Million
Higgins goes on to outline the steps he would advise you to take. Though he specifically references AI stocks and tech index funds, this is solid advice for any investment you're looking to do whether that's real estate investing or even just exploring new exchange-traded funds. Here is the step-by-step guide from Higgins himself:
So, if I had to begin today with just $100 in my pocket, here's how I would use AI to generate thousands of dollars a month in passive income:
Step 1: Identify a Fast-moving Trend
Look for a specific niche with a passionate following. Make sure the trend is compelling enough that many people will pay you to learn hacks. My best advice is to start with what you know the best, or research the latest viral posts on social media.
Step 2: Become an Expert in 24 Hours
Take a day, away from any distractions, to learn about the latest time and money-saving AI tools for core business functions. Scour the internet, go through TikTok and Instagram, watch YouTube videos and consume every AI tweet. Then distill everything you learned into a comprehensive document.
Step 3: Build a Logo and Website For Your Course
First, come up with a clear, actionable title for your offering, like "How to Use AI to Save Your Small Business Time and Money." If you don't know the first thing about design, you can use AI programs like Looka or Midjourney to build a great brand logo.
Step 4: Use AI as Your Marketing and Sales Team
For the last step, you can outsource all your marketing strategy and copywriting to ChatGPT. All you need to do is study up on the best prompts to get the most out of this magician. I believe that Twitter threads are the best resource.
How To Invest $100K To Make $1 Million
As you agonize over interest rates and debate if crowdfunded investing in real estate is really something you should consider, remember that many people have been right where you are and turned molehills into mountains financially. This type of long-term investment won't be an overnight success story but if you stick to these tips you'll pave the way for a brighter financial future. 
Do an inventory of your assets
Assess whether your risk tolerance is high or low
Calculate your investment timeline
Balance rebalance your portfolio
Account for taxes and fees
1. Do an Inventory of Your Assets
The first step in turning $100,000 into $1 million is to gauge whether or not you have $100,000 as a reasonable starting point. This amount should be free and clear of any major debts you have or taxes you owe. If you do have this amount ready to go, it may be time to seek out the guidance of a financial advisor to make your next moves and grow your assets. 
Other assets and investment options to consider:
Real estate investment trusts, or REITs
Exchange-traded funds, or ETFs
2. Assess Your Risk Tolerance: High or Low? 
High risks can come with high rewards; however, you should make sure you are comfortable with both the amount you are investing and the time with which you are allowing it to grow. There are safer investment such as CDs or bonds, but you have much less earning potential. If your goal is to hit $1 million you may have to take some bigger swings in the market to yield those high-paying results. 
3. Calculate Your Investment Timeline
It's time to crunch some numbers and see how long it will take you to reach $1 million. Here are some key takeaways for estimating your investment time horizon:
Know how much you need to add to your investments monthly.
Work backward to calculate how many years it will take you to reach your goal.
Calculate the rate of return and earning potential for your investments.
4. Balance and Rebalance Your Portfolio
Much like heeding the advice to not put all your eggs in one basket, diversification of your stock portfolio and asset allocation are also crucial. Analyze whether you prefer an active or passive investment strategy and stick with what works for you. This means you'll have to stay on top of your assets and often rebalance your portfolio when necessary. 
5. Account For Taxes and Fees
If you have the goal of turning $100,000 into $1 million make sure you reach your total without chipping away at too much of the overhead. This means factoring in and minimizing your tax liabilities and costs. Here are points to consider when assessing your overall costs:
Financial advisor or wealth management fees
Expense ratios for mutual funds and ETFs
Trading fees for individual stocks
What investments will be tax free
Final Take To GO
Becoming a millionaire, though no longer an impossible dream, does take diligence and bold investment strategies. Knowing where you currently stand and how comfortable you are with risks are important assessments in starting to turn $100,000 into $1 million. It's a good idea to seek the guidance of experts and financial advisors and look to follow the steps of those who have walked this path before you. 
FAQ
Here are some answers to frequently asked questions about how to invest $100K and turn it into $1 million.
How to invest $100K to make $1 million?

Though there are no guarantees, here are some steps to take when investing $100K in the hopes of making $1 million:

Do an inventory of your assets
Assess whether your risk tolerance is high or low
Calculate your investment timeline
Balance rebalance your portfolio
Account for taxes and fees

What is the best way to invest $100K for income?

Here are some of the best ways to invest $100K for income:

Real estate investment trusts, or REITs
Roth IRAs
Traditional IRAs
Exchange-traded funds, or ETFs
Index Funds or mutual funds
Individual company stocks
High-yield savings accounts
CDs
Stocks and bonds
This article has been updated with additional reporting since its original publication.