3 Ways You Can Keep your Money Safe From a Bank Failure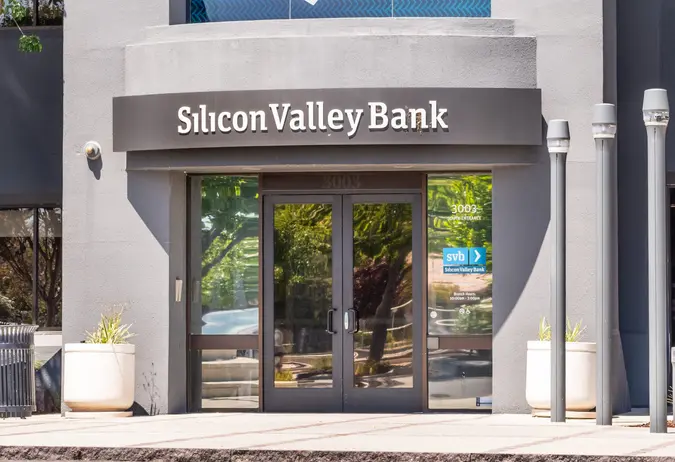 Sundry Photography / Getty Images
From an early age, many Americans are taught that placing one's savings in the bank is the safest route. But what happens to your money in the unlikely event of a bank failure?
See: The 15 Biggest Bank Failures in US History

A failure occurs when a bank becomes insolvent or doesn't have sufficient liquidity to cover its customers' deposits and obligations to creditors. Bank failures are also perhaps more common than you think.
Silicon Valley Bank (SVB) is currently under the control of the Federal Deposit Insurance Corporation (FDIC) after being unable to pay back customers who withdrew deposits — a scenario which culminated in the bank's closure Mar. 10. The SVB failure is the second biggest in U.S. history. On Sunday, a second bank, Signature Bank, was closed by the U.S. government. Both banks had massive amounts of uninsured deposits, per Business Insider.
There are a few ways to protect your savings from bank failures that involve little time or effort, but it pays to know more about your bank than just its name. Here are three ways you can keep your money safe from a bank failure.
1. Bank at an FDIC-Insured Institution
Most banks are insured by the Federal Deposit Insurance Corporation (FDIC). If your bank is FDIC-protected, you'll have no worries getting your money in the event of a failure (within certain limits).
If you have deposits resting in a non-FDIC-insured bank, you are putting your money at risk and may have trouble recouping it should your institution fail. In the case of bank failures, the FDIC has to take over the bank and either sell it to another financial institution or operate it as a federally owned bank. The redistributing of assets to customers and creditors may some time.
To check if your bank is FDIC-insured, look it up on FDIC's BankFind Suite page.
2. Keep Tabs on Your Bank
Sometimes it pays to know a bit more about your bank than its name. Aside from knowing if your money is FDIC-insured, you can't predict when a bank failure will happen. However, as Experian stated, "Monitor the health of your bank by keeping up with financial news articles. By monitoring the health of your bank, you can be aware of any potential problems and take steps to protect your money before a failure occurs."
3. Know the FDIC Coverage Limit
The FDIC protects and reimburses your deposits up to the legal limit of $250,000 in the event your FDIC-insured bank fails. However, the $250,000 limit is per account holder, per each ownership category account (single accounts, joint accounts, certain retirement accounts, employee benefit plans, etc.), according to CNBC Select, so you might have to set up additional accounts to hold amounts in excess of $250,000.
Fortunately, depositors of Signature Bank and Silicon Valley Bank will be made whole, according to a joint statement by the U.S. Treasury, the Federal Reserve and the FDIC issued Sunday.
More From GOBankingRates