Which Neobank Is Perfect for You?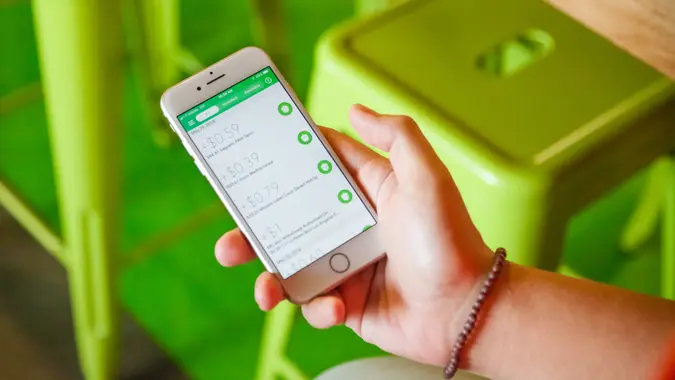 Chase Brock / GOBankingRates.com
Banks are meant to meet all your financial needs, and as we've become more digitally savvy and technologically privileged, those needs, for many of us, have evolved. We may no longer require a physical branch to get our banking done, often preferring to handle our transactions from our phones or laptops. We may be especially interested in doing so if we can garner higher interest rates and/or lower fees in exchange for waiving access to a brick-and-mortar location.   
Find Out: Here's How Much Americans Have in Their Savings Accounts in 2023
Tips: Where To Find All of Your Bank Account Information
This is where neobanks come into play. These fintech companies provide banking services via a mobile app or website. Because of lower overhead costs, neobanks can afford to offer their clientele higher interest rates and lower — or even no — fees on their accounts. Thanks to their attractive offerings, neobanks are becoming pretty popular and the sector is forecast to grow. Insider Intelligence predicts that the number of U.S. neobank account holders will expand by 46.4% between 2022 and 2026.
With neobanks on the rise, consumers have more options in the space, and the question of how to choose a neobank becomes more complex. How do you find the neobank that is perfect for your life? Let's explore some of the best neobanks and what defines them.  
Acorns
Acorns has become famous for its robo-advisor app that offers automated investing; but it's also a neobank that touts basic, low-cost deposit accounts. These accounts are great for micro-investors because of that auto-investing feature. Plus, there's no monthly maintenance fee. When you sign up for a checking account with Acorns, you get a Visa debit card you can use to make purchases or conduct ATM transactions at any of the 55,000 fee-free ATMs in Acorns' network. Referring friends to Acorns earns you a $5 investment bonus when a friend joins. 
With its spare-change-investing approach, Acorns is ideal for people who are naturally not great at saving and want an app to do a bit of the heavy lifting for them. It's also good for people who are looking to get rid of monthly maintenance fees. 
Live Richer Podcast: Why Not Having a High-Yield Savings Account Can Be a Huge Mistake
Betterment
Betterment is a neobank that is particularly noteworthy for its high-yield cash account, which currently sports a 4.00% APY. The bank also shines with its savings account, which touts an above-average yield, no fees and no minimum balance requirements. Its checking account is also worth writing home about, as it's also got no minimums, no fees, plus unlimited global ATM fee reimbursements and reimbursements of foreign transaction fees. But where Betterment really stands out is as an investment portfolio tool. Clients have a range of ways to easily invest their money through the neobank. 
Betterment is great for consumers who want a breezy neobank experience with no fees and high APYs (especially on a cash account), but it's arguably best for someone looking to do some investing in addition to their banking.   
Chime
Chime works with retailers such as Walmart, Walgreens, Target, CVS and Rite Aid, which is great because if you shop at one of these stores, it means that you won't get charged a fee for getting cash back using your Chime card. Chime also has over 60,000 free ATMs. But perhaps more importantly, this neobank boasts no service fees, a higher-than-the-current-average savings rate, 24/7 customer service, a credit-builder secured credit card and it doesn't rely on Chex Systems or credit checks. Chime also enables users to round up debit card transactions to the nearest dollar and put the spare change into their savings account.
Chime is perhaps best for people who may be running short on cash close to the end of the month or shortly ahead of payday. This is because the neobank allows one to get paid up to two days early via direct deposit. 
LendingClub
LendingClub is a rare neobank in that it actually has one physical branch — in Boston. But by and large, this is an online institution and that's how it was designed to function. This neobank's rewards account pays interest, which is a standout feature, it has a free checking and a free savings account (its savings account pays a noteworthy 4.00% APY). It also offers a CD account: Rates range and go up to 4.10% for a five-year term. And, with LendingClub, there are no monthly service fees.  
This neobank is ideal for someone who is going to take advantage of that interest-bearing rewards account. Those checking account holders earn 0.10% APY when their balance is $2,500 to $99,999.99. If it's more than that, they earn 0.15% APY.   
SoFi 
SoFi flaunts a full range of products including a combined checking and savings account; student, personal, auto and mortgage loans; credit cards; insurance; and investing, including retirement accounts. SoFi is a popular choice, with over 4 million members and around $4.4 billion in assets. It offers a 2.50% APY interest on one's checking balance. Users can get their paycheck up to two days earlier via direct deposit, and will also be covered for overdrafts up to $50 at no cost. There are no monthly fees. 
SoFi is a great pick for those who want to have a replete suite of options at their fingertips within one neobank. It's also optimal for those who like to keep their finances organized with its Vaults feature, and those who want to effortlessly save with Roundups.
More From GOBankingRates