How Much It'll Cost Banks in Sign-Up Bonuses To Get Customers To Consider Switching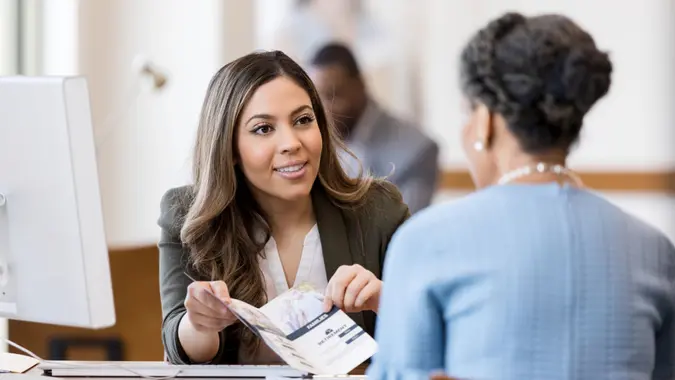 SDI Productions / Getty Images
More banks are competing for your business now than ever before. That's good news for anyone in the market for a new financial institution or who's willing to switch for a sweet enough offer.
See the List: GOBankingRates' Best Banks of 2023
Find Out: Do You Have Too Much Money in Your Checking Account?
Check Out: GOBankingRates' Best Online and Neobank Savings Accounts 2023
Banks are eliminating fees, expanding their digital platforms, improving their apps and raising their yields to lure customers from their competitors. But many are discovering that a simple cash bonus is sometimes the most irresistible enticement of all — and the people agree.
A new GOBankingRates study of 1,000 adults shows that people prioritize a generous sign-up bonus when shopping for banks over 24/7 customer service, easy accessibility, low deposit requirements and a strong variety of products and services.
The trick is to get as much as possible without holding out for an unrealistic number. But when is a bonus big enough to justify dumping the bank you're with now? The answer, of course, is that it depends.
People Are Most Likely To Hold Out for Big Bucks
The biggest percentage of respondents — about one in four, or 24% — would consider switching banks only for a sign-up bonus of $1,000 or more. While that kind of payout isn't unheard of, most people won't qualify even in the rare cases that a bank extends such an offer.
Citi, for example, offers bonuses up to $2,000, but to get the max, you'd have to deposit at least $300,000. Deposits of $200,000 or more earn you $1,500 and you can get a $1,000 bonus by putting and keeping $75,000 in the bank.
Chase is offering a $2,000 bonus, but only for private clients who deposit at least $250,000.
So, yes, four-figure bonuses are out there — but you'd better really have something to offer the bank if you plan to cash in.
Take Our Poll: How Do You Think the Economy Will Perform in 2023?
Or, They Come Really Cheap
The No. 2 biggest group of respondents, a little fewer than one in five, is on the opposite end of the spectrum entirely. They would ditch their bank for a new one that promised a sign-up bonus of $100 or less.
That's much more realistic than $1,000 — Marcus by Goldman Sachs, Axos Bank, Chase and Bank of America are just a few of the banks currently offering new customers a C-note.
But in most cases, the lowballers are selling themselves short and could do better with a little poking around.
The Masses Are in the Middle — and So Are Most Banks
About 14% wouldn't consider switching for less than $500-$1,000, but most of the rest fall somewhere between the two poles. It breaks down like this:
$101-$200: 13%
$201-$300: 11.2%
$301-$400: 8.5%
$401-$500: 11.6%
These groups are best positioned to snag a good bonus without settling for too little or being disappointed after setting their expectations too high. Bonuses in the $200-$300 range are fairly common without unreasonable qualifying conditions from both traditional and online banks.
Bonuses Are Out There, but Should You Switch To Get One?
If the bonus you're considering doesn't come with strings attached and the account is at least as good as the one you have now, why not? 
"Absolutely, people should consider switching banks to take advantage of a signup bonus," said Matthew Coan, owner of the personal finance website Casavvy. "If you can get lower fees, a higher interest, and a signup bonus, it is an easy financial win for the consumer."
That easy win, however, often comes with fine print.
"Consider the potential cost of things like closing fees and transferring costs," said Carter Seuthe, CEO of Credit Summit. "These fees can add up quickly and effectively reduce or eliminate your incentive for switching. Do your homework to make sure you're getting a good offer."
Dinesh Pandian, finance expert, and co-founder of Lenders.fi, points out another unavoidable fact of life — to the IRS, a bank bonus is just another source of income.
"You'll have to pay taxes on that bonus," Pandian said.
Make Sure the Cash Is Worth the Inconvenience
Moving your emergency fund from one savings account to another is a relatively painless proposition, but your checking account is linked to your entire financial life. If you're considering chasing a bonus, consider the tradeoff in terms of life disruption.
"Switching banks takes time," said Melanie Musson, a finance expert with Clearsurance. "If the incentive is worth your time, you may want to make a move."
But as Coan points out, you'll have to update your information with every entity you pay or that pays you through your checking account.
"This could be things like utilities, mortgage, car payments, etc.," he said.
Your employer, the IRS and anyone else who gives you money will need to be updated with your new bank information, as will your Venmo, PayPal and brokerage accounts.
So the question becomes, what are a few hundred bucks worth to you?
"Before changing banks, weigh the pros and cons," said Musson. "Make sure you understand the requirements and costs versus the benefits."
More From GOBankingRates