9 Expert Predictions About the Future of Banking in 2023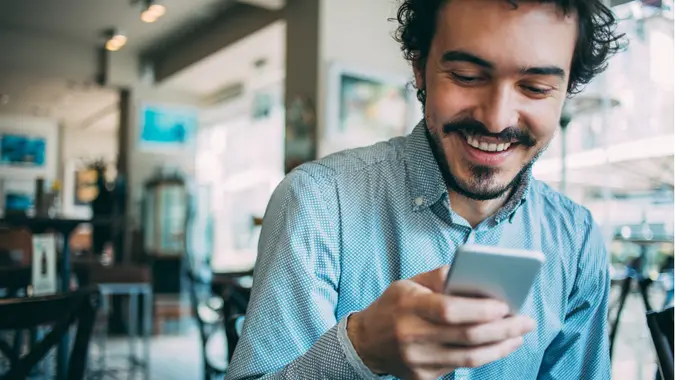 pixelfit / iStock.com
The banking industry has been rapidly evolving over the past few years. It's now easy to make many transactions with the click of a button, and the rise of online banks and neobanks has given consumers more choices about where and how they do their banking. So what does the future hold?
Explore: GOBankingRates' Best Banks of 2023
Find Out: 5 Ways Millennials and Boomers Bank Differently
See: GOBankingRates' Best Online Banks 2023
To find out, I spoke with banking experts to get their predictions on what we can expect from the industry in the coming year.
More Consumers Will Bank Online
"We are already seeing a trend of consumers moving their money to online banks rather than traditional branch-based banks, and I believe this momentum will continue in 2023," said Morgan Gray, senior vice president, head of Bask Bank and consumer strategy at Texas Capital Bank. "In fact, a recent survey published by Forbes Advisor found that 78% of consumers prefer to do their banking online."
Consumers Will Have Higher Expectations From Their Banks
"Consumers are smart and savvy about saving and doing their research, so they are more aware of products in the markets and expect banks to win their business through differentiated products," Gray said.
She believes that many consumers will turn to digital banks because of the products and perks they are able to offer.
"In the current environment of high rates, digital banks are setting themselves apart by offering above-average annual percentage yield (APY) on savings products, unique rewards such as miles or bonuses, and greater ability to manage accounts independently," Gray said.
Ram Subramanian, vice president of deposits at Discover, also believes that consumers will expect more from their banks.
"Consumers are increasingly looking for a banking relationship that is reliable and rewarding, through high interest rates, no fees and instant money movement," he said. "They are not comfortable with flashy deals that expire after a set amount of time or tolerate being on hold for a long time to talk to a customer service agent. They want to be able to speak to someone quickly by phone, social or chat, and get their questions answered or problems resolved."
Online Banks Won't Replace Brick-and-Mortar Banks
Although many consumers will choose to bank online, Bill Day, senior vice president at Frost Bank, believes that having brick-and-mortar locations will remain important to consumers this year.
Take Our Poll: How Big of a Sign-Up Bonus Would It Take for You To Change Banks?
"We have a top-rated mobile app and extensive online banking options, but our customers also want the ability to come to a well-appointed location and sit down with a banker who can answer their questions," he said. "Our view is that we should meet the customers where they want to be met, whether that's at a branch, on our 24/7 customer phone line, through our chat function, at an ATM, online or through the Frost app. This has been successful for us, and it will continue to be successful."
Low-Cost Credit Options Will Be in High Demand
"In 2022, we saw the fastest rise in inflation in 40 years. This had a detrimental impact on the daily lives of many Americans, as the rising cost of goods and services came without a corresponding increase in wages," said Josh Stephens, VP of product at Current. "As we move into 2023, the potential for economic recession looms, which we think will lead to increased demand for affordable credit options, particularly small-dollar loans."
Consumers Will Turn To Video Formats To Learn About Their Finances
Banks often provide educational tools for consumers, and the formats in which consumers ingest this information is evolving, said Jon Stevenson, head of corporate development at MoneyLion.
"Customers are tired of reading long-form blogs and articles, and are increasingly turning to short-form, context-specific video content relevant to their situation," he said. "We all see this across social media, and it is quickly broadening to include every money decision."
Banking Will Be More Personalized
"The future of banking is hyper-personalized, where banks use real-time data and analytics to serve each distinct customer and offer targeted solutions to fit their needs," said Luther Liang, director of product at Grasshopper Bank. "Customers increasingly expect banks to anticipate their needs and proactively make appropriate recommendations.
"Utilizing automation and machine learning technologies, banks can connect with potential customers, solidify existing relationships, and differentiate themselves in a crowded marketplace," he continued. "I believe we will see nearly half of all financial institutions using hyper-personalized tools this year, as challenging loan and deposit landscapes will require banks to find new ways to target prospects and maximize existing clients."
Mia Alexander, VP of customer success at Dave, also believes that real-time hyper-personalization will be a necessary evolution.
"Banking is at a turning point," she said. "Access alone will not be enough and opportunity will be the new requirement. This will require a shift to using more tech and data to create bespoke solutions for customers in real time. Many traditional banks have not evolved their products and services at the pace of the industry, which will create a big shift to tech-driven organizations."
Blockchain Technology Will Play an Increasingly Important Role
"Blockchain is the future of banking, and that will become increasingly apparent in 2023," said Kevin R. Greene, chairman and CEO of Tassat Group, Inc. "Many in the industry — and in society — conflate crypto with blockchain, but this technology isn't going anywhere. Cybersecurity, fraud prevention and data privacy will remain top priorities for banks, and we believe we will see financial institutions turn to private blockchain to solve these issues."
Trust Will Be Top-of-Mind for Banking Clients
"In 2023, purpose and trust will be at the forefront of financial services," said Dontá Wilson, chief retail and small business banking officer at Truist. "In a year with potential financial challenges on the horizon, Americans will be very intentional and cautious with their spending. Almost every aspect of our lives is underpinned by financial services, and banks are the critical connection point to help people better manage their financial lives and create equitable financial opportunities in our communities. It will be key for banks to be of service, not just provide a service, in order to earn and maintain our clients' trust."
This need to be of service is especially vital in the current high-rate environment.
"Credit Unions and banks will have to continue navigating the ever-changing interest rate environment and find ways to help their members and customers do the same," said Nathan Anderson, EVP and chief operating officer at Mountain America. "I think at the end of the day, members and customers probably need our help now more than ever, and that really does come in the form of analyzing their whole debt picture and seeing how we can put them in a better situation."
Banks and Consumers Will Need To Be Proactive About Safety
"The industry is in a moment of flux with fraud," said John Pataky, chief banking officer at TIAA Bank. "Banks have a high burden of looking out for customers and their overall financial wellbeing, but consumers also need to be proactive."
More From GOBankingRates
Gabrielle Olya contributed to the reporting for this article.