The Pros and Cons of Wells Fargo SurePay
Follow a few simple steps and learn how to transfer money using Wells Fargo SurePay.
Carrying around cash isn't always practical, and Wells Fargo SurePay offers an alternative. You don't have to find an ATM or haul around a checkbook when you use the SurePay app. The easy-to-use app is available for devices including iPad, iPhone, Android tablet or phone or Windows laptop.
Here's a list of everything you need to know about the Wells Fargo SurePay service. Use the information to make an informed decision about whether this is the best app for your banking needs.
What Is Wells Fargo SurePay?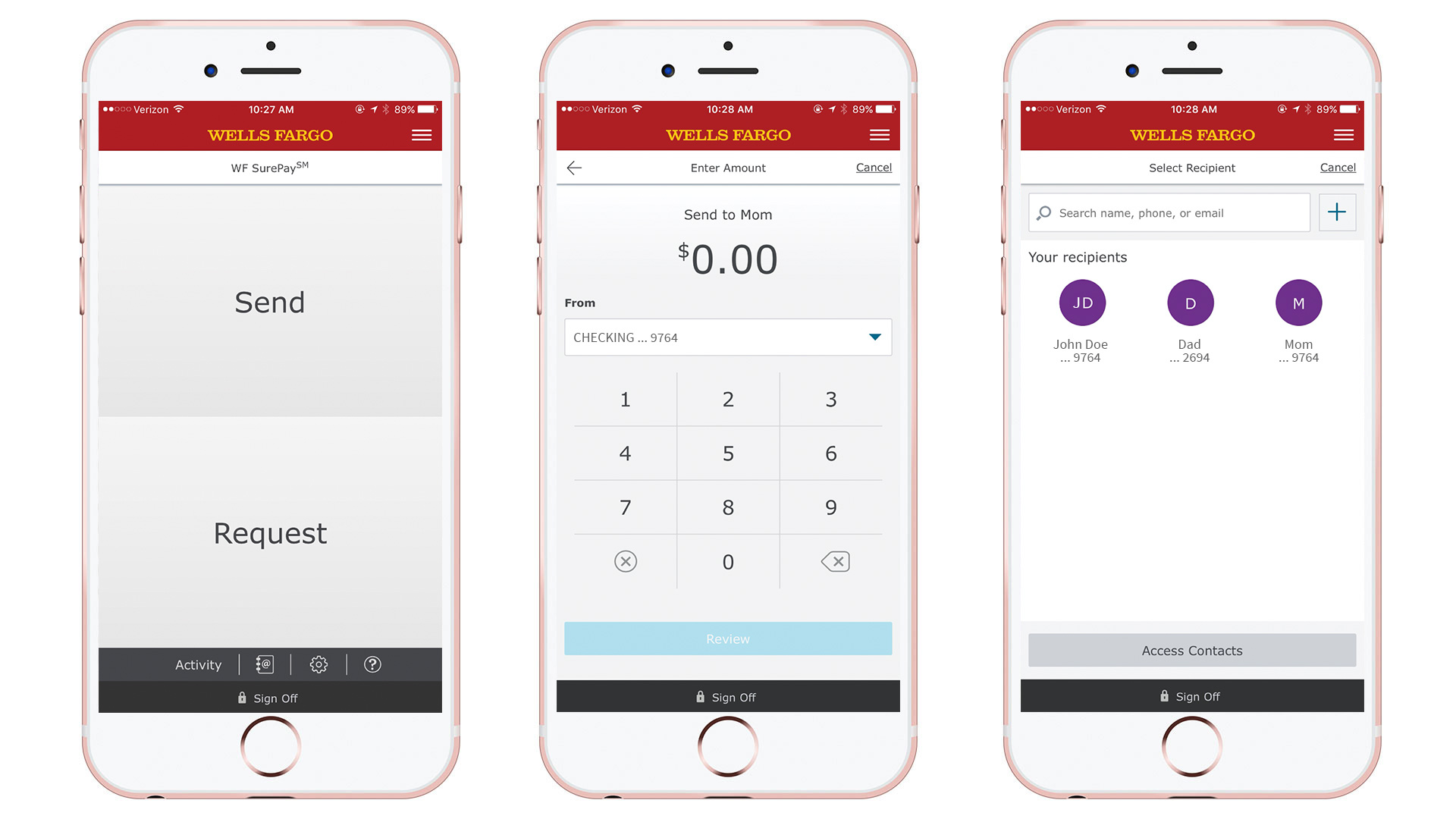 The SurePay app enables Wells Fargo customers to send and receive money, even if the other party doesn't have a Wells Fargo account. As long as the recipient has a U.S. bank account, all you need to do to send money is enter his email address or mobile number.
You can transfer funds quickly with Wells Fargo SurePay — depending on which bank the recipient uses, he could have his money in a matter of minutes or in up to two business days. Customers can use this service 24/7.
How Wells Fargo SurePay Works
Once a Wells Fargo customer downloads the SurePay app to his computer, tablet or mobile device, he can receive or send money. The bank uses a digital payment network, known as clearXchange, to transfer the desired funds. Whether the customer is the sender or the recipient, he will need to link the app to his Wells Fargo checking or savings account.
Sponsors of
You can send money to just about anyone who has a U.S. bank account — and you never have to share account numbers. Using an email address or mobile number, you can easily pay the babysitter, split the tab for a cab ride or send money to your child in college. You can also receive money using your email address or mobile number.
How to Send Money With Wells Fargo SurePay
Sending money using the SurePay app is straightforward. You log in to your account, select "Transfer and Pay" from the drop-down menu, click on "WF SurePay" and follow prompts to register and send the money.
After you enter the recipient's email address or mobile phone number and submit the amount of the payment, the recipient is notified. He is also given directions on how to register and deposit the money in his U.S. bank account.
Read: Your Guide to Wells Fargo SWIFT Codes
How to Receive Money With Wells Fargo SurePay
When you register for the SurePay service, Wells Fargo connects your Wells Fargo checking or savings account with your email address or mobile number. When someone wants to send you money he can use your email or phone number instead of your account number. When someone sends you money you receive a notification.
One you get your notification, log in to your Wells Fargo account and select "Transfer and Pay" from the drop-down menu then "WF SurePay." Next, follow the steps to enroll and register the email address or mobile number the person used to send you the money.
Wells Fargo SurePay Fees and Limits
Wells Fargo account holders do not pay a fee to send or receive money from another eligible bank account. You will have, however, a daily and monthly limit on how much you can send, depending on your transfer activity history. The limit is from $2,000 to $2,500 per day and from $4,000 to $20,000 in a 30-day period.
Wells Fargo SurePay: Pros
The Wells Fargo's SurePay app can be a great tool for Wells Fargo customers. Here are the pros of Wells Fargo SurePay:
Sponsors of
Convenience: SurePay allows you to click a button and give the babysitter money at the end of your date night, or pay a friend for your share of the dinner tab if you don't have your wallet on you.
No fees: You have to purchase checks and pay fees at some ATMs. Wells Fargo makes banking less expensive by not charging any fees to use its SurePay service.
Quick transfers: Not only will you receive money quickly when it's sent to you, you'll be able to pay others for services in a matter of minutes. Your recipient will get the funds in two business days or sooner.
Security: Wells Fargo SurePay keeps your account information safe. You won't ever have to give out your bank account numbers and you'll get an online security guarantee.
Related: 58% of Millennials Still Prefer to Get Paid With Cash
Wells Fargo SurePay: Cons
Like most things, the SurePay app has some disadvantages. Here are the cons of Wells Fargo SurePay:
No international transfers: Because Wells Fargo SurePay requires you to have a U.S. bank account, you can't use the app to make an international transfer. To send money abroad, Wells Fargo customers have to use the company's ExpressSend Service.
Restrictions on use: You cannot use the service to pay court-ordered child support or alimony, debts that have gone into collections or a debt owed to someone other than yourself.
Must download the app: Customers can access SurePay only after downloading the Wells Fargo app — it is not a standalone app that anyone can use.
Is Wells Fargo SurePay Worth It?
If you're a Wells Fargo customer, you'll likely find SurePay worth downloading. It takes just seconds to install and enables you to send money to someone, even if you forgot your wallet or can't find a Wells Fargo ATM.
If you don't bank with Wells Fargo, you might find the service isn't worth your time. You would have to register with SurePay and connect a bank account to receive money, which could be more than you're willing to do when there are other apps available that anyone can use.
Next Up: What Is Chase Quickpay with Zelle