How To Apply For a Credit Card and Get Approved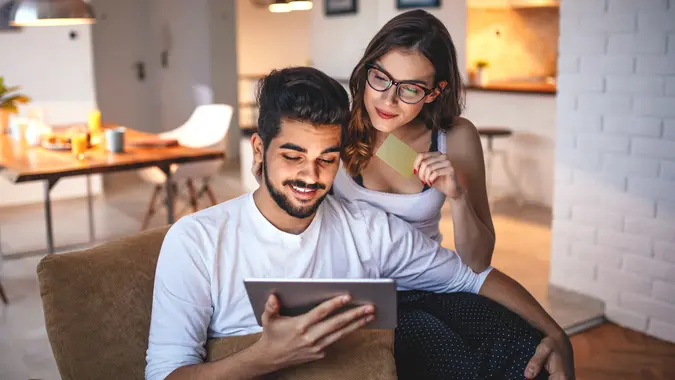 bernardbodo / Getty Images/iStockphoto
Over the last several years, credit cards have not only become the main form of payment people carry with them but also the only form of payment that stores and vendors accept. Before you apply for a credit card, whether it's a store credit card, business credit card or basic credit card, you should learn what factors to consider and what will give you the highest chances of getting approved.
How To Apply For a Credit Card
To increase your chances of applying and getting approved for a credit card, take these actionable steps. 
1. Know Your Credit Score First
Check your credit report for errors before applying to avoid having your application rejected for something you could have fixed. You're entitled to an annual free credit report from each of the three major credit card bureaus:
Experian
Equifax
TransUnion 
2. Be Selective in Your Applications and Know Your Needs
Credit card companies pull your credit every time you apply for new credit, which can result in hard inquiries on your credit report, potentially dinging your credit score. You don't want to lower your credit score so keep these considerations in mind: 
Don't apply for many credit cards at once.
Being overly credit hungry can be unappealing to lenders.
Target your credit applications to one or two cards. 
3. Pre-Screen Offers and Learn the Terms
Your mail can often be flooded with offers for credit cards promoting no credit checks, pre-approvals or credit cards for bad credit with no deposit and instant approval. Just because you get these offers in the mail doesn't mean that you're guaranteed approval if you apply. Keeping that in mind, here are some other terms you might see on the offers.
Credit Card Terms To Know

Annual fee: The fee you are charged yearly for use of the credit card.
APR: This is the annual percentage rate that is applied to your credit card account during a billing cycle.
Balance transfer: This is moving debt from one account to another, typically to move it to an account with a lower interest rate.
Cash advance: A loan you take out against your credit card limit, and though you do get cash immediately you are subject to transaction fees and possibly high interest.
Penalty fees: You could incur penalty fees if you make late payments, have payments returned or exceed your credit card limit consistently.
Rewards: These are benefits you accrue by using your credit card such as points, mileage or cash back.
4. Pay Down Debt First
Pay down outstanding debt on existing cards before applying for a new credit card. Typically, it's good to keep outstanding balances below 30% of your credit. Lower utilization ratios are better.
5. Report All Income
Credit card applications might ask for your total income and this isn't limited to your salary from your current job. You might also collect income from a side hustle, rental property income or investment property income. You might also be able to include your spouse or partner's income, trust distributions, social security and retirement distributions.
6. Know Your Repayment Strategy
Budgeting for paying your credit card bill on time will save you from late fees and higher interest. You can set up a recurring minimum payment, or set your own schedule to make sure you are paying the required amount during the current billing cycle.
7. Check for Preapproval 
You might get a better idea of whether you will be approved for a credit card or not by doing some research. Sometimes, it can be as simple as watching your mail. Keep in mind that all credit applications can affect your credit score at large so knowing if you are preapproved helps.
Soft credit inquiry: Inquiries into your credit that do not affect your credit score.
Hard credit inquiry: Inquiries that do affect your credit score.
8. If Denied, Ask for Reconsideration
If your application for a credit card is denied and you think it should have been accepted, call the credit card company and ask to be reconsidered. When speaking with the representative, politely ask why your application was denied and provide information that might help change their mind. Make sure to have all the correct information you will need to get approved:
Legal name
Date of birth
Address
Social Security number
Annual income
9. Apply Before Making a Big Purchase
If you're going to spend the money anyway, consider applying for a new card with a generous sign-up bonus and a minimum spending requirement. Plus, if you're going to pay it off over time, you don't want your credit utilization to increase too much. Make sure you give yourself enough time to be approved and receive the card in the mail. Though some instant approval credit cards offer an immediate decision when applying, sometimes a human still needs to review your application. 
10. Options for How To Apply 
Once you have landed on which credit card you would like to apply for and have all your personal information ready to go, there are a few methods you can employ to apply for your credit card.
The credit card website
Over the phone
Through the mail
In person
Final Take
Make sure to do your research as to what credit card best suits your needs and fits both your budgetary and spending habits. 
If you have trouble getting instant approval for credit cards because you have no credit or bad credit, consider a secured credit card. A secured credit card requires a deposit to be used if you don't pay your bill. Otherwise, it works just like a traditional credit card.
FAQ
What credit cards are easiest to get?

There are many options for easily obtainable credit cards. Here are a few examples:

Discover it Student Chrome
Capital One Platinum Secured
First Progress Platinum Elite MasterCard Secured
OpenSky Secured Visa
Capital One QuicksilverOne

How do you qualify for a credit card?

When determining whether or not you qualify for a credit card several factors are considered:

Your age
Your income
Your credit score and history
Your outstanding debts
Whether you have a co-signer.

Can you get a credit card immediately?

Getting instant approval depends on several factors. If you have excellent credit you'll most likely be able to get approved for your choice of cards, if you have a lower credit score and are looking for immediate approval, it's a good idea to look for a credit card that matches your credit level.

How much money do you need to get a credit card?

A strong determination as to whether you will be approved for a credit card is your income. If you are applying for an unsecured credit card from a major issuer you will need to prove a minimum annual income of an estimated $10,000 to $12,000.
Michael Keenan contributed to the reporting for this article.