How To Make a Burlington Credit Card Payment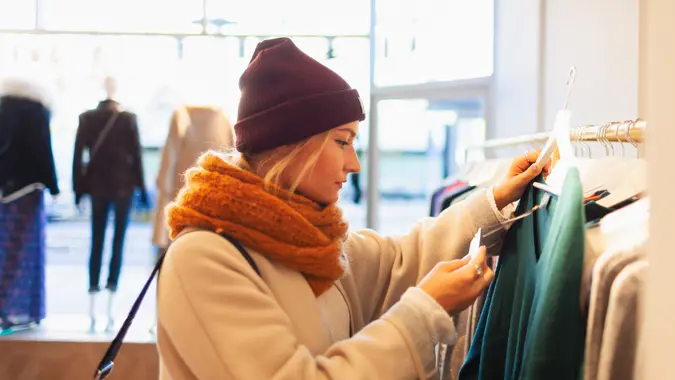 Django / Getty Images
Burlington is a major American department store with over 500 locations across the country. Along with everyday, shopper-friendly reduced prices, the company offers its own credit card through Comenity Bank.
The card offers reward points on purchases at Burlington, along with discounts and other perks. Current cardholders might have some questions about how to make their Burlington credit card payments, so here's everything you need to know.
How Do I Pay My Burlington Bill?
Cardholders have several options to make Burlington credit card payments. They can access the online payment system to make payments directly from their bank account. They can also make use of EasyPay, a straightforward online payment option that doesn't require registration to use.
How To Make a Burlington Credit Card Payment Online
Cardholders can make a payment online by registering through the account center and adding a checking account. Doing so is easy:
Head over to the Burlington credit card page.
Either register for the first time or sign into your account.
Add your checking account using the account number and routing number.
Select the date and amount of your payment.
As easy as that is, there's an even faster alternative called EasyPay. This feature can also be accessed through the Burlington credit card page and doesn't require a cardholder to sign up to make a payment.
How Do I Pay My Burlington Credit Card by Phone?
Payments through Comenity's online account center or EasyPay feature are the preferred methods to make payments on a Burlington credit card. However, the card does offer an alternative payment method by phone.
To initiate a phone payment, customers should reach out to customer care at 1-877-213-6741. Agents can assist customers in paying their credit card bill over the phone, though a fee of up to $15 may apply to expedite the payment.
Can I Pay My Burlington Credit Card With a Debit Card?
Unfortunately, cardholders can't use the online payment system to pay off their credit card using a debit card. However, they can make online payments directly from their checking accounts using their account and routing numbers. The cardholder can then pay through the account section and manage their stored accounts.
Who Is Burlington Credit Card Through?
Burlington credit cards are issued through Comenity Bank, a subsidiary of Bread Financial that issues a variety of branded credit cards.
Takeaway
No matter how cardholders choose to pay their balance, it's in their best interest to pay by 5:00 p.m. EST on their due date to avoid late fees. With so many easy ways to make a Burlington credit card payment, this should be easy to accomplish. For added peace of mind, cardholders can set up scheduled payments to avoid late fees for good.
Information is accurate as of Aug. 25, 2022.
Editorial Note: This content is not provided by any entity covered in this article. Any opinions, analyses, reviews, ratings or recommendations expressed in this article are those of the author alone and have not been reviewed, approved or otherwise endorsed by any entity named in this article.