How To Find and Use Your Carter's Credit Card Login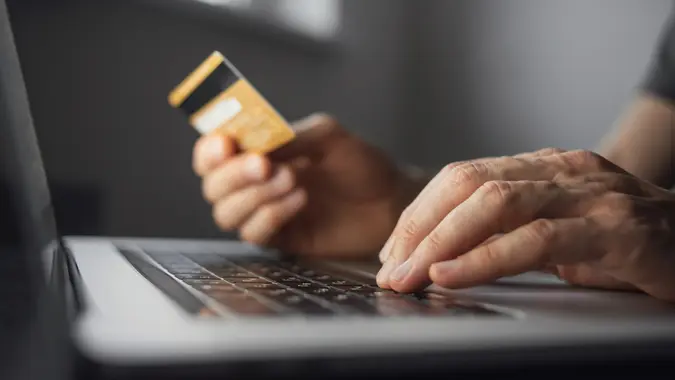 Poike / Getty Images/iStockphoto
Using your Carter's credit card login to access your account is easy, and you may likely enjoy using your Carter's credit card for the benefits and points you can receive with purchases. You can access your account by logging in from a computer, mobile phone or tablet.
But if you're having trouble logging in or encountering other issues with your account, know there are a few ways to find and use your Carter's credit card login. 
Use Your Computer To Access Your Carter's Credit Card Account
A Carter's credit card is issued by Comenity Capital Bank, and you can use your computer to log in to Comenity's account center for monitoring use or paying bills:
Go to the Comenity online account portal.
Click "Sign In." 
A pop-up box will appear asking for your username and password.
If you don't have an online account already set up, you may click "Register Now" to begin the process. 
Once you've accessed your online account, you can view the dashboard and manage your account details. 
Use Your Mobile Phone or Tablet To Access Your Carter's Credit Card Account
While there's no mobile app for managing your Carter's credit card account, you can use a mobile phone or tablet to log in and view your account, similar to the steps of computer use:
On your mobile phone or tablet, go to Comenity's online account portal for Carter's credit cards.
Click the "Sign In."
Enter your username and password before clicking "Sign In."
You can still set up an account here if you haven't already.
Find Your Lost Carter's Credit Card Account Username or Password
It's not uncommon for account holders to misplace account usernames or passwords. It happens, and fortunately, there are easy steps to recovering that information:
Open Comenity's account center homepage for Carter's credit card. 
Click "Sign In."
Below the "Username" and "Password" fields, find and click the link for "Forgot Username / Password?"
Follow the prompts on the next page to recover your account information. Make sure you can provide your account number, zip code and the last four digits of your Social Security number.
Click "Find My Account" to finish recovering your lost username or password.
Contact Comenity for Further Help
Sometimes, following the above steps isn't enough to answer your questions. During those circumstances, you can search through Comenity's FAQs and help topics to find answers. As a card and account holder, you can also contact Comenity customer support by sending a secure message. 
If you prefer to speak directly to a customer representative, you may call Customer Care at 1-877-563-5767, available Monday to Saturday from 8:00 a.m. to 9:00 p.m. EST. Finally, in the event that you may need to mail anything to Comenity customer support, you may do so to:
Comenity Capital Bank
PO Box 183003
Columbus OH 43218 3003
Experience the Perks of Using Your Carter's Credit Card Login
Online credit card accounts allow you a more convenient and comprehensive approach to managing your credit use, monitoring activity and paying bills. 
Of course, the only way to actually use your Carter's credit card is by activating it as soon as you receive it. Comenity provides you with the online ability to activate your card, which some account holders may find more convenient than activating by phone.
Having an online account means you can opt to receive paperless statements, reducing the amount of paper you'd otherwise organize. Comenity allows you to view online statements of the previous two years by going to the Transactions and Statement page. However, be sure to monitor your e-statements carefully on a secure computer with good anti-virus software to prevent hackers from accessing your personal information.
Information is accurate as of Sept. 7, 2022.
Editorial Note: This content is not provided by any entity covered in this article. Any opinions, analyses, reviews, ratings or recommendations expressed in this article are those of the author alone and have not been reviewed, approved or otherwise endorsed by any entity named in this article.