How To Make a Chase Credit Card Payment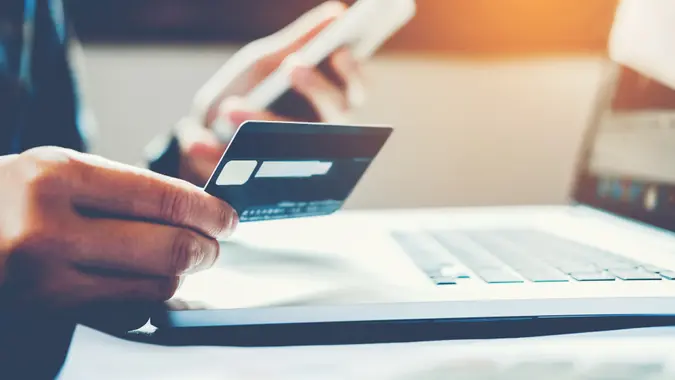 SARINYAPINNGAM / Getty Images/iStockphoto
With over 4,700 branches across the country, Chase is currently one of the most popular banks in the U.S. It offers a wide array of financial products, including over 30 credit card options for all types of lifestyles. Cardholders, however, need to make their Chase credit card payments on time to build a favorable credit history, minimize interests and avoid late fees.
How Do I Make a Payment on My Chase Credit Card?
There are three possible options available to cardholders when it comes time to pay a Chase credit card bill. Chase clients can make their credit card payments online, by mail or by phone. 
How To Make a Chase Credit Card Payment Online
The Chase online platform is probably the most practical solution for the vast majority of Chase cardholders. It allows them to make their Chase credit card payments on time from the comfort of their home or on the go.
While clients may not use their debit card to make a Chase credit card payment, they can use the checking account that their debit card is linked to through their online banking account.
Paying Online

Visit Chase's website. 
Sign up to enroll in Chase's online banking platform by clicking on the "Not enrolled? Sign up now" button.
Fill in the form to verify your identity.
Log into your account with your new user ID and password. 
Alternatively, Chase cardholders can opt to use the mobile banking app to schedule their online Chase credit card payments.
Paying On Mobile

Sign into the Chase Mobile® app.
Swipe left on your credit card account.
Tap "Pay card" and enter your desired amount.
Pick the payment date and the account from which you want to pay.
International business cardholders can also call 00-1-713-262-3300 to enroll in the business online banking platform and use it to pay their credit card.
How To Make a Chase Credit Card Payment by Mail
Another option is to make a Chase credit card payment using the U.S. Postal Service. Chase does not take cash payments when using this method. Chase credit card account members can either send a personal check or a money order with their account number and name.
Payments Address

Cardmember Services
P.O. Box 6294
Carol Stream, IL 60197-6294

Chase customers can submit overnight payments to:

Chase Card Services
201 N. Walnut Street
De1-0153
Wilmington, DE 19801
How To Pay Chase Over the Phone
Chase also allows credit card members to pay via phone by calling the automated phone service at 1-800-436-7958. Alternatively, cardholders can reach out to Chase's Customer Service department through the number on the back of their card. 
Interest and Late Fees for Chase Credit Cards
The current fee for a late Chase credit card payment is $39. In addition, cardholders who don't pay their balance in full each month may have to pay an interest rate that varies by credit card and credit history, as well as by the current prime rate.
Final Take
Late or missing payments can permanently stain a credit card holder's credit history. Following the instructions above will help Chase customers pay their credit cards when due to keep things running smoothly.
Editorial Note: This content is not provided by any entity covered in this article. Any opinions, analyses, reviews, ratings or recommendations expressed in this article are those of the author alone and have not been reviewed, approved or otherwise endorsed by any entity named in this article.
The information related to Chase credit cards was collected by GOBankingRates and has not been reviewed or provided by the issuer of this product/card. Product details may vary. Please see the issuer's website for current information. GOBankingRates does not receive commission for this product.