Chime Credit Builder Card: What It Is and How It Works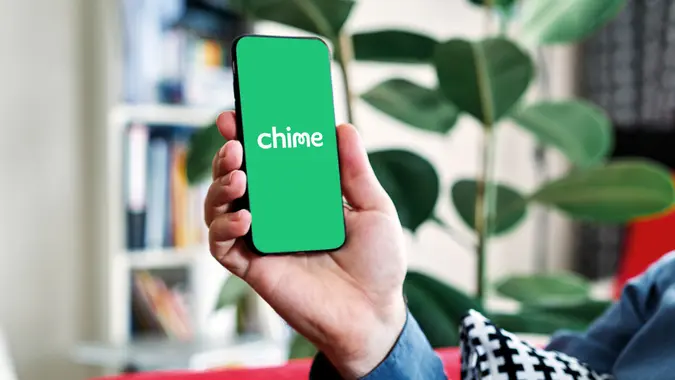 pinstock / Getty Images/iStockphoto
*Chime is a financial technology company, not a bank. Banking services provided by, and debit card issued by, The Bancorp Bank, N.A. or Stride Bank, N.A.; Members FDIC
COVID-19 and the upending of the economy may have caused even the most responsible credit card user to land in financial hot water. Many credit cards out there promise to help you raise your credit rating, but the Chime Credit Builder card stands out because it has no annual fee or interest.
What Is the Chime Credit Builder Card?
The Chime Credit Builder card is a secured credit card. It works just like a regular credit card in that you can use it to buy gas, groceries or household goods. There's no annual interest, no fees and no credit check.
Chime claims that using the card can improve your credit rating by an average of 30 points in just four months. For someone with poor credit or no credit, this could be a great way to build or improve your credit score. A good credit score is an indication that your finances are in order.
How Does It Work?
To open a Chime Credit Builder card, you'll need to open a checking account (called a spending account) with Chime. You can make purchases up to the amount in your spending account, and the balance is automatically paid off from your spending account. In this way, it works like a debit card — you can spend only the money you have in the account.
However, Chime then reports your on-time payments to the major credit bureaus every month to help you build your credit, so it works like a credit card as well. Remember to check your credit report to verify whether your score is increasing.
Anytime you want to use your card, transfer money from your spending account to your Credit Builder card and you can make purchases anywhere Visa is accepted, which is almost everywhere.
For example, if you have $200, you can put that amount in your spending account. If you then charge $100 worth of goods and don't add more money to your account, your credit limit for the next month is $100. If you add $150 to your account, your new credit limit is $250.
Credit Utilization
With traditional cards, credit utilization can affect your credit score. Your credit utilization is the amount you owe divided by how much credit you have available. If you have a credit limit of $1,000 and you owe the credit card company $400, for example, your credit utilization rate is 40%. Credit reporting bureaus like to see a ratio of 30% or lower.
However, with the Chime Credit Builder card, you don't have to worry about that because Chime doesn't report credit utilization rates. You can spend as much as you have on the card (in your spending account). This also ensures there are no late fees.
Perks and Rewards
Chime Credit Builder is strictly for rebuilding your credit. It has no rewards, perks or cash-back offers on purchases. Those kinds of rewards are enjoyed by those with high credit scores. Chime Credit Builder can give you the opportunity to boost your credit rating to a higher score so that you can take advantage of those perks in the future.
There's no option to transfer to an unsecured card. Once you've built your credit score to the point where you no longer need a secured credit card, you can just close the account. Or you could use it as a functioning debit card since there are no fees or interest rates.
Move My Pay
You can use the Move My Pay feature to have whatever amount you choose from your paycheck directly deposited into your Chime Credit Builder account. This makes keeping money in the account a no-brainer. Moving money from one account to the Chime Credit Builder account is easy to do from the app.
How Do You Apply?
You'll need to have deposited at least $200 in your spending account within the past 365 days. It takes no more than a couple of minutes to apply for a spending account. After that, there's a waitlist to open the Credit Builder card. When it's your turn, you'll receive an email.
You can also apply for a savings account, which currently offers a 1.5% annual percentage yield.
Is a Chime Credit Builder Card Right for You?
If you need to build or rebuild your credit rating, Chime Credit Builder is a great option with no fees and no interest charges. While you can't move up to an unsecured credit card, you could still use the account as a debit card when you've built a decent credit score.
Suggestion

To get the most out of the card, use it to buy items you would normally put on a debit card. Chime will inform credit bureaus that you're up to date with your bills, which should boost your credit score in as little as a few months. Continue to use the card to buy essentials, and Chime will continue to let credit bureaus know. You'll be well on your way to a much-improved credit rating.
This content is not provided by Chime. Any opinions, analyses, reviews or recommendations expressed in this article are those of the author alone and have not been reviewed, approved or otherwise endorsed by Chime.
Rates are subject to change. Data is accurate as of March 1, 2021.