How Do Rich People Use Their Credit Cards?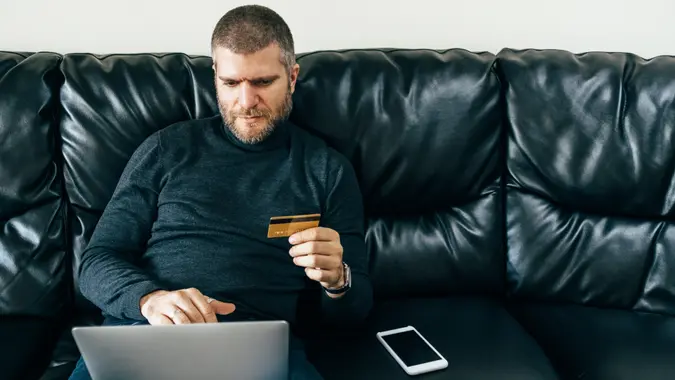 martin-dm / iStock.com
Credit cards are often seen as a way to spend money you don't have, indulging in consumerism of the highest degree. Whether it's the latest smartphone or designer clothing, you can just put it on your credit card and worry about the balance later.
That's how many people use their credit cards, anyway. In the case of rich people, though, things are quite a bit different.
This is not to say that wealthy Americans don't use credit cards. But while less well-to-do individuals might have a detrimental relationship with credit cards, wealthy people use them to their advantage. Instead of getting into debt, wealthy people use credit cards to improve their finances. Let's take a closer look at what that actually looks like.
The Role of Credit Cards in Wealthy Americans' Lives
While credit cards are used by many Americans to make everyday purchases and build credit, wealthy Americans use credit cards for a variety of reasons. For rich folks, credit cards are a tool to manage their finances and simplify their spending.
Credit cards give people a convenient way to spend, and that includes the wealthy. They often use credit cards to make large purchases or to pay for travel and entertainment expenses. Credit cards also provide a layer of security by offering fraud protection and insurance on purchases.
Credit cards play a major role in the financial lives of wealthy Americans. While they use credit cards for similar reasons as other Americans, they also rely on credit cards to manage their finances, earn rewards, and take advantage of exclusive benefits that come with high-end credit cards.
How Wealthy Americans Use Credit Cards
With the above background in mind, here are some specific ways wealthy Americans use credit cards effectively.
Earn Rewards
When used properly, credit card rewards can be extremely lucrative. In fact, these rewards have become so valuable that you can fall behind if you aren't taking advantage of them.
Some sign-up bonuses can be worth well into the four-figure range, and cash-back rates can be as high as 10% in some cases. Credit card rewards come in the form of cash back, travel points or other perks that wealthy Americans can use to enhance their lifestyles. With so many ways to earn, wealthy Americans would be doing themselves a disservice by not using credit cards.
"It could be miles, cash back, travel assistance and insurance," says Greg Heller, founder & CEO at HCR Wealth Advisors, speaking about what benefits wealthy people get from credit cards. "If they're not using them for their own use, the miles can be donated or used for other family members' needs," Heller added.
Take Advantage of Card Perks
Credit card perks include everything from essentials like credits for grocery purchases up to luxuries, like airport lounge access and priority boarding on flights. While the best perks come from ultra-premium credit cards with hefty annual fees, the perks you can extract from those cards are sometimes worth more than the annual fee.
"Airlines tend to have tiered cards with higher rewards," says Robert Persichitte, financial planner at Delagify Financial. Persichitte says that although premium credit cards have higher annual fees, it can be worth it for the points, miles or rewards if you spend $20,000 to $30,000 per year on them.
As long as you don't spend a lot on interest charges, you can often come ahead by using these cards. And, of course, wealthy Americans likely pay their cards off, so they have the upper hand.
Purchase Luxury Items
Wealthy Americans are probably less likely to use credit cards to spend beyond their means, but they might still use credit cards to buy nice things once in a while. For example, they might use credit cards to purchase high-end fashion, expensive jewelry or other luxury goods. This can allow them to make these purchases without having to pay for them upfront and may also offer additional rewards or perks.
Manage Cash Flow
Credit cards can be a useful tool for managing cash flow, allowing wealthy Americans to make purchases without having to immediately pay for them out of their bank account. If a wealthy American must make a large purchase like a new car or a piece of expensive equipment, they may use their credit card to pay for it and then pay off the balance over time, rather than having to pay for it all upfront. This allows them to have more cash to finance investments or other opportunities. This is especially useful if they come across a time-sensitive investment opportunity.
Persichitte notes that his wealthy clients almost always pay off the balance on their cards. "They know interest rates are high on credit cards, and they have a lot of alternatives. They won't pay the interest if they don't have to."
Build Credit
There probably aren't too many wealthy Americans who are subprime borrowers, but we all have to start somewhere. Hence, even wealthy Americans might use credit cards to build their credit scores.
A strong credit score can be important for obtaining loans or other forms of credit, such as a mortgage or car loan. This allows wealthy Americans to spend even less on interest when they finance purchases. They can then put that money to use in ways that earn returns for them instead.
Fraud Protection
Given their favorable position, wealthy Americans could be more at risk of being the victim of fraud than their less wealthy peers. Fortunately, most major credit cards offer real-time fraud monitoring. If possible fraud is detected, they will be alerted right away and take action if necessary.
Thus, simply having a credit card gives wealthy Americans an extra layer of protection they wouldn't otherwise have.
More From GOBankingRates