Top 8 Black Credit Cards in 2023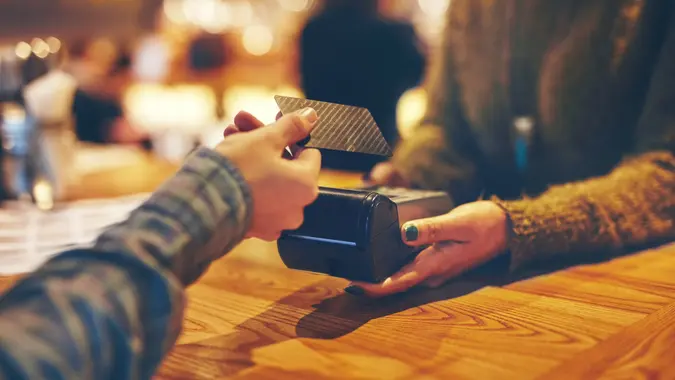 Tinpixels / Getty Images
Beyond the slew of regular credit cards within reach of the masses are the gold cards, platinum cards and even the rare titanium cards that exist for those who qualify.
But there's also another, even more exclusive class of credit cards: black cards. These ultra-high-status cards — which are generally granted by invitation only — often have no credit limit, in addition to a host of other features that cater to the dining, travel and entertainment proclivities of society's most elite members.
Here's everything you need to know about the eight most exclusive black cards out there.
Top 8 Most Exclusive Black Cards
Hailed as symbols of status and wealth, these are the most difficult black cards to get. But if you qualify, there's no harm in aiming for the best of the best. Here are the top eight most exclusive black cards:
1. Dubai First Royale Mastercard
The Dubai First Royale MasterCard — a gold-plated, diamond-embedded card available by invitation only — is believed to have only around 200 members worldwide. It has no spending limit, no restrictions and each cardholder has a dedicated relationship manager.
The annual fee for the Royale Card has not been publicly disclosed, but is rumored to be around $2,000.
2. HSBC Elite Mastercard
The HSBC Elite Mastercard allows card holders to earn 50,000 Rewards Bonus Points — worth $750 in airfare booked online through HSBC Travel from Rewards — upon spending $4,000 in the first three months. Users can get 3x points on new travel purchases, 2x points on new dining purchases and 1x points on all other purchases.
Cardholders will also receive up to $400 in travel credits per year, unlimited airport lounge access for the cardholder and a guest at over 1,000 airport lounges and up to three exclusive luxury gifts per year for reaching cumulative spend points of $25,000, $50,000 and $100,000.
To qualify, you must have a U.S. HSBC Premier checking account — and be willing to part with the $395 annual fee.
3. American Express® Centurion® Card
The American Express® Centurion Card features an initiation fee of $10,000, an annual fee of $5,000 and no preset spending limit. American Express, Member FDIC, may, however, decline a transaction based on its assessment of your creditworthiness or in the instance of what it believes to be a fraudulent transaction.
Although no application is available online for the American Express black card, you can make your interest known. Go to the Centurion website and click "Interested in Centurion Membership? Click here." at the bottom of the page. You be will redirected to a page where you can input your information.
Note that submitting this information does not equal an application for the Centurion card and also does not mean that American Express will invite you to apply for the card.
4. Luxury Card: Mastercard Black Card
The Black Mastercard from Luxury Card is within reach if you are willing to pay the $495 annual fee. In exchange, you get 2% value on airfare redemptions, 1.5% value on cash back redemptions and access to a Luxury Card concierge who will make travel reservations and assist with all sorts of personal requests.
The card's travel program offers cardholders a value of $500 per stay at over 3,000 worldwide properties, like The Ritz-Carlton and St. Regis, including daily breakfast for two, room upgrades, resort credits and free Wi-Fi. Travelers also receive a $100 airline credit.
5. World Mastercard
In addition to all of the standard benefits Mastercard provides, World Mastercard cardholders receive exclusive offers from DoorDash, Lyft and ShopRunner, including free memberships, cash back and credits. Other benefits include access to exclusive Mastercard Priceless experiences in over 40 cities worldwide, exclusive PGA Tour experiences and free nights, upgrades and amenities at partner hotels.
Cardholders can also take advantage of complimentary professional travel services by calling, emailing or live chatting with a Mastercard Lifestyle Manager, 24/7/365. With this card, members can also save 15% on meet-and-assist airport concierge services, including fast-tracking through immigration, baggage assistance or hiring a chauffeured car.
6. Citi® AAdvantage® Executive World Elite Mastercard®
Frequent fliers of American Airlines can get the ultimate in credit card perks with this prestigious card. New cardholders will get 50,000 bonus miles after spending $5,000 within the first three months, plus include a complimentary membership to the Admirals Club, priority check-in and boarding, a free checked bag for up to 8 people in your party and 25% savings on select in-flight purchases.
The annual fee for the Citi AAdvantage Executive World Elite Mastercard is $450.
7.
Designed for travelers, the Citi Premier card enables holders to earn 60,000 bonus points after spending $4,000 within the first 3 months of account opening, which are redeemable for travel or $600 in gift cards. The card features an annual fee of .
Holders also earn 3x points on restaurants, supermarkets, gas stations, air travel and hotels, and 1x on every other purchase, redeemable for gift cards, travel rewards and more. Points are unlimited and never expire.
8. Ritz-Carlton Rewards Credit Card from J.P. Morgan
Few brands conjure up visions of grandeur and opulence like Ritz-Carlton, so carrying a black card that bears the name of this luxury hotel chain is impressive in itself. 
Cardholders get up to 21 paid nights at Ritz-Carlton upgraded to the Club Level, unlimited use of $100 discount on paid stays of two or more nights, up to $100 in statement credit for TSA PreCheck or Global Entry and Marriott Gold Elite status, plus the power to go Platinum after spending $75,000 on the card per year — and more.
No online application exists. However, those who want this card can get it by opening a Chase Marriott Bonvoy® credit card and waiting one year upon opening that account. You also need a total credit line of at least $10,000 with Chase. After you've had the card for a year, you can request an upgrade to the Ritz-Carlton Rewards card.
Other Black Cards
If none of the above cards suit your fancy, there are a few more you might consider. Although some of them are not the most elite, they're still pretty impressive.
Coutts Silk Card
Coutts is a private bank in the U.K. that issues its own annual-fee free charge card to its clients only. Your credit line and interest rate may vary depending on your creditworthiness, and you may be required to pay your balance in full each month.
Visa Signature Card
The Visa Signature Card offers travel benefits like complimentary concierge service, chauffeured car service and travel and emergency assistance services. Specific benefits, fees, interest rates and requirements vary depending on the issuing bank.
Eurasian Bank Visa Infinite
The Eurasian Bank Visa Infinite offers holders up to a 36% bonus for every purchase. Besides the increased bonus, cardholders will also receive VIP LoungeKey benefits, exclusive travel insurance benefits and 24/7 concierge service.
How To Get a Black Card
Members of the 1% — or perhaps the 0.1% — may get an invitation for a black card, as some of these high-status cards are only available to consumers that the issuing bank deems worthy. What makes one worthy? Not just how much you earn, but how much you spend.
Black card issuers typically only consider clients who spend upwards of six figures a year with their credit card. Another possibility for receiving a coveted invitation is by having an account at a bank that is well aware of your income level, assets and outstanding credit — and/or if the issuing bank manages those assets.
Requirements for these cards are often kept under wraps, so it can be hard to determine the exact income, asset or spending levels that are needed to qualify. Though the saying, "If you have to ask, you can't afford it," is in play here. That may sound like you're totally roped off from acquiring these cards, but by building your wealth and using your existing credit responsibly, a black card could be in your future.
Nicole Spector and Cynthia Measom contributed to the reporting for this article. 
Information is accurate as of March. 20, 2023, and is subject to change.
Editorial Note: This content is not provided by any entity covered in this article. Any opinions, analyses, reviews, ratings or recommendations expressed in this article are those of the author alone and have not been reviewed, approved or otherwise endorsed by any entity named in this article.
All information about American Express card offers has been collected independently by GOBankingRates and has not been reviewed or approved by American Express. These offers are not available through GOBankingRates.
The information related to the Chase Ritz-Carlton Rewards and Marriott Bonvoy cards was collected by GOBankingRates and has not been reviewed or provided by the issuer of these products/cards. Product details may vary. Please see the issuer's website for current information. GOBankingRates does not receive commission for these products.