Driving for Lyft: Is It Worth Your Time?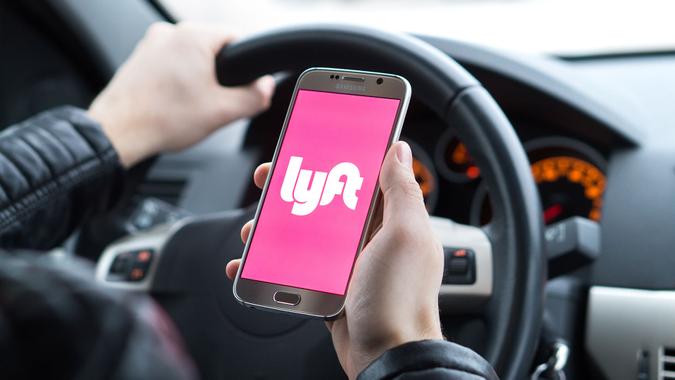 Tero Vesalainen / Shutterstock.com
The gig economy and advances in technology have made for interesting job opportunities. Ride-hailing services like Lyft are now a formidable part of the transportation industry. The rideshare company, which is part of the Lyft Inc. portfolio, is now one of the two most popular taxi-alternative services in the U.S.
But how much do Lyft drivers make? Lyft says signing up to be a driver makes you your own boss. This article explores whether the amount Lyft's drivers actually earn proves this claim.
What Is Lyft?
Lyft is a rideshare platform currently operating in the U.S. and parts of Canada. The platform was established in 2012 and went public through a Nasdaq listing in March of 2019.
Lyft operates in over 600 cities in the U.S. and 10 in Canada. There are currently more than 2 million drivers operating on the platform serving over 12 million customers. Customers can book rides with their smartphones through the Lyft app, which is available via Google Play or the App Store.
What Is the Average Income for Lyft Drivers?
Estimates vary for how much Lyft drivers take home. Indeed puts the annual earnings for drivers on the rideshare platform at an average of $31,249 — 36% below the national earning average.
Glassdoor estimates the average earnings for a Lyft driver to be between $16 and $17 per hour. Multiply each of those figures by 40 and then by 52, and that works out to an annual income of $33,280 to $35,360, respectively.
Lyft drivers are not salaried employees of Lyft — when you sign up as a driver, the platform considers you an independent contractor. Like other gig workers, Lyft drivers are 1099 contractors with no minimum wage. You drive on your own time in your car. You alone handle your vehicle maintenance, gas and most insurance costs.
Drivers earn per hour, meaning their income is pegged to the duration spent behind the wheel. The more hours you drive, the more you get to make. Lyft calculates drivers' pay from the moment a driver picks up a client, which begins one minute after the driver taps "Arrive."
The app calculates charges by estimating several costs:
Base fare
Distance rate
Per-minute rate
Minutes traveled
Distance traveled
Good To Know

The cost per trip varies depending on what city you're driving in. Bonuses and adjustments due to things like unexpected traffic also determine how much you make at the end of the day.
Hourly Earnings
Though driver rates are calculated based on the hours worked, the final payment is reached after Lyft takes a cut of 20% of the earnings. So, what's the average daily take-home pay after the deductions?
On a typical day, a driver makes between $16 and $17 per hour; that's $128 to $136 in eight hours. Let's say you work for six hours a day, taking one day off per week. If you earn $16 per hour, you'll make around $96 daily before deductions for expenses or income taxes. This brings the weekly earnings to $576, roughly $2,304 per month, pretax.
Income Taxes for Lyft Drivers
Keep in mind that no income taxes will be withheld from your pay when you drive for Lyft as a 1099 worker. But you owe taxes on the money that Lyft pays you. That means you've got to calculate your own income taxes. You are on the hook for self-employment tax to the IRS as soon as you make over $400 as a 1099 contractor in a calendar year.
That federal self-employment tax is 15.3%. This amount covers the deduction from your pay (7.65%) and the amount that a normal employer would contribute (7.65%) to Medicare and Social Security tax for a W-2 employee. So, multiply the earlier monthly estimate of $2,304 by 15.3%, and your take-home pay from Lyft is reduced by $352.51 — and that's before other expenses or other state and local taxes.
What Impacts Lyft Earnings?
Several factors affect how much you'll make as a Lyft driver. Your income can shift depending on how many hours you put in, where you're based, your expenses and whether you get tips from customers.
Here's a closer look at factors that impact your income.
Where You Live
Your location determines how much you earn. For example, the higher the cost of living is in your city, the more you'll make while driving for Lyft. That means if you're plying the roads of Seattle, you'll make more than a driver in Wyoming. Also, city drivers make more than those in rural areas.
There's also customer density. Busier places naturally have more customers. When you leave your house and turn on the app, do you immediately receive requests, or do you have to drive closer to town? If you receive customer requests as soon as you turn on your app, you're poised to earn more money faster.
Surge Pricing
Surge pricing is a model that capitalizes on high demand for ride-sharing. Such high demand could arise from rush hour combined with rainy weather. Working during peak hours can dramatically increase your earnings as well.
Bonuses and Promotions
Lyft has a bonus program for drivers. The platform schedules promo and bonus periods randomly, allowing hardworking drivers to rake in more pay. Lyft allows drivers to keep 100% of the bonuses they earn during promotion periods.
Service Tiers
Lyft allows its drivers to offer services in different tiers. This enables them to choose between providing regular service or luxury service tiers in selected categories. Drivers with brand new high-end vehicles can maintain a rating of at least 4.85 to work for higher pay. Lyft's luxury tier is further categorized into Lyft Lux, Lux Black and Lux Black XL.
Hours Worked
It may seem self-evident, but the number of hours a driver works naturally translates into the amount they earn. Drivers that spend more hours behind the wheel will typically earn more than those who work just a few hours per day.
Is Driving for Lyft Worth It?
Driving for Lyft is flexible compared to a normal full-time job. Drivers can work at their convenience as they take care of their business, creating time for hobbies and family members or friends.
The cost of running the business can be expensive by any standard. It's not unheard of for expenses to run Lyft drivers out of business. Furthermore, earnings are limited to the number of hours worked; if you don't work, you won't get paid.
A major pro is that a driver's income is totally within their control. For many, the flexibility of operating as a Lyft driver outweighs its downsides, which is probably why at least 2 million drivers are using the platform to generate income.
FAQ on Driving for Lyft
Here are the answers to some commonly asked questions about driving for Lyft.
How can I earn more with Lyft?

You can earn more by taking advantage of promotions, putting in more hours, and providing excellent services to customers who in turn might tip you.

Does Lyft offer drivers the option to rent a car?

Lyft's platform offers rental cars to drivers who can not afford to buy a car. This is possible thanks to Lyft's partnership deals with Flexdrive and Hertz through the Express Drive program.

Does Lyft cover gas and car maintenance expenses?

Lyft does not cover gas and car maintenance expenses. Drivers are independent contractors, and they are expected to take care of these expenditures with the money they earn from trips.

Does Lyft pay for accidents?

Yes, Lyft provides insurance for accidents. The platform has third-party liability coverage that pays up to $1 million for personal injuries and property damage if a driver is involved in an accident. This insurance is contingent on the terms of service at the time an accident happens. Claims go to the driver's insurance company first before the platform determines whether it will pay for damages.

How long does it take to start earning on Lyft?

It takes around 30 minutes or less to enter your credentials — which are typically your phone number, email address, driver's license and other identifying information. If you have a car, Lyft will determine its road readiness. You also have to authorize the platform to run background checks on your driving record. This process usually takes a few days.
Delivery Side Gigs

Reviews

Comparison
Data is accurate as of May 26, 2021, and subject to change.
Our in-house research team and on-site financial experts work together to create content that's accurate, impartial, and up to date. We fact-check every single statistic, quote and fact using trusted primary resources to make sure the information we provide is correct. You can learn more about GOBankingRates' processes and standards in our editorial policy.