How Much Money Do Podcasters Make?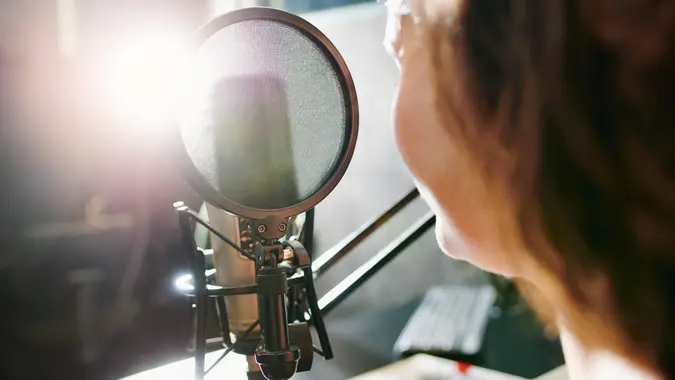 Nicola Katie / Getty Images
If you're thinking of launching a podcast or already have one and are looking for ways to monetize it, you have come to the right place. There are multiple ways to monetize a podcast. Some monetization strategies are suitable for beginners, while others work well for more regular podcasters with a larger audience.
You can make money podcasting if you put in the work and use suitable monetization strategies. Combining a few different means of monetization is a common approach used by many successful podcasters. You can also adjust your podcast monetization methods with time to meet your needs, as well as the needs of your listeners.
Keep reading to learn more about how much podcasters make.
10 Ways Podcasters Make Money
Podcasters rake in money in several ways, including the following:
1. Affiliate Marketing
Podcasters earn an affiliate commission by promoting companies and products to their audience. Every purchase made through an affiliate link earns you money. Affiliate marketing is more effective when you promote products and services you know and use yourself.
Upcoming podcasters with a smaller following can create their own ad spot on their site as they build a sufficient audience. You can also mention a product or service you are promoting alongside your regular podcast content. Amazon and ShareASale are good places to browse for products that might resonate with your audience.
Make Your Money Work Better for You
2. Sponsorships and Advertising
Sponsorships are often the first thing beginners think of when seeking to make money from their podcasts. Numerous podcast ad networks connect podcasters with advertisers. The networks find advertisers, carry out negotiation terms and procure scripts on behalf of podcasters.
To be accepted in networks like Midroll and Authentic, you need at least 5,000 listeners per month. However, if you do not have many listeners, you can contact potential sponsors directly and get deals, especially if your niche audience is a great fit.
3. Courses
Many established podcasters develop their own courses to teach similar content online. Courses are effective in teaching easy-to-follow content and give students tangible feedback upon completion. You'll want an email list to reach your audience and let them know about your course and what it entails. Plus, you can promote your courses through webinars and on the podcast itself.
4. Coaching and Consulting
Coaching is similar to offering an online course, but instead of filming segments for a large group, you focus on developing relationships with individual listeners and teaching them a skill directly. You can also promote your consulting and coaching services through your podcast.
5. Crowdfunding and Donations
When you have a loyal following, you can ask for monetary donations to support your podcasting journey. Crowdfunding usually works best in more entertainment-focused podcasts. Platforms such as Patreon, GoFundMe and Indiegogo can help you solicit funding from your audience in exchange for special rewards — things like merch or exclusive episodes.
6. Premium Content
Premium content in podcasting can take many forms. Here are some of the common ways you can offer premium content related to your podcast:
Behind-the-scenes content
Additional interviews
An ad-free RSS feed
Q&A with the hosts
An early-access RSS feed
Make Your Money Work Better for You
Whatever you choose for your premium content, have fun and focus on helping your listeners. Soon, you could develop an income stream of a few thousand dollars per month.
7. Events
Hosting events as a podcaster not only helps in making money but is also a great way to bring together your top fans for more value. Take the Walker Stalker conference, for instance. Walker Stalker began as a podcast for fans to discuss the Walking Dead TV show, but it has grown immensely. Today, they host conferences and even involve actors from the series in their events worldwide.
8. Physical Products
While podcasting, be creative and develop physical products such as t-shirts, caps, mugs and more. Promote them in your podcast and you'll be surprised how much money you can make.
9. Books
You can also leverage your podcast into a book deal. Book sales not only lead to more money but also boost your authority on a subject. Your podcast listeners can also help generate initial buzz around your book, and the podcast community can provide a network of other podcasters in your niche who may invite you for guest spots to promote your book.
10. Public Speaking
Podcasting is your platform to showcase your speaking skills. Many podcasters get invitations for public speaking gigs because they're likely a good fit to speak at live events and conferences. Public speaking also boosts your authority in the industry as you get exposed to new audiences who might start listening to your podcast.
Make Your Money Work Better for You
Popular Podcasting Advertising Networks
Undoubtedly, podcast sponsorships are a lucrative way to make money. Additionally, they're the most straightforward revenue streams once you sign a deal.
So, where do you find podcast sponsorship deals? It is pretty simple; you negotiate a podcasting deal with a sponsor. However, new podcasters often go through a broker. Here are some popular advertising deals to get you started:
Adopter Media
Ad Results Media
True Native Media
AdvertiseCast
Podcorn
Midroll
When you begin, you might not earn lots of money. However, podcast sponsors will start to contact you once you've gained some notoriety and are in a more favorable position to negotiate for more perks.
How Much Money Do Podcasters Make?
To determine how much podcasters make and get an idea of how much money they can make from podcasting, here's a scenario to follow. Assume you're a podcaster and you do the following each month:
1.00% of your audience purchases through your link, earning you $15 for each sale.
0.05% of your audience buys an online course per month for $99.
You release about four episodes of your podcast each month.
You place three ads in every episode evenly spread throughout the episode.
2.00% of your audience supports you on Patreon, earning you $5 per person per month.
If you have 1,000 listens per episode, you could earn $745 per month, broken down as follows:
$495 from course sales
$150 in affiliate sales
$100 Patreon support
If you have 5,000 listens per episode, you could earn $4,925 per month, broken down as follows:
$750 in affiliate sales
$2,475 in course sales
$1,200 in ads
$500 in Patreon support
If you have 10,000 listens per episode, you could earn $13,450 per month, broken down as follows:
$1,500 payment from affiliate sales
$4,950 in course sales
$6,000 from ads
$1,000 from Patreon support
These numbers, of course, are purely speculative. How much you make from your podcast will vary dramatically depending on your niche, reputation and strategy. For example, you could have a following that is very generous on Patreon, or it's possible that a sponsor could offer more CPM, or cost per 1,000 listeners, based on expectations of how your channel might perform or other factors.
Make Your Money Work Better for You
Income from Popular Podcasts
Here are some of the highest-earning podcasts, according to a study from Forbes and The Richest:
The Joe Rogan Experience has over 190 million downloads per month, earning $30 million a year.
Karen Kilgariff and Georgia Hardstark have approximately 35 million monthly downloads, earning $15 million per year.
The Dave Ramsey Show has 13 million weekly listeners and earns nearly $10 million in annual income.
Shepard Armchair Expert earns $9 million a year with almost 20 million monthly listeners.
The Bill Simmons Podcast earns a $7 million yearly income.
Chapo Trap House makes $2 million each year.
The Tim Dillon Show makes $1.3 million per year.
Andrew Schulz and Akaash Singh of Flagrant 2 make $1.2 million yearly.
Pat Flynn of Smart Passive Income makes $1.2 million annually.
True Crime Obsessed rakes in $1.2 million per year.
Final Take
While many podcasters earn very little initially, podcasting can be a lucrative career if you study effective monetization strategies and consistently put in the work. If you consistently engage your audience with valuable content, you could be the next high-earning podcaster.
How Much Do They Make Guides
Make Your Money Work Better for You
Cameron Cole contributed to the reporting for this article.
Information is accurate as of March 2, 2023.
Editorial Note: This content is not provided by any entity covered in this article. Any opinions, analyses, reviews, ratings or recommendations expressed in this article are those of the author alone and have not been reviewed, approved or otherwise endorsed by any entity named in this article.
Our in-house research team and on-site financial experts work together to create content that's accurate, impartial, and up to date. We fact-check every single statistic, quote and fact using trusted primary resources to make sure the information we provide is correct. You can learn more about GOBankingRates' processes and standards in our editorial policy.