American Express Platinum Concierge: Everything You Need To Know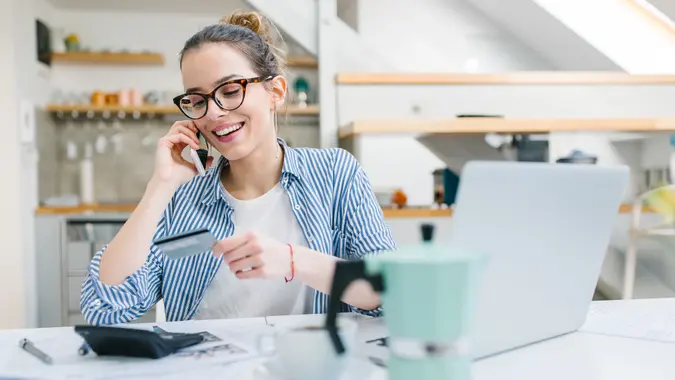 Astarot / Getty Images/iStockphoto
The from American Express, Member FDIC is one of the highest-tier cards available. It comes with an annual fee of , which gives many interested individuals pause before applying. 
You'd think you would have to travel or spend a lot to justify the pricey annual fee. The good news is that you'll get plenty of perks and benefits that offset the annual fee, including complimentary airport lounge access and spending credits for a variety of companies and categories, such as Uber, TSA PreCheck, CLEAR, digital streaming subscriptions and more.
One of the lesser-discussed privileges when you go Platinum is the American Express Platinum concierge service. Here's more on how it works.
What Is a Concierge?
A concierge is a person or company that can work on your behalf to get you tickets or a reservation or help with logistics, planning and more. The right concierge may have special insider connections and expertise, offering exclusive access to places and events the average person may not know about. Working with a concierge can save you time, help you with critical details during an emergency, and give you unique access for a VIP experience. 
What Can an American Express Platinum Concierge Do for You?
According to American Express, a concierge can help with reasonable requests such as: 
Making dining or other types of reservations such as golf, salon or spa
Buying available tickets on your behalf for events such as concerts and theater, opera or other performances
General travel-related inquiries such as asking for itinerary recommendations for a city you're visiting
Shopping requests such as ordering a gift or sending flowers
Why Would I Ask an American Express Concierge for Help?
There are times when you may be too busy to sit on hold to purchase tickets or you're unable to get a reservation at a trendy, sought-after restaurant. Leave it to the experts. American Express concierges work with clients regularly to help them with challenging or time-consuming tasks. They're skilled at getting you the table you're after or making sure someone you love receives the perfect flowers for the occasion. 
It's important to realize that although an American Express concierge can help, there is no guarantee they'll be able to get you the tickets you're in search of for the opening night of a new Broadway musical, or a Saturday-night reservation at the best restaurant in town. For the best odds, contact the concierge desk with as much advance notice as possible.
How Do I Talk to an American Express Concierge?
The American Express Platinum concierge service is available 24/7. If you'd like to speak with an American Express concierge, call the number on the back of your Platinum card and choose prompt No. 2 for a concierge. You can also ask for a concierge when prompted to speak a voice command.
If you don't have your card on hand, the American Express Platinum concierge phone number is 800-801-6564 from the U.S. If you're calling from overseas, you may call collect at 1-954-503-8868.  
Do You Have To Pay for the American Express Concierge Service? 
If you're a Platinum cardholder, you don't have to pay for the American Express Platinum concierge service. It's included with your membership. However, you'll need to pay for anything you purchase, order or authorize the concierge to obtain for you.
What Exclusive Experiences Can an American Express Concierge Offer?
If you need some inspiration for new cultural and entertainment events, the Platinum concierge may have availability for:
Global Dining Access Events
American Express offers Global Dining Access events that go above and beyond the ordinary dinner reservation. The concierge can make suggestions for the hottest restaurants as well as once-in-a-lifetime events such as meet and greets with some of your favorite chefs, kitchen tours, custom menus designed just for you or complimentary beverages when booked through an American Express partner restaurant.
Invitation-Only Events
American Express participates with partners in special events to ensure cardholders have special access. The events may include cocktail parties, private galas, fashion shows, sporting events and more. Some of the most recent By Invitation Only events include tickets to the entire season of the Formula One races around the world, Wimbledon VIP Centre Court Packages and the Beach Polo World Cup in Miami Beach.
Exclusive Access to Lifestyle Events
An American Express concierge may be able to get you tickets to hard-to-book events such as the PGA Tour, Super Bowl or Coachella. All you need to do is make the call and let the concierge handle the rest of the details.
When Should You Call a Concierge vs. an American Express Travel Representative?
Although concierge and travel services are both operated by American Express, they're completely different entities. If you need help with travel such as a hotel, cruise, car rental or flight, contact American Express Travel. 
If you need non-travel booking help such as getting a restaurant reservation, purchasing a hard-to-get item or requesting a travel guide for a place you're visiting, an American Express Platinum concierge is the best option. 
Is It Hard To Get Approved for the American Express Platinum Card?
Getting approved for an American Express Platinum card isn't as easy as other cards, but you have a good chance of approval with a very good to excellent credit score and a higher-than-average income. 
You may be able to get an idea of whether you'd be approved in advance by navigating to the American Express page for pre-qualified offers. You'll need to enter some personal details such as your home address, the last four digits of your Social Security number, and your annual income. You'll receive offers in just a few seconds without a ding to your credit score.
Takeaways on the American Express Platinum Concierge Service
Having access to an American Express Platinum concierge is like having a personal assistant who attends to your social and entertainment needs. The service is unique; few cards offer concierge services. An American Express concierge can find the perfect gift for someone, send flowers or get you a reservation for a restaurant or once-in-a-lifetime experience. And best of all, there is no fee for working with a concierge — it's included in your American Express Platinum annual membership fee.
Information is accurate as of May 22, 2022.
Editorial Note: This content is not provided by American Express. Any opinions, analyses, reviews, ratings or recommendations expressed in this article are those of the author alone and have not been reviewed, approved or otherwise endorsed by American Express.
All information about American Express card offers have been collected independently by GOBankingRates and have not been reviewed or approved by American Express. These offers are not available through GOBankingRates.