Is American Express Concierge Better Than Chase Concierge?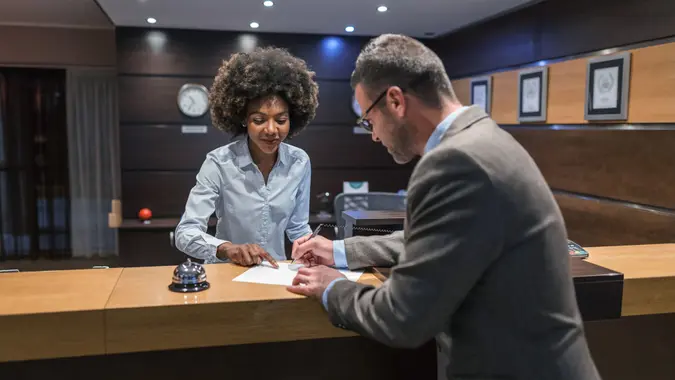 Mixmike / Getty Images
Many holders of premium credit cards have access to concierge services. This is a personalized "white glove" service that helps cardholders make purchases, arrange restaurant reservations, track down concert tickets, or find the best tour guide while on a trip. A concierge can also help with any reasonable request to meet personal needs or wants while at home.
Concierges have few limits on the requests they can handle. Pet-sitting arrangements, flower and gift deliveries, and personal shopping all can be covered by a competent concierge. Cardholders can also receive recommendations for museums and tourist sites.
Concierge While Traveling
One of the handiest uses of concierge services is the live, personal travel guide. The best-planned travel sometimes results from simply discussing ideas with a neutral, well-informed observer.
Cardholders can ask for recommendations on worthy sites to visit or local restaurants to sample. A concierge with inside knowledge of the cardholder's destination can give the request that valuable personal touch that can make all the difference in the success of a trip.
American Express National Bank, Member FDIC and Chase both offer these services as a standard feature of their high-end cards. There are some notable differences, however, in how they operate.
American Express Concierge
American Express Concierge is a complimentary service to anyone holding the American Express Platinum. It's also a service for American Express® Card Members of certain co-branded cards such as Delta SkyMiles Reserve and Hilton Honors.
There's no extra charge for the service, but purchases made or charges incurred must be put on the card.
Card Members can simply call the number printed on the back of the card and request a concierge. The call is then transferred to a representative who assists with personal services for the customer.
Centurion Concierge
Concierge is also a feature of the exclusive, invitation-only Centurion card, also known as American Express Black. Card Members work with a dedicated representative who becomes a sort of personal assistant provided by the company.
Outlandish requests are almost the norm for the Centurion concierge. One cardholder, attempting to test the limits, contacted the concierge with a complaint about running out of ice on an isolated private island. The response was a fresh bag of ice, delivered via helicopter
Chase Concierge
Chase-branded cards provide one of the most widely used and popular credit services. On Chase Sapphire and other cards, the company offers concierge services through Visa, so customers are dealing with the financial network rather than the card issuer. Visa Signature concierge services can be reached through a 24/7 number at 800-953-7392.
There are notable differences in concierge services between Visa Signature and Infinite brands. Visa Infinite's site gives an expanded list of possible services — flowers and cakes for private celebrations, wine deliveries to your door and help with hard-to-find items at your location. In addition, since there are fewer Infinite cards in circulation, this sometimes makes for improved customer service response and turnaround times.
The service can also be reached through Visa's webpage or via email. Sometimes, the concierge can help immediately. For a request that takes more time and research, cardholders will have to wait several hours or days for a return call. Visa claims to handle most requests in 24 to 48 hours.
What a Visa Concierge Won't Do
There are certain things a Visa concierge can't help with. For issues such as card activations, billing inquiries and lost cards, cardholders have to call Visa's customer service line. Anything related to insurance benefits is also out of bounds.
With Chase and Visa, anything purchased through the concierge service is charged to the card, with the full range of points and discounts available. There's no fee charged for the concierge service itself, but there may be a limit set on the number of requests a single cardholder can make.
Standout Services
Reviewers have lauded the American Express concierge for the ability to meet tough or unusual requests. Going through the card concierge rather than calling a vendor's 800 number often results in faster, better service.
American Express also seems to have an inside track to event tickets, such as those needed for concerts, plays and festivals. A major company such as American Express can rely on long-standing relationships with providers, which is a privilege that the average individual searching on their own might not have.
In some cases, it might come down to the competence and experience of the individual concierge. When they're assigned randomly to clients, top-tier service won't be guaranteed. To maximize the chance of success, it's smart to develop a good relationship and get the offer of a direct extension to the concierge.
Concierge Reviews
In most reviews, Chase's concierge services have matched up well with American Express. One crucial factor in comparing services is time: both time to pick up the phone and time to respond to a customer request. According to one review, it took seven hours to get a hold of an American Express concierge, taking some of the shine away from the good service that was provided.
In the same review, however, turnaround time was quite a bit faster on the American Express side — 24 hours to get three recommendations, while Chase took 72 hours to return four. In many cases, this might come down to the time of day and how busy the service might be, since a concierge service offered by any provider is bound to be occupied with requests around holidays and peak travel seasons.
In its review of concierge services, The Motley Fool points out limited availability from services by American Express as a drawback. While a wide range of Chase cards offer concierge, American Express allows it on a few of its high-end cards, which already carry high annual fees.
Is American Express Concierge Better?
When considering a card perk like concierge, it's wise to remember that American Express has been in the travel business for a long time. American Express offices all over the world are dedicated to traveler assistance, so the company has experience in making things easier for people on the move.
Special Situations
American Express concierges have been known to go the extra mile for out-of-the-ordinary requests. One cardholder managed to get Mother's Day restaurant reservations — for six — that Sunday morning. Another, temporarily indisposed, arranged to have a limo pick up his daughter from school.
In emergencies, a concierge can also mean shelter and safety. A client calling the American Express concierge during a volcanic eruption on Bali managed to arrange rides and an evacuation amid general panic and chaos.
Good To Know

A premium card isn't always required for concierge services. Citibank, for example, offers a concierge as a standard perk on all of its consumer cards.
Final Take
With caveats in place, the American Express concierge service comes out slightly ahead of Chase. But success with any concierge service also comes down to skillful handling on the part of the customer. Reasonable expectations should be set, and a bit of patience also helps at busy times and places.
Concierge service is also about establishing rapport with the provider. Although it's a business service, a concierge is also a personal transaction that benefits from a professional approach on both sides.
Editorial Note: This content is not provided by the companies mentioned. Any opinions, analyses, reviews, ratings or recommendations expressed in this article are those of the author alone and have not been reviewed, approved or otherwise endorsed by the companies mentioned.
This article was republished on April 26, 2022. Information is accurate as of March 21, 2022.
Editorial Note: This content is not provided by American Express. Any opinions, analyses, reviews, ratings or recommendations expressed in this article are those of the author alone and have not been reviewed, approved or otherwise endorsed by American Express. American Express credit card products are not available through GOBankingRates.com.
Editorial Note: This content is not provided by Chase. Any opinions, analyses, reviews, ratings or recommendations expressed in this article are those of the author alone and have not been reviewed, approved or otherwise endorsed by Chase.
Our in-house research team and on-site financial experts work together to create content that's accurate, impartial, and up to date. We fact-check every single statistic, quote and fact using trusted primary resources to make sure the information we provide is correct. You can learn more about GOBankingRates' processes and standards in our editorial policy.