20 Little-Known Benefits You Didn't Know Came With the American Express Platinum Card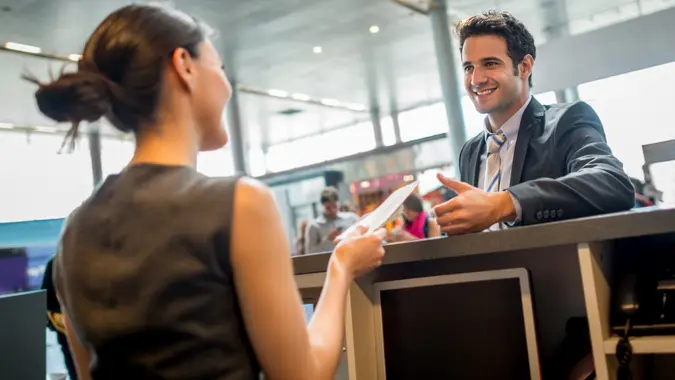 andresr / iStock.com
American Express, Member FDIC, kept it simple in its early days of issuing credit, offering a single charge card in 1958. By 1969, its renowned Gold and Green cards had already hit the scene. The Green became a popular offering, with no spending limits attached. American Express® Card Members could use it for convenience, paying off the balance each month and traveling with minimal cash or traveler's checks.
As American Express evolved, it sought a wealthier, more rarefied marketing niche. By the early 1980s, its Gold Card targeted big spenders who sought a greater range of benefits that the Green Card lacked. Then, in 1984, the was introduced. With a steep annual fee, the Platinum Card targeted those in the higher echelons of wealth and creditworthiness.
Many competing premium cards have hit the market since, and American Express now has a wider range of consumer, business and affiliate cards. But American Express Platinum has endured over the years, offering Card Members a very nice set of benefits. Here's a closer look at what those benefits are.
Welcome Offer
American Express® Platinum rewards new Card Members with after making $8,000 in purchases during the account's first six months.
The value of the rewards points depends on how you redeem them. For example, if you redeem them for gift cards, they could be worth up to $1,000, whereas if you pay with points on Amazon.com, the will be worth only $700.
Rewards
The standard reward rate of a point for every dollar spent gets a bump when purchases are made in some important categories. This categories mostly involve travel.
Flights
Card Members who book flights directly through airlines or via the American Express Travel platform earn five times the points for every dollar spent up to $500,000 per year.
American Express Platinum membership also brings up to $200 in statement credit each year to cover all of those pesky fees that airlines charge for baggage and seat selection. This benefit is limited to a single airline, though, and Card Members can only change their carrier once a year, in January.
Hotels
Hotel bookings made with the American Express Platinum card also generate five times more points per dollar. These bookings, though, must be paid in advance through the American Express® Travel website.
$200 in statement credit for certain bookings through American Express® Travel is also offered, including members of American Express® Fine Hotels and Resorts and The Hotel Collection. There is a 2-night stay minimum required for this credit.
Digital Entertainment Credit
With its rewards program, American Express has also branched into digital media and subscription-accessed accounts. If a Card Member charges a subscription to Peacock, Audible, Sirius XM or The New York Times, a $240 digital entertainment credit is offered, limited to up to $20 a month and spread over a calendar year.
The subscription must be purchased directly from the provider, though, and not through a prepaid or gift card.
Equinox Fitness
The fitness app Equinox is also supported by American Express Platinum with credits up to $300 annually towards membership. Equinox provides on-demand and live fitness programs under its own brand name as well as SoulCycle, Rumble, PUREYoga, HeadStrong and others, all accessible from a single app.
Platinum Card Members must enroll directly through the Equinox app or through the Benefits section of the American Express app to be eligible for the credit.
Travel Benefits
While point earning potential and statement credits are alluring, travel benefits are what make the American Express® Platinum Card shine. Here's why.
International Airline Program
For those wanting a better class of seats on an international flight, American Express® Platinum may be the key to a discounted ticket price. The International Airline Program provides savings on First Class, Business Class and Premium Economy seats, with up to eight tickets on a single flight available for a discount.
To qualify for this benefit, the card holder must be traveling and the trip must start and end in the U.S.
Comfy Airport Lounges
"Stuck at the airport" has a new meaning when there's a nice spot to relax, unwind and recharge. Designed for transiting air passengers, American Express Global Lounge Collection is a network of more than 1,400 private lounge spaces in 140 countries, and Platinum Card Members have access to all of them.  
Cruise Perks
For those who enjoy sea cruises, American Express offers the American Express® Cruise Privileges Program to Platinum and Centurion Card Members. A standard perk is a $300 statement credit for purchased amenities, but benefits typically vary by the cruise line. 
Crystal Cruises, for example, offers an additional $200 shore excursion credit per stateroom while Oceania Cruises offers a premium wine tasting event. A minimum cruise length may be required.
Uber Cash and Eats
Getting around in a new city can be challenging, but Uber has made this much more convenient with its ride-hailing app. Platinum Card® Members are rewarded with $200 in Uber Cash, usable for both rides and Uber Eats orders.
This benefit is limited to $15 each month, with a $20 bonus during travel-busy December for a limit of $35 that month.
Traveling in the CLEAR
The CLEAR program gets travelers through security checkpoints at airports and stadiums using biometrics such as eye scans and a "touchless ID" data set that ends the hassle of providing physical documents. American Express® Card Members who pay CLEAR's monthly $15 fee with their Platinum Card receive up to $189 in statement credits annually.
TSA Benefits
Similar to the CLEAR credit, the Platinum Card offers a $100 annual credit for the TSA's Global Entry program for fast U.S. Customs clearance or up to $85 for a five-year enrollment in the TSA PreCheck program for airport security checkpoints. This benefit does have one setback, though, allowing a credit for one of the two options depending on whichever is charged first.
A Card Member who chooses TSA Global Entry can get a statement credit every four years. Those who select PreCheck can get a statement credit every four-and-a-half-year period.
Global Assist
Having some backup in case a trip goes awry is an important benefit of Platinum membership. The American Express Global Assist® Hotline is 24/7 to provide emergency medical or legal assistance, emergency transportation or evacuation or a loan of funds needed to cope with a lost passport, hacked bank account or other financial issues.
Transferring Points
The Platinum Card also makes it easy to move its valuable points around. This benefit allows an American Express® Card Member to transfer points to another card affiliated with a hotel chain or an airline, and it doesn't have to be an American Express-branded card. 
Trip Delay and Cancellation
When a trip's charged to American Express Platinum®, Card Members can rest easy in case a delay or cancellation occurs. Certain additional charges racked up due to a delay of six hours or more are reimbursed, up to a maximum of $500 per trip and two claims within a 12-month period.
If cancellation happens on a round-trip purchased with the Platinum Card, any expenses not refunded by the carrier can be reimbursed up to $10,000 per trip and $20,000 per card in a 12-month period.
Account Management
American Express® Platinum Card Members also have access to several account management perks. Here's what those are.
Send and Split
The Send and Split program allows Platinum Card Members to link their accounts to Venmo and PayPal, making it possible to send money easily or split purchases on those third-party platforms with friends and family. The program requires users to download and use the American Express app and enroll these partner accounts.
Add a Card
Two cards are better than one. American Express knows that and allows its Platinum Card Members to add an annual fee-free American Express® Gold Card to their account. Any rewards earned on that additional card are accessible by the Platinum Card® Member. 
Pay It, Plan It
The buy now, pay later trend has arrived for Platinum Card Members in the form of the "Pay It Plan It" feature.
Also available to Green and Gold American Express® Card Members, "Pay It" allows members to pay for purchases of less than $100 with a series of smaller payments during the month the buys were made.
Larger purchases can be placed in the "Plan It" category, which has a fixed monthly fee. Plan It allows Card Members to pay off their purchase in small installments over a preset period, typically three to 24 months. No interest is charged on the purchase.  
The Pay It, Plan It feature is set up on the American Express app, which gives Card Members access to the program through the touch of a button. 
Security and Protection
American Express® Card Members benefit from the security and protection the company extends to them, guarding against attempted fraud and theft. Here's what Platinum Card Members typically receive.
Purchase Protection
With the Purchase Protection policy offered through the Platinum account, Card Members can be reimbursed if purchased items are lost, damaged or stolen within 90 days of the buy date. This coverage has specific limits per occurrence and calendar year.
Warranty Benefits
Warranties offered by manufacturers on big-ticket items give a bit of assurance that if something goes wrong, the money can be recuperated. But these warranties have a limited term, and of course, repairs will most likely be needed once the item has gotten some use. 
When Platinum Card Members buy an item, the manufacturer's warranty — as long as it runs five years or less — can be extended for an additional year. Similar to purchase protection, there are specific limits on warranties per calendar year, too.
Fraud and Account Security
American Express offers a robust fraud protection program. Card Members are notified of any unusual spending on their account, and any charges deemed by the company to be fraudulent are typically reimbursed.
Also, American Express® Card Members can register for regular balance updates sent by email or text, which is a good way to monitor the account and catch any questionable use of the card.
Other Services
Platinum membership brings a range of services, like American Express Concierge, which provides complimentary assistance if a Card Member needs a hand at home or on the road. This could involve making a restaurant reservation, buying hard-to-get concert or show tickets, or helping with shopping while in a foreign country.
Any purchases made through American Express Concierge are put on the card and the normal terms for a purchase apply. 
Fees and Rates
The annual fee for the American Express® Platinum Card is . The good news for international travelers is that American Express® Platinum Card doesn't charge a foreign transaction fee, making it a convenient option for purchases made abroad.
No interest is charged on purchases if the card balance is paid off within the first billing cycle. The regular APR will fall between , depending on the Card Member's credit history. 
If a minimum payment is not received on time or if a check is returned by the bank, American Express will raise the interest rate on the account to a penalty APR of 29.99%. The penalty APR typically remains in place for a minimum of six months. After that, the penalty APR will usually reset to the lower rate if there haven't been any additional missed or late payments.
Advice for American Express® Card Members
Taking advantage of a benefit or reward provided through the Platinum Card is often a matter of simply knowing about it. There's a simple way Platinum Card Members can do this: by downloading the American Express app and registering their account. A detailed Benefits section describes the card's many programs and will update Card Members on new and existing offers.
As is customary for American Express, a good credit score and a history of responsible card management will boost the odds of approval for a Platinum account. Although the company doesn't set a minimum score for approval, 670 or above will likely be needed. 
To get there, interested applicants should make on-time payments, strive for a low utilization ratio — outstanding debt owed to total credit available — and be conservative about applying for new loans or credit accounts.
Good To Know

The American Express® Platinum Card's welcome offer is available once in a lifetime. If an applicant had this card in the past and closed that account, American Express will not extend this welcome offer again. The application may be approved for a new account, though.
Cynthia Measom contributed to the reporting for this article.
Rates are subject to change; unless otherwise noted, rates are updated periodically. All other information on accounts is accurate as of Aug. 24, 2022.
Editorial Note: This content is not provided by any entity covered in this article. Any opinions, analyses, reviews, ratings or recommendations expressed in this article are those of the author alone and have not been reviewed, approved or otherwise endorsed by any entity named in this article.
All information about the American Express card offers has been collected independently by GOBankingRates and have not been reviewed or approved by American Express. These offers are not available through GOBankingRates.