American Express Fine Hotels and Resorts: The Ultimate Perk for Travelers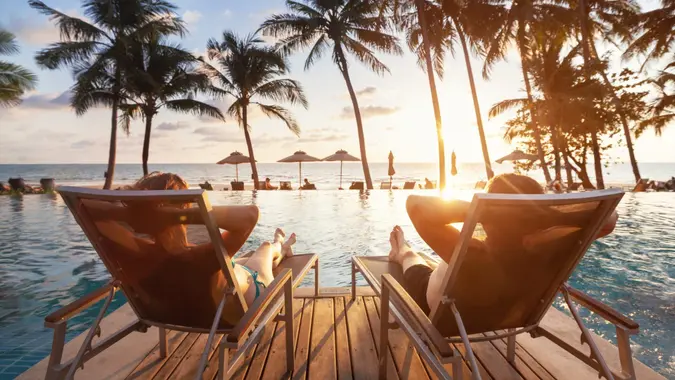 anyaberkut / Getty Images/iStockphoto
Update: Some offers mentioned below may have changed or are no longer available. View current credit card offerings from our partners at CardCritics here on the issuer's website.
American Express Platinum® cardholders pay a hefty annual fee of $695. To justify a cover charge of that caliber, you have to take advantage of enough high-end perks to cancel out the cost. If you're planning a luxury getaway, American Express® Fine Hotels and Resorts can get you close to the finish line.
When Platinum or Centurion cardholders book their stays through the American Express® Platinum Travel Service, their Fine Hotels + Resorts benefits add complementary luxury perks that travel agencies would add on for an upcharge.
What is American Express Fine Hotels and Resorts? 
American Express® FHR is an elite collection of rewards for select cardholders who book their getaways through American Express® Travel. It provides a suite of exclusive benefits and the kind of perks that make luxury vacations truly luxurious — and the benefits really are exclusive. Most American Express cardholders can't take advantage of FHR extras.
The program provides access to The Hotel Collection, American Express' curated lineup of premium hotels around the world. American Express cardholders enjoy competitive rates for their rooms and suites, and they enjoy FHR perks that other guests in the same resort or hotel go without.
On average, American Express estimates the combined value of FHR benefits to be $550. That leaves cardholders just $145 short of offsetting the Platinum card's annual fee.
Do I Really Need a Platinum Card? 
You have to be approved for an American Express Platinum Card® to take advantage of FHR benefits. Of course, Centurion cardholders can get in on the action, too — after all, who says no to American Express® Black?
Even without the FHR benefits, Platinum is an attractive piece of plastic to have in your wallet. While the Centurion card is reserved for true heavyweights, Platinum has been the everyman's go-to card for premium perks since its debut in 1984.
Before you even get to the goodies inside the FHR package, standard Platinum membership comes with excellent benefits and travel perks, including:
when you spend $6,000 in the first six months
An annual $200 hotel credit
An annual $200 airline fee credit
Access to the American Express® Global Lounge Collection, which offers high-end digs at more than 1,400 lounges in 650 cities
A $189 CLEAR security pass membership
Global dining access by Resy
Up to $20 per month or $240 per year in streaming and subscription credits for platforms like Disney+, Hulu, SiriusXM and the New York Times — because what else are you going to do in the airport lounge?
American Express Fine Hotels and Resorts: The Perks
FHR delivers benefits that are impressive even by the standards of the world's finest luxury hotels, many of which earned a spot in The Hotel Collection.
All guests get complimentary Wi-Fi, and early 12 p.m. check-in lets you start your vacation sooner. Guaranteed 4 p.m. check-out lets you stretch it out longer.
Do You Get Free Breakfast With American Express Platinum?
The Platinum card delivers many great travel perks — but unfortunately, free breakfast isn't one of them.
The good news is that Platinum membership opens the door to the FHR benefits package, which does include a complimentary daily breakfast for two every morning of your stay. Breakfast offerings vary by location, but each meal has a value of at least $60 per room or $30 per person.
Are There Benefits to Staying More Than One Night?
Guests who stay for multiple nights get an experience credit valued at $100 or more at more than 600 participating hotels. It varies by location, but the credit could be good for things like complimentary food and beverages, a private transfer to the airport, a round of golf for two, spa services or a property credit that gives you the freedom to spend your $100 reward just about any way you please.
Guests who spend two nights or more also receive a room upgrade upon arrival, when available.
Are There Free Nights or Other Special Offers?
The American Express® Fine Hotels + Resorts Special Offers page lists a wide variety of deals from all over the world. Deals change periodically, but in many cases, the special offer is a complimentary third, fourth, fifth or sixth night.
In other cases, hotels and resorts offer cash rebates and non-room discounts. Examples include:
The Asbury Ocean Club in Asbury Park, N.J., is offering a $250 food and beverage credit.
The Dorado Beach Ritz-Carlton in Puerto Rico is giving away a $275 property credit.
Alila Ventana Big Sur in California is extending $300 property credits.
What Hotels Are Affiliated with American Express?
Most hotels accept American Express, and American Express® Travel offers different perks to different cardholder tiers at hotels worldwide.
The Hotel Collection, however, is more exclusive. It's available only to American Express® Gold, Platinum and Centurion cardholders. While Business Gold and Business Platinum cardholders qualify, Delta SkyMiles Gold and Delta SkyMiles Platinum cardholders do not.
What is the American Express Hotel Collection?
The Hotel Collection includes more than 1,200 properties worldwide, hand-picked by American Express.
When combined with the more than 600 hotels available only through Fine Hotels and Resorts, FHR gives Platinum cardholders access to more than 1,800 curated luxury properties across the world.
Is Four Seasons Part of Fine Hotels and Resorts?
Like so many of the top names in the accommodation industry that are synonymous with luxury, Four Seasons is part of The Hotel Collection and FHR package. Founded in 1960, the Four Seasons Hotels and Resorts network operates more than 100 locations worldwide.
American Express FHR gives cardholders access to 36 Four Seasons locations in the U.S., three each in Canada, Mexico, South America and the Caribbean, 17 in Europe, 17 in the Middle East and Africa and 27 in the Asia Pacific region.
Does American Express Offer Hotel Price Match?
The American Express® Lowest Hotel Rates Guarantee policy applies to everyone in the American Express family, not just to FHR benefits, The Hotel Collection or even just Platinum cardholders.
If any American Express cardholder books any qualifying hotel room through American Express® Travel, American Express will pay back the difference if the room is listed cheaper somewhere else. Be aware that it has to be the same room in the same hotel on the same nights for the same number of occupants.
Will I Still Earn Rewards Points?
Platinum members earn five Membership Rewards points for every dollar spent on qualifying purchases.
Eligible purchases include up to $500,000 a year on scheduled flights, prepaid hotel reservations booked through American Express® Travel and prepaid flight and hotel travel packages booked through American Express® Travel.
Can I Use Pay With Points?
Cardholders can use Pay With Points to secure FHR benefits.
All they have to do is pay for their travel purchases with an eligible and enrolled American Express card — in this case, either a Platinum or Centurion card. Then, American Express will debit your Membership Rewards account and issue credit for the corresponding amount to your card account. The minimum redemption amount is 5,000 points.
The Verdict: If You Travel in Style, FHR Supercharges the American Express Platinum Experience
To gain access to the many benefits of American Express® Fine Hotels and Resorts, you must sign up for a card with a $695 annual fee. That's clearly not for everyone.
But for those who have the means, and who plan to vacation in higher-end accommodations, FHR delivers the kind of convenience and comfort that give a genuinely elite feel to luxury travel.
That said, it's not all about opulence — there are plenty of reasons for budget-minded travelers to like FHR, too. For starters, travelers can book through FHR for roughly the same price they would have paid booking directly, in many cases.
When used in conjunction with standard Platinum card benefits — the $200 annual hotel credit or six-figure bonus signup points, for example — FHR benefits can save you even more. At some properties, the $60-plus per-room breakfast allowance alone could save you enough on meals to justify booking through FHR.
The Platinum card is widely hailed as one of the best all-around premium travel cards — perhaps the best premium card, in general. The addition of FHR enhances the Platinum experience, both in the level of luxury you experience and the number of opportunities you have to save money.
All information about American Express card offers have been collected independently by GOBankingRates and have not been reviewed or approved by American Express. These offers are not available through GOBankingRates.