What It Costs to Play on America's 10 Best Golf Courses
Playing on some of the best golf courses in America comes with a hefty price tag.
The golf world will turn its attention to Augusta National Golf Club when the Masters Tournament makes its return to the club the first week of April. With its well-manicured landscapes and fantastic views, Augusta National is one of the best golf courses in America.
Like Augusta National, many of the top-rated golf clubs are members-only; however, some of the best golf courses are open to the public. Read on to discover the costs of teeing off at some of the best private and public golf courses the U.S. has to offer.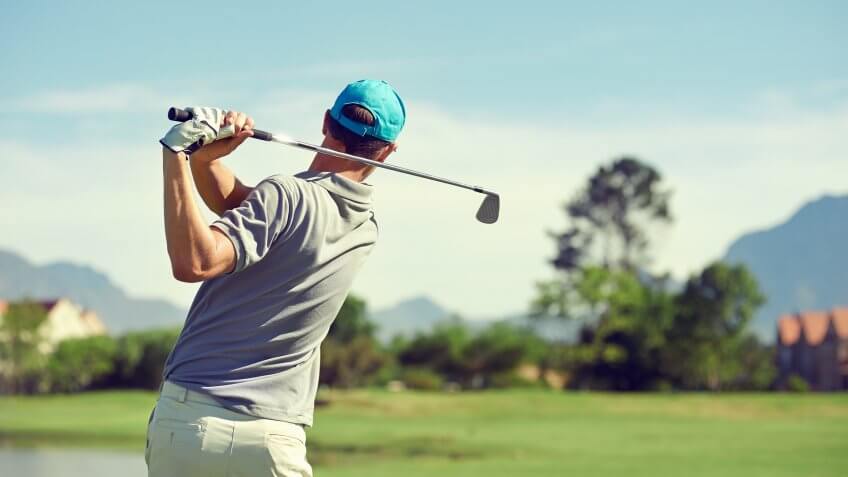 Daxiao Productions / Shutterstock.com
America's Best Private Golf Courses
Initiation fees at some the most exclusive golf clubs can cost well into the six figure range — if you're able to secure membership in the first place, that is. Here's a look at what some of the top-rated golf clubs have to offer for those who call themselves members.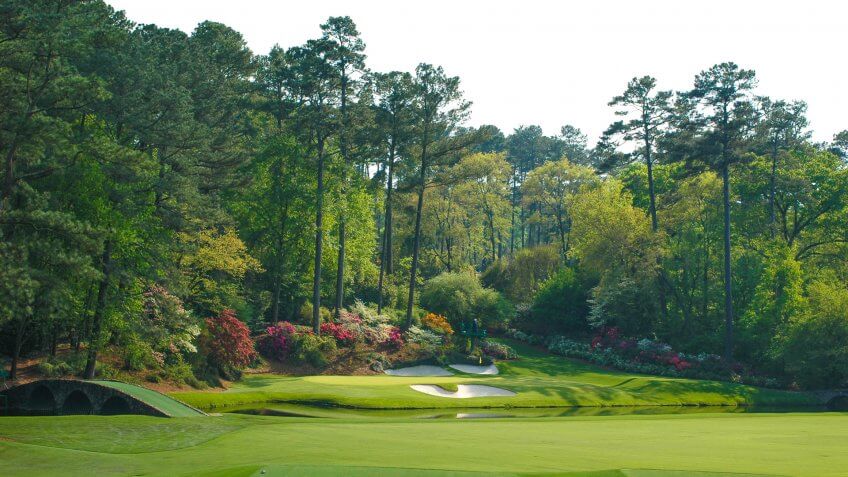 Danny E Hooks / Shutterstock.com
Augusta National Golf Club
Augusta, GA
No golf course in America is more steeped in history than Augusta National Golf Club, which hosts The Masters each year. Jack Nicklaus, Tiger Woods and Arnold Palmer are among the golf legends who enjoyed historic moments during The Masters at Augusta National.
Each of the 18 holes at Augusta National has a name derived from a tree, flower or plant on the course. Some include Tea Olive (No. 1), Magnolia (No. 5) and Holly (No. 18). Holes 11, 12 and 13 are collectively known as "Amen Corner," due to the difficulty of the holes in combination with the wind in that location.
Augusta National is not only one of the best golf courses in America, it's also one of the most exclusive. It is a members-only club, and any guest must be accompanied by a member at all times.
The club was restricted to white men from the time it opened in 1932 until it admitted its first black male member in 1990. In 2012, Augusta National admitted its first women members: former Secretary of State Condoleezza Rice and South Carolina investor Darla Moore. Augusta National's official list of members is confidential; however, outlets including USA Today and Bloomberg have published lists of verified and speculated members.
While Augusta National remains tightlipped on membership costs, Business Insider reported in 2011 the club's annual fees to be around $10,000. As is generally the case among the most exclusive clubs in the world, the initiation fee is the much larger number, with Augusta's reportedly costing more than $250,000.
Check Out: The Richest Golfers to Win the Masters Tournament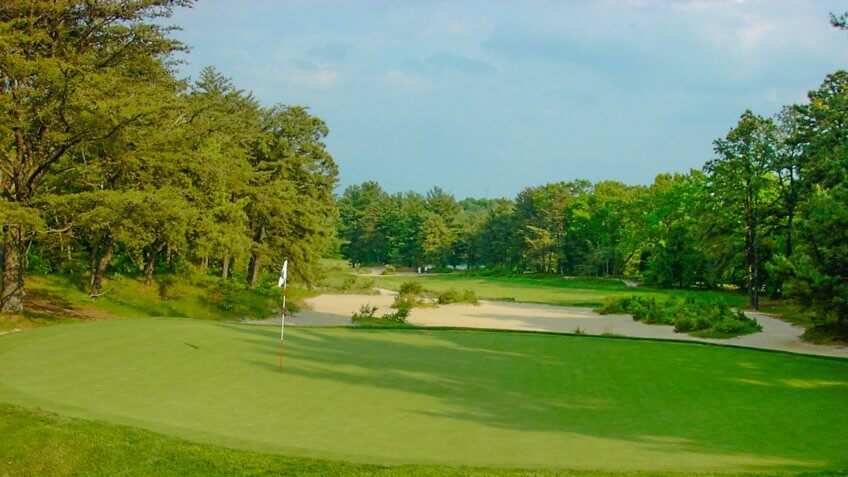 Frjlove / Wikimedia Commons Public Domain
Pine Valley Golf Club
Pine Valley, NJ
Consistently ranked among the top courses in the U.S., Pine Valley is set along the edge of southern New Jersey's Pine Barrens. Opened in 1913, ESPN once described the course as the "greatest 18 holes of golf ever created by man."
Among the many notable holes at Pine Valley is No. 7. The 636-yard, par-5 hole features a giant bunker known to those who have tried to tame it as "Hell's Half Acre."
Few will ever get the chance to try to get past the famed bunker, as Pine Valley is among America's most exclusive private clubs. While the membership list is confidential, the Press of Atlantic City reported that former U.S. President George H.W. Bush, actor Sean Connery and pro golf legends Ben Crenshaw, Jack Nicklaus, Gary Player and the late Arnold Palmer were all members at one time or another.
Non-members must receive an invitation from a member in order to play at Pine Valley. Women cannot be members of Pine Valley Golf Club and can only be invited to play on Sundays. If you do get an invite, the green fees are approximately $360, including a caddie.
Every year on the last Sunday in September, Pine Valley invites the general public to watch the final round of the club's annual Crump Memorial Tournament, named after its founder and course designer, George Arthur Crump. This is the only opportunity to explore the course without a membership or invitation.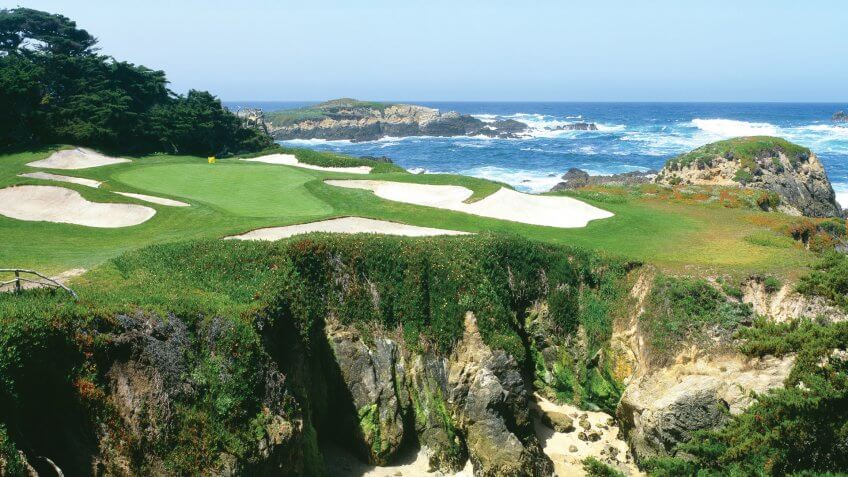 ©Cypress Point Club
Cypress Point Club
Pebble Beach, CA
Not much has changed at Cypress Point since it was designed by Alistair Mackenzie in 1928, but that's because it has never had to change.
Set against the crashing waves of the Pacific Ocean in Monterey Bay, Calif., Cypress Point features breathtaking coastal views on the back nine holes. The front nine incorporate parts of the stunning Del Monte forest.
The coast-hugging No. 16 hole is among the golf world's most famous and treacherous. The 222-yard, par-3 hole requires a drive that crosses more than 200 yards of Pacific Ocean before reaching the green.
In keeping with its old-school aesthetic, golfers must have a bag-carrying caddie with them on the course. Membership fees — which remain confidential — are evenly divided between the club's reported 250 members.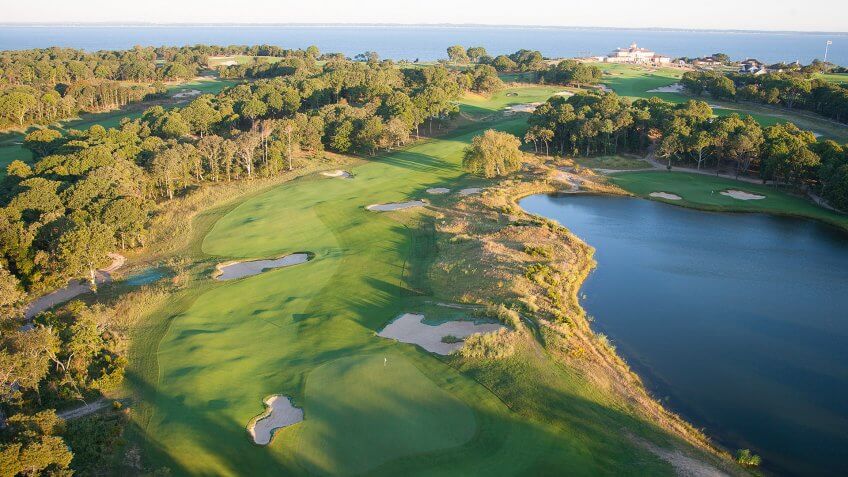 ©Shinnecock Hills Golf Club
Shinnecock Hills Golf Club
Southampton, NY
Opened in 1892, Shinnecock Hills — located near the eastern end of New York's Long Island — is a charter club of the organization that would later become the United States Golf Association. The course has hosted four U.S. Opens — including the second ever in 1896 — with a fifth scheduled for 2018 and a sixth in 2026.
The signature hole on the course is the 194-yard, par-3 No. 7 hole. The hole's small green gave many PGA pros fits during the 2004 U.S. Open.
The ultra-exclusive Shinnecock Hills is tight-lipped about its members list, as well as their initiation fees and dues. If you know a member, you can be invited on the course as a guest, but guest tee times usually fill up months in advance. If you ever make it to the club, you'll pay a $350 green fee.
Check Out: Tiger Woods, Rory McIlroy and 10 of the Biggest Sports Endorsement Deals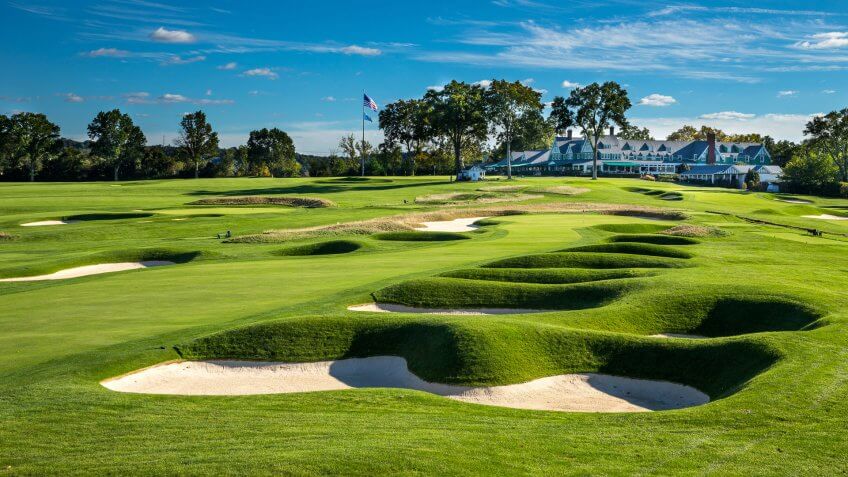 ©Oakmont Country Club
Oakmont Country Club
Oakmont, PA
Located just outside of Pittsburgh, Oakmont is reported to have 500-plus members, more than one-third of whom have single-digit handicaps.
In 2016, Oakmont hosted its record ninth U.S. Open, with Dustin Johnson conquering the course's notoriously fast greens to claim his first major victory. A tenth U.S. Open is scheduled for Oakmont in 2025. The club has also played host to three PGA Championships and two U.S. Women's Opens.
You must be invited to become a member at Oakmont Country Club; however, members reportedly bring guests to the club often to try their hand at the infamously difficult course — but that could be because they enjoy watching their guests struggle.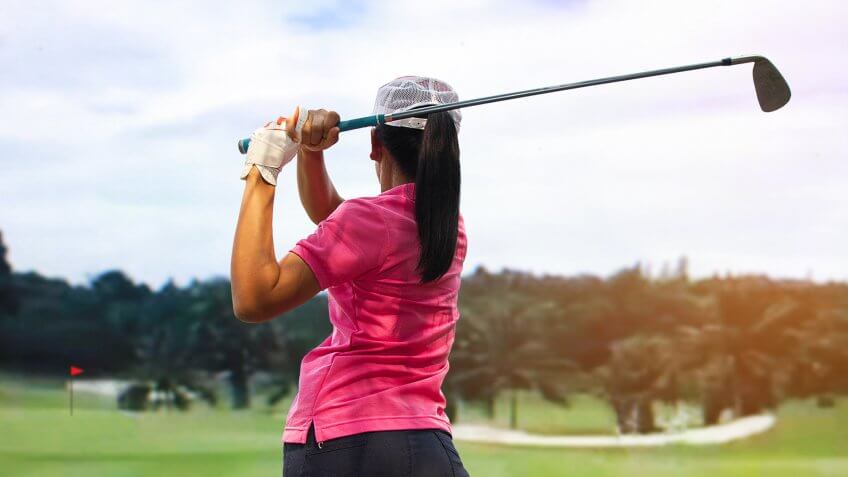 i am way / iStock.com
America's Best Public Golf Courses
You don't have to be a high-paid professional golfer or even a member to play at some of the best golf courses America has to offer. The following quality courses are open to the public.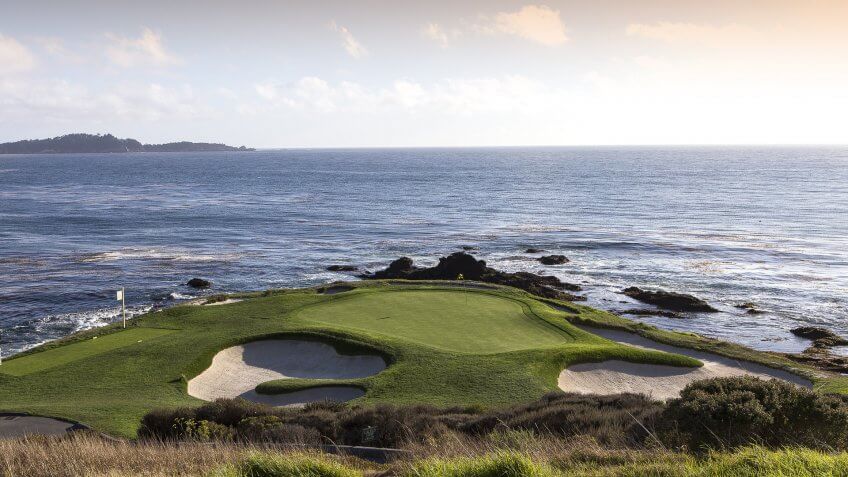 photogolfer / Shutterstock.com
Pebble Beach Golf Links
Pebble Beach, CA
Few natural settings in golf match Pebble Beach, where golfers can see the Pacific Ocean crash into rocks below nine of the course's 18 holes. It's no wonder the course has hosted five U.S. Open tournaments and will add a sixth in 2019.
The course has been tinkered with by many people since it first opened in 1919. Mother Nature has played her part in the course's design, too. A storm struck Pebble Beach the winter after it hosted the 1982 U.S. Open, causing extensive damage to the No. 17 and 18 holes. The damage was later repaired.
Pebble Beach green fees range from $495 to $525, depending on the time of year. Golfers not staying at one of the Pebble Beach resort hotels will also have to pay for a cart and caddie.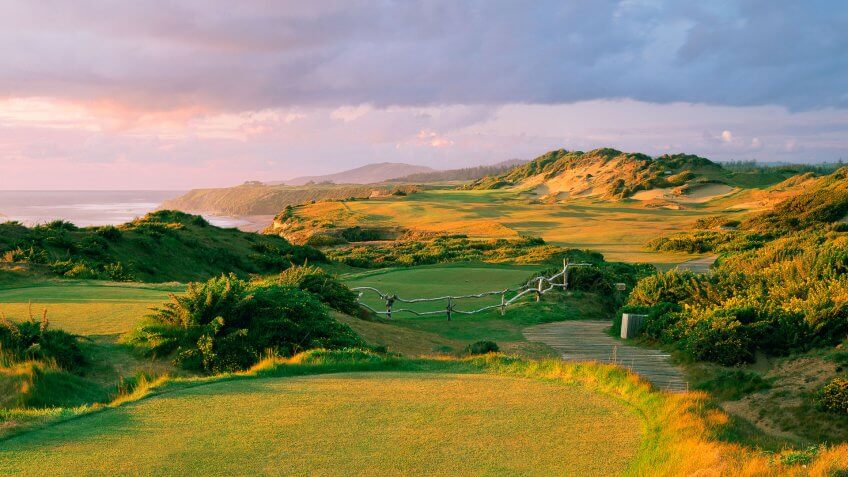 ©Wood Sabold Photography
Pacific Dunes
Bandon, OR
Pacific Dunes is a resort course in Bandon, Ore., that is located 100 feet above waves crashing into the rocky coast.
The signature hole at Pacific Dunes is No. 11, a 148-yard, par-3 hole. While coastal winds often wreak havoc on golfers' shots on No. 11, the hole is among golf's most picturesque. GolfCourseGurus.com, a website that publishes course reviews and other golf content, called the No. 11 hole "the definition of a postcard hole."
If you're a guest at one of the resorts in Bandon, Ore., the green fees at the year-round course range from $85 to $275. If you're not staying at a resort, fees range from $110 to $325, with discounts for Oregon residents.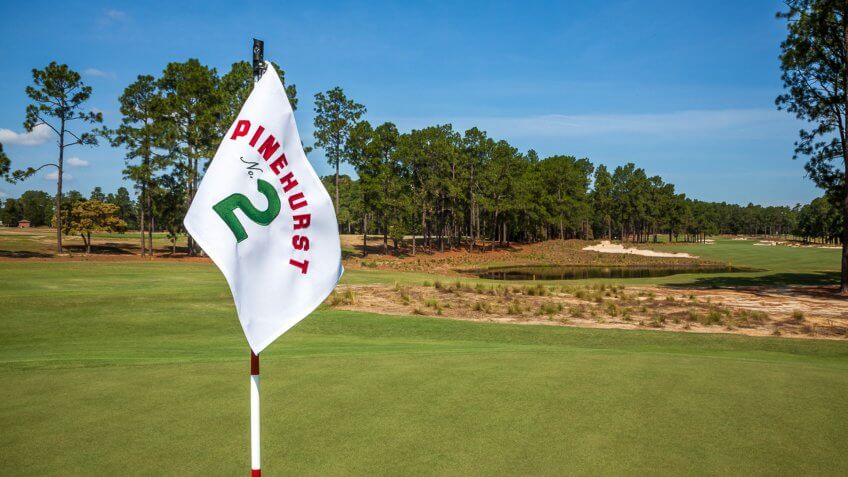 ©Pinehurst Resort No. 2
Pinehurst Resort No. 2
Pinehurst, NC
The No. 2 course at Pinehurst Resort is steeped in history. The course was first designed by Donald Ross in 1907 and changed over the years, quite frequently by Ross himself until his death in 1948. The most recent renovations in 2010 by Bill Coore and Ben Crenshaw restored many of the original design elements.
Pinehurst No. 2 has played host to the 1936 PGA Championship, the 1999 and 2005 U.S. Opens and both the men's and women's 2014 U.S. Opens. The U.S. Open will return in 2024. Payne Stewart won the 1999 U.S. Open at Pinehurst No. 2. A statue commemorates his victory on the No. 18 hole green.
While there are many package options to combine a stay at the Pinehurst Resort with rounds of golf, the most recent green fees for the No. 2 course are listed as $405 a round.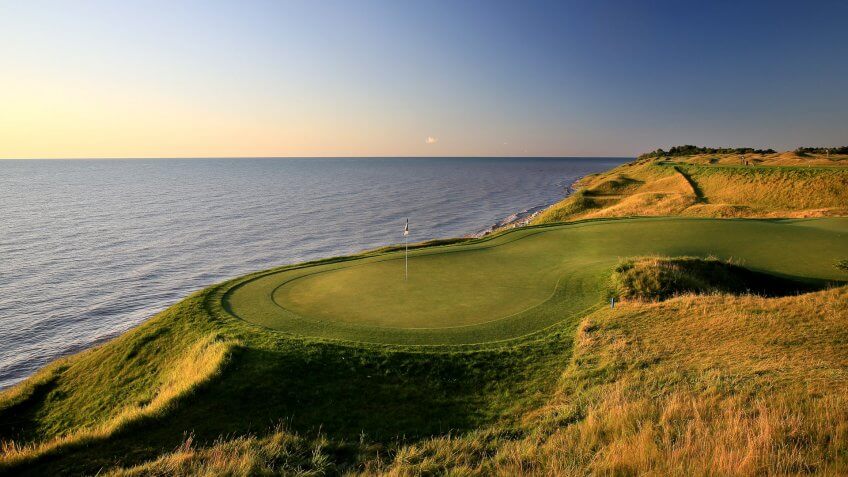 ©Whistling Straits
Whistling Straits
Haven, WI
What was once a U.S. Army anti-aircraft training facility was transformed into the Straits course at Whistling Straits in 1998. Built along two miles of Lake Michigan shoreline, the links-style course is among the top golf destinations.
The Straits course has hosted three PGA Championships over a relatively short span — 2004, 2010 and 2015 — as well as the 2007 U.S. Senior Open. The 46th Ryder Cup will be played on the course in 2020.
Eight of the 18 holes on the Straits course are played along Lake Michigan. Golfers who play the course have to keep an eye out for a flock of 40-plus sheep that freely roams the course.
A round of golf on the Straits course will run a minimum of $410. It's a walking-only course, and a caddie — which costs $65 with a recommended gratuity of $50 per bag — is required.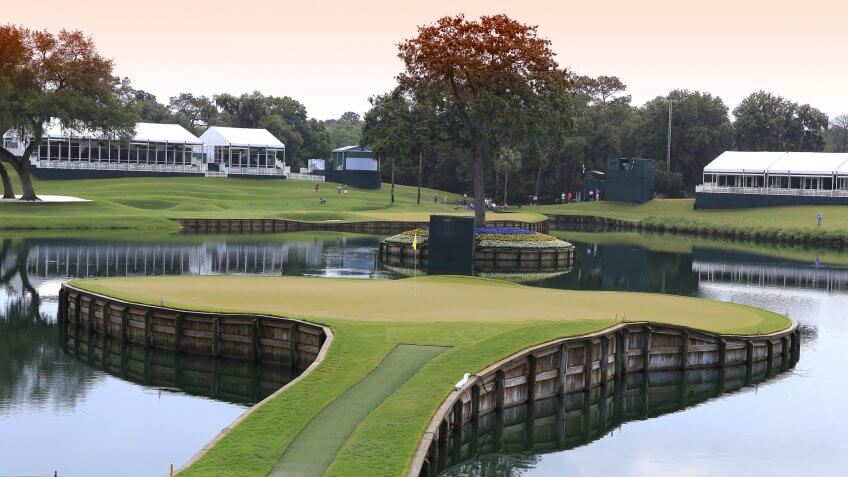 photogolfer / Shutterstock.com
TPC Sawgrass
Ponte Vedra Beach, FL
The Players Stadium course at TPC Sawgrass was designed in 1982 by celebrated course architect Pete Dye.
The No. 17 hole at TPC Sawgrass is one of the most famous in all of golf. The 137-yard, par-3 hole — conceived by Dye's wife, Alice — features an iconic "island" green that is surrounded by water an all sides. A thin bridge is a golfer's only access to the green.
Playing on the Stadium course at TPC Sawgrass, which underwent some significant upgrades in 2016, will cost different amounts at different times of year. It costs $549 to play a round on the course during peak season but just $399 during "cold weather" months. Caddies are not mandatory. Should you choose to use one, know that their fees are extra.
Read On: 22 Gifts for the Avid Golfer