How To Read Your Credit Card Statement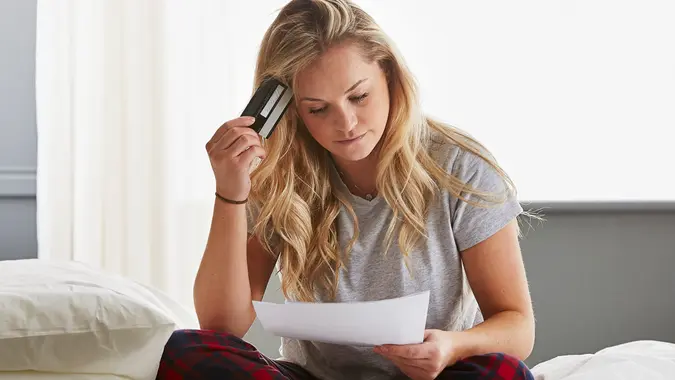 Onzeg / iStock.com
Using a credit card without knowing how to read your credit card statement is a bit like going to the doctor and not receiving any documentation about your treatment. You might have some idea of what is going on, but without something to reference later, the details can quickly become fuzzy.
Fortunately, all credit card issuers send statements at the end of each billing cycle. How the information is presented may vary depending on the credit card, but the basics should be more or less the same. This article breaks down what each section means to help you understand exactly what you are looking at.
What Is a Credit Card Statement?
A credit card statement gives you important details about your credit card account and usage, such as how much you owe in relation to your credit limit, your current APR and whether or not you've incurred any late fees. Reading your credit card statement is a crucial part of keeping your credit in good standing — without this information, you might rack up more penalties, fees and interest than you otherwise would.
Account Summary
The account summary is an overview of all of your activity for that credit card. You will see your previous balance, payments and credits, interest charged and more. Your account summary will likely give you a total amount regarding your transactions but it won't give you an itemized view of your transactions. Instead, it gives you a high-level view of everything that happened with your card for that billing cycle.
What you see here doesn't include the entire history of your usage; typically it is only for a one-month period. In other words, it won't include anything from before the corresponding billing cycle — except for your previous balance — or anything after it.
Here's a closer look at what each item means.
Payments and Credits
Payments and credits are all of the transactions that reduced your balance for that billing cycle.
Payments are simply the total amount you paid for that billing period, whether online or by other means. Credits are any refunds or reimbursements you may have received.
Purchases
Purchases shows the total amount of charges to your credit card for the current billing cycle.
Cash Advances and Balance Transfers
If you requested any cash advances or balance transfers, they will be shown here.
A cash advance allows you to borrow against a special cash access line that may come with your card. Keep in mind that the APR for cash advances is often higher than it is for purchases.
A balance transfer allows you to move debt from one account to another.
Fees and Interest
This is all of the fees and interest incurred, including any late fees, foreign transaction fees and balance transfer fees, among others. Remember that this is only for the current billing cycle.
Available Credit
Available credit is the total amount of credit available for purchases for the billing cycle you are viewing. This is simply calculated as your total credit limit minus your current balance.
Most experts recommend using no more than 30% of your available credit at a time. Credit utilization is worth up to 30% of your credit score, depending on the scoring model. If your card has a credit limit of $3,000, you should never utilize more than $900.
Past Due Amount
If you have any amount that is past due, the total will appear here.
Transactions
The Transactions section is where you'll see an itemized list of every transaction for the current billing period. This includes every type of transaction — not only purchases but also payments, credits, interest charged, etc.
This section is where you should spend the majority of your time on each statement, since it breaks down in fine detail everything that happened since the previous statement. At a minimum, you should see the transaction date, a description — such as the retailer's name — and the amount of the transaction. Any transactions made by an authorized user on your account will also be listed in this section.
This section will give you several insights into your credit usage. For instance, it will help you understand where you are spending the most, and if there are any spending habits you need to rein in. Plus, if there are any transactions you don't recognize, you can find them here and report them if you believe there has been unauthorized or fraudulent use of your credit card.
Interest Charges
This section shows all of the interest charges to your card for the current billing cycle. However, it often shows more than just a dollar amount. Firstly, for purchases, it will show your annual percentage rate (APR) and the amount of the balance subject to that APR. Then, it will show the total interest charges.
If your card has cash advances or balance transfers available, it will show the same information for those features. Both balance transfers and cash advances have their own APR, which is separate from your purchase APR.
Payment Information
Payment information shows important details about the payments you are expected to make on this credit card. This includes the payment due date and the minimum payment due. In other words, this is the smallest amount you can pay by the next due date without risking extra penalties and fees. There will also be a late payment warning in this section that details the late fee you may have to pay if you do not pay the minimum payment by the due date.
Note that if you only pay the minimum balance, you may still be charged interest. If you don't make your minimum payment by 30 days after the due date, it may be reported to the credit reporting agencies, and your credit score may drop as a result. You may also have to pay a higher penalty APR on purchases.
Credit card issuers are also required by law to include how long it will take you to pay off your current balance if you pay only the minimum each month, and they must also how much you will have to pay if you want to pay off your current balance within three years.
Rewards Summary
If your credit card has rewards, such as cash back or points, you'll see details about rewards earned for the current cycle here. It will show how many points you earned and may break that down based on different rates for different categories.
It will also show your previous points or cash-back balance and your new total for this billing period.
Account Messages
Account messages is a place for any important messages your card issuer has for you. This could be any kind of important notice, such as credit limit increases, auto-pay notices or any APR or benefits adjustments. Note that your creditor must notify you at least 45 days in advance of any rate changes.
Payment Coupon
If you choose to pay your credit card bill by mail, you'll need to detatch the payment coupon from the bottom of your credit card statement. The payment coupon contains your name and address, new balance, minimum payment due and payment due date. There will also be a space to write in the amount of the payment you enclose.
More From GOBankingRates
FAQ
Here are the answers to some of the most commonly asked questions about credit card statements.
Are credit card statements due every month?

Yes, payments related to your credit card statements are due every month.
Ideally, you should pay off your entire credit card balance every month to avoid interest charges. If you can't pay off your entire balance, you must pay at least the minimum payment due to avoid late fees and negative credit reporting.

How do I get my credit card statement online?

You can access your credit statement online by registering for online access to your credit card account through the issuer's website.
If you choose to access your statements online, you can also opt for paperless statements, which means that your credit card issuer will no longer send you paper statements in the mail.
Cynthia Measom contributed to the reporting for this article.
Our in-house research team and on-site financial experts work together to create content that's accurate, impartial, and up to date. We fact-check every single statistic, quote and fact using trusted primary resources to make sure the information we provide is correct. You can learn more about GOBankingRates' processes and standards in our editorial policy.