15 Best Metal Credit Cards for 2023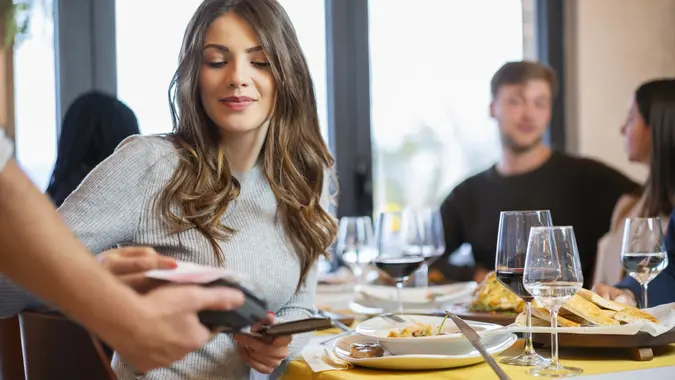 SrdjanPav / iStock.com
Sleek, durable metal credit cards seem to be all the rage these days, serving as a status symbol of class and luxury. While many of these cards bring amazing perks and rewards for travel, dining and entertainment, they typically have strings attached — like high annual fees and exclusive conditions.
15 of the Best Metal Credit Cards To Consider in 2023
Anyone looking to get one of these metal credit cards should be clear about what the terms are before signing up. Here's a look at 15 of the best ones available in 2023.
1. Amazon Prime Rewards Visa Signature Card 
The Amazon Prime Rewards Visa Signature Card, issued by Chase, is an excellent option for customers focused on shopping and rewards. While there's no annual fee, this card's best rewards are only available to Amazon Prime members.
In addition to a $100 Amazon gift card upon approval, the card offers specific cash back offers: 5% on all Amazon and Whole Foods purchases for eligible Prime members, 2% for purchases made at restaurants, gas stations and drugstores and 1% on utilities, rideshare and all other buys.
At 12.4 grams, the Amazon Prime Rewards Visa Signature Card may be a tad lighter than other metal credit cards. But the rewards it brings make up for that.
2. Capital One Savor Rewards Card
Among the many metal credit cards available, the 17.4-gram Capital One Savor Rewards Card has amazing cash-back offers and rewards. After paying the $95 annual fee, cardholders earn 4% cash back on dining, qualified entertainment and popular streaming services, 3% cash back on purchases at grocery stores and 1% on all other purchases.
They can also earn 10% cash back on purchases with Uber and Uber Eats and enjoy complimentary Uber One membership statement credits through November 14, 2024.
3. IHG Rewards Premier Card
The Chase IHG Rewards Premier Card is being replaced with plastic, but that's all that seems to have changed about this credit card intended for travelers. In 2023, cardholders can earn 140,000 bonus points if they spend $3,000 on purchases within the first 3 months of sign-up. They also earn as much as 26x points for purchases at any IHG hotel and a free anniversary night each year, as well as Platinum Elite status at all hotels.
The IHG Rewards Club Premier Card might lose some of its heft moving forward, but it sure packs weight in rewards.
4.
Another option that's great for travelers is the Marriott Bonvoy Brilliant® American Express Card, which has several amazing benefits for those who frequent Marriott hotels.
While this metal credit card has a hefty $650 annual fee, it brings the earning power of 6x the points for every purchase at hotels participating in Marriott Bonvoy, 3x the points for U.S. restaurants and flights booked directly with the airlines and 2x the points for other eligible purchases. A welcome offer earns 95,000 Marriott Bonvoy bonus points if cardholders spend $5,000 on purchases within the first 3 months of account opening.
Weighing in at 14.5 grams, the Marriott Bonvoy Brilliant® American Express Card also provides a free anniversary night every renewal year as well as Marriott Bonvoy Platinum Elite status. 
5.
The Delta SkyMiles Platinum Card from American Express is the only airline-related metal credit card on this list for a reason. Weighing in at 15 grams, this stainless steel travel card has a $250 annual fee, but it's one of the best available for frequent flyers, with a current welcome offer of 90,000 bonus miles to new Card Members after you spend $4,000 in purchases within the first six months.
With Delta SkyMiles Platinum, cardholders typically earn 3x the miles for purchases from Delta or made directly with hotels and 2x the miles for purchases at restaurants and U.S. supermarkets, and the card doesn't carry any foreign transaction fees. Members also get priority boarding on flights, 20% back on in-flight purchases and a special rate of $39 at the Delta Sky Club.
6. X1 Visa
Weighing in at 17 grams, the X1 Visa card has no annual fee and offers credit limits up to 5 times higher than traditional cards, based on current and future income.
Card holders earn a minimum of 2x the points on every dollar spent, increasing to 3x the points for the full year after the first $15,000 in spending each year. Members can unlock a month's worth of 4x the points for referring friends and family who receive the card. What's more, X1 offers auto-expiring and single-use virtual cards to end free trials automatically and allow for anonymous shopping.
7. Capital One Venture Rewards Card
At a sturdy weight of over 16.5 grams, the Capital One Venture Rewards Card is another straightforward metal credit card that offers great rewards for anyone willing to pay its $95 annual fee. New cardholders are eligible for a one-time bonus of 75,000 miles after spending $4,000 on purchases within three months of opening the account.
They also earn 5x the miles on hotel and rental cars booked through Capital One Travel and 2x the miles for every dollar on any purchase. With no foreign transaction fees, it's easy to want to carry this card all around the world.
8.
The Chase Sapphire Preferred Card is an excellent metal credit card for those who enjoy big-budget travel, offering a one-time bonus of 60,000 miles — a $750 value from Chase Ultimate Rewards — after a new cardholder spends $4,000 on purchases during the first 3 months of account opening.
When purchasing travel through Chase Ultimate Rewards, cardholders earn 5x the points, as well as 3x the points for dining and 2x the points on travel purchases. This 12.5-gram card has an annual fee of , but its rewards promise big savings — a reason why it's one of the most popular metal credit cards available.
9. U.S. Bank Altitude Reserve Visa Infinite Card 
Weighing in at 16 grams, the stainless steel U.S. Bank Altitude Reserve Card has an annual fee of $400 but brings several travel benefits. These benefits include earning five points for every dollar spent on prepaid hotels and car rentals booked through the Altitude Rewards Center and three points for every dollar spent on eligible travel purchases and mobile wallet buys. Those who sign up can earn 50,000 bonus points — a value of $750 — if they spend $4,500 during the first 90 days with the card. 
Cardholders also get a year of Priority Pass airport lounge access and several Visa Infinite luxury hotel benefits, plus up to $325 per year in travel purchase and dining credits. The Altitude Reserve Card is a metal credit card for those looking to greatly improve their travel experience one swipe at a time.
10.
The American Express® Gold Card is an excellent metal credit card that will satisfy any account holder seeking to refine how they enjoy their travels. Card Members get $120 in dining credits a year from select merchants, as well as $120 in Uber Cash.
Purchases from restaurants, takeout and U.S. supermarkets yield 4x the rewards points. Additionally, you can earn 60,000 Membership Rewards Points after you spend $4,000 on purchases on your new card in the first six months. The 14.7 gram American Express Gold Card has a annual fee and is available in regular Gold or Rose Gold, ensuring that this metal credit card adds flair to shopping while traveling.
11. Card
As the premium version in the Sapphire line, the Chase Sapphire Reserve Card offers cardholders several notable benefits, like $300 in travel credits, free lounge access in airports around the world, 5x the points on flights purchased through Chase, 3x the points for travel and dining purchases — and a 60,000-point bonus offer for new card members who spend $4,000 in the first 3 months from account opening.
Even though it carries a hefty annual fee, this roughly 12.5-gram metal credit card brings benefits that pay for itself, especially if the cardholder is a frequent traveler.
12. Mastercard Black Card
Mastercard's Black Card not only makes a statement in its appearance and weight — 22 grams — but brings a hefty annual fee of $495 to boot. This metal credit card targets those who seek luxury — and those who spend large sums of cash are likely the ones to fully reap its rewards.
Benefits include 24/7 access to Mastercard's Luxury Card Concierge service, $100 airline statement credits and VIP Airport lounge access through Priority Pass Select and no foreign transaction fees. There are no introductory bonus rewards with this card, but it does offer a generous introductory annual percentage rate on balance transfers.
13. Mastercard Gold Card
The Mastercard Gold Card is plated with 24-karat gold. Offering many of the same benefits as the Black Card, for a $995 annual fee, Mastercard Gold cardholders have access to perks like $200 in airline statement credits, Luxury Card Concierge service and VIP airport lounge access. This card is more about proving its luxury status, and at 22 grams, it brings substantial heft to any wallet.   
14.
Despite its annual fee, the American Express® Platinum Card is one of the most exclusive and sought-after metal credit cards. It provides some of the best benefits for luxury travelers, like 5x the rewards points for flights and hotels booked through American Express® Travel that, combined with travel and dining credits, can result in over $1,500 in statement credits each year.
Weighing in at 17.3 grams, this card also provides elite status at Hilton and Marriott hotels and access to the Centurion Network.
15. Apple Card
If you're an Apple user and love to snap up the latest purchases from the company, you should consider adding the Apple Card to your lineup. There are no annual fees, late fees or foreign transaction fees, and the card earns unlimited Daily Cash back.
Receive 3% cash back on your Apple purchases and with some retailers, such as Nike, Panera Bread and Uber. You can receive 2% daily cash back if you use Apple Pay and 1% for using the card in stores or using the virtual card online. There are even tools that help track and break down your purchases so you can gauge your spending habits. This card weighs in at about 14.7 grams and is made of titanium, known for its strength and durability.
Metal Credit Cards May Seem Nice, But…
While a metal credit card looks sleek and feels amazing to place on the table when paying a bill, it's important to consider the terms the card brings. Those interested in these cards should consider several factors ahead of applying, like interest rates, fees, rewards and limited-time offerings. Doing so will ensure the best return on investment.
Melanie Grafil, Daria Uhlig and Cynthia Measom contributed to the reporting for this article.
Editorial Note: This content is not provided by the companies mentioned. Any opinions, analyses, reviews, ratings or recommendations expressed in this article are those of the author alone and have not been reviewed, approved or otherwise endorsed by the companies mentioned.
The information related to the Amazon Prime Rewards Visa Signature, Chase IHG Rewards Premier, Chase Sapphire Preferred and Chase Sapphire Reserve cards was collected by GOBankingRates and has not been reviewed or provided by the issuer of these cards. Product details may vary. Please see the issuer's website for current information. GOBankingRates does not receive commission for these products.
 All information about American Express card offers have been collected independently by GOBankingRates and have not been reviewed or approved by American Express. These offers are not available through GOBankingRates.
GOBankingRates is a personal finance and consumer interest rate website and an online marketing company serving top-tier banks, credit unions and other financial services organizations. Some companies mentioned in this article might be clients of GOBankingRates, which serves more than 100 national, local and online financial institutions. Rankings and roundups are completely objective, and no institution, client or otherwise, paid for inclusion or specific placement. Any opinions, analyses, reviews or recommendations expressed in this article are those of the author alone and have not been reviewed, approved or otherwise endorsed by the companies included in the article. All fees and rates are subject to change at the issuers' discretion. Some interest rates might be short-term or promotional offers only, and it is possible additional terms and conditions must be met to obtain the interest rates listed. Rates and availability might vary by region. Verify terms and conditions before opening an account.
GOBankingRates bases its assessment of "best" and "top" products on the above-stated parameters to create a baseline for comparison. This assessment is an approximation of "best" and "top" designed to help consumers find products that might be appropriate for them. There could be other options available as well. Consumers should consider various options appropriate for their circumstances.