Nearly 60% Of Americans Trust This Credit Card The Most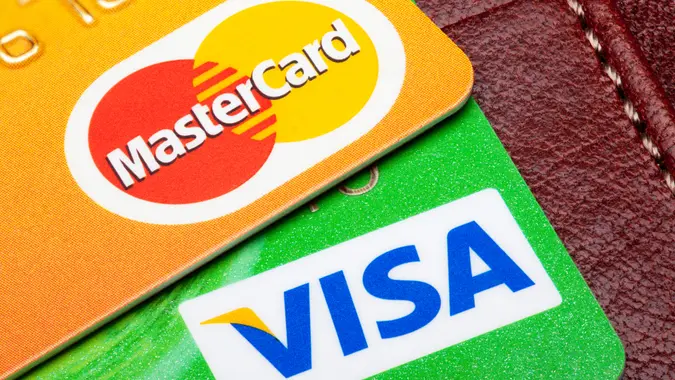 jurisam / Getty Images
In an effort to understand how consumers perceive and use credit cards, GOBankingRates surveyed over 1,000 American adults from across the country and asked several key questions, including, "Which credit card company do you trust the most?"
Nearly 60% (59.76%, to be precise) said that they trusted Visa the most, followed by Mastercard (21.8%), American Express (9.32%) and, lastly, Discover (7.39%). 
With the majority of consumers putting their utmost trust in Visa, one has to ask, what makes Visa so widely beloved? The answer is multifold, but it comes down to four main components: legacy, availability, innovation — and perhaps most of all, branding. 
More Findings: 44% of Americans Pay Off Full Balance of Bill Each Month, But Should They?
An International Pioneer For More Than 40 Years 
Bank of America launched Visa in 1976, naming it "Visa" in part because it sounds the same in all languages. Aiming for global success, in 1979 Bank of America unveiled the first Visa Travellers Cheques, available in four currencies — assuring American consumers that they could travel to other countries safely without physical cash. 
In 1986, Visa launched the famous "Everywhere you want to be", an ad campaign that championed Visa's capabilities not only as an internationally powerful tool that can be used anywhere, including your own neighborhood.

Read: Jaw-Dropping Stats About the State of Credit Card Debt in AmericaSee: Why It's Still Better To Use Your Credit Card Over Your Debit Card
"That campaign was all about advertising how secure Visa was for travelers, as they were not only promising but ensuring you that your cards and transactions will work anywhere in the world," Sharon van Donkelaar, CMO at Expandi, told GOBankingRates. 
Available — And Accepted — Almost Everywhere 
Over the decades, Visa has continued to promote its cards as pocket-sized passports to financial freedom around the world. In 2008, Visa went public in one of the largest IPOs to date, and in 2016 scooped up Visa Europe. Visa is now available in 200 countries and territories. 
Mastercard is just a tad more widely accessible, with availability in 210 countries; but based on GOBankingRates' survey it trails in distant second place after Visa, suggesting that it hasn't as successfully branded itself as the premier global choice.  
Learn: Common Misconceptions About Credit CardsInteresting: How Credit Card Use Changed During the Pandemic
Not only is Visa available in almost every corner of the world, it's widely accepted by merchants. 
"Visa's success has to do with its network of businesses that accept it," said Tim Derdenger, associate professor of marketing at Carnegie Mellon University's Tepper School of Business. "The more companies that do, the more people will adopt the card which in turn provides more incentive for even more businesses to accept it. This effect allows for its business to grow exponentially. Once the network has saturated the market, its focus shifts to providing value to customers through card benefits to incentive usage."
The Most Popular Card In Town 
Visa has indeed saturated the market — accepted at just under 11 million U.S. merchant locations. But bear in mind that Mastercard has the same acceptance rate. This again suggests that Visa has simply done a better job at branding than its chief competitor and the proof is in the numbers: In 2019, Visa processed 185.5 purchase transactions, coming ahead of Mastercard, which processed 108.4 billion transactions the same year. 
Find Out: Why an Annual Fee Card Is Worth It
Ultimately, GOBankingRates findings suggest that the most popular product will also be the most trusted, and Visa is certainly the most popular in its field, with 335 million cards in circulation — 135 million more than Mastercard, 283.6 million more than Discover and 287.5 million more credit cards than American Express. 
More From GOBankingRates
GOBankingRates surveyed 1,009 Americans aged 18 and older from across the country on September 22 through September 23, 2021, asking twelve different questions: (1) Which of the following is the most important to you when it comes to picking a new Credit Card?; (2) How do you handle your Credit Card bill each month?; (3) Which Credit Card company do you trust the most?; (4) What age did you get your first Credit Card?; (5) What is your primary purpose for using your Credit Card(s)?; (6) Do any of the following statements apply to you? Select all that apply:; (7) Which Credit Card fees do you hate the most? Select one:; (8) How many Credit Cards do you own?; (9) What is your total current Credit Card debt?; (10) How Long do you think it will take you to pay off your Credit Card debt?; (11) Have you ever hit the credit limit on your Credit Card?; and (12) Have you ever charged any of the following to your Credit Card? Select all that apply: All respondents had to pass a screener question of: Do you own/use a Credit Card(s)?, with an answer of "Yes". GOBankingRates used PureSpectrum's survey platform to conduct the poll.