Nearly Everyone Making $100K+ Has a Credit Card — Does This Prove They're an Effective Way To Grow Your Wealth?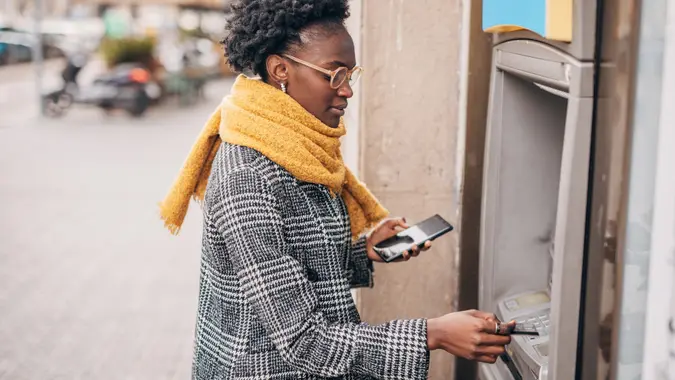 South_agency / iStock.com
When the Federal Reserve released its annual Economic Well-Being of U.S. Households report three weeks ago, it highlighted just how much inflation has affected the economic well-being and spending habits of Americans over the past year.
Automatic Millionaire' Author David Bach: These Are the 2 'Primary Escalators to Wealth'
More: 3 Signs You're Serious About Raising Your Credit Score
While the study found that Americans across all income levels are worse off now than they were a year ago, it also provided insight into several areas of individuals' financial circumstances, including credit card use.
Overall, 82% of survey respondents owned a credit card in 2022, but 98% with a family income of $100,000 or more had one. Less high-income individuals were denied credit or were approved for less than they requested, carried over credit card balances from month to month, used buy now, pay later purchase options and payday, pawn, auto title and refund anticipation loans.
As we know, credit is more readily available to those who earn more and who have the means to build it up and pay it off. We also know that credit cards are an effective way of spending money, but can they be used to grow wealth too?
While the Fed study doesn't prove the notion of high-income adults using credit cards to build wealth, there are ways to get richer through credit card use. But you'll need to spend and pay intelligently. Making a high income will open more doors and credit card options, but everyone, regardless of income, should avoid carrying balances and languishing in debt as they try these wealth growing credit card tips.
Turn Bad Credit Into a Good Credit Score
Granted, an excellent credit score won't put directly put money in your pocket, but credit cards can be used as a tool to earn you access to lower, more competitive interest rates and higher borrowing limits when you need a loan in the future.
Practicing healthy borrowing habits on a credit card — maintaining an on-time payment history, keeping your credit utilization ratio low and avoiding opening too many new accounts in a short period — will positively impact your score and save you plenty down the line.
Points for the Well-Traveled
Travelers choose their credit cards wisely, opting for the best travel rewards, promotions or mileage/miles earners. Leveraging your credit cards to redeem points for future flights, hotels, rental cars and other travel-related services is money saved on trips that you would paying for already and funds that can be diverted into investments.
Always be on the lookout for generous sign-up bonuses offered by credit card companies, as long as the spending minimums required don't put you in debt. Bear in mind that travel rewards cards often present larger bonuses and have higher spending requirements than cash-back cards.
Some companies will defer spending limits entirely and "reward you with a bonus immediately following account approval or after you make your first purchase," per CNBC Select.
Grow More With a Cash-Back Card
Points and travel rewards cards are all fine and good if you live to roam. However, if you want to grow your wealth, you should be focusing on cards that pay you to use them.
Rewards credit cards that pay cash-back on all purchases are the best way to build actual wealth because any money earned can be automatically deposited into investment accounts.  
"When I get this cash back, I have the money deposited directly into an investment account," said Christy Bieber, writing on The Motley Fool site. "It never hits my bank account, so I don't even see it or remember that it is coming. The funds automatically get deposited with my brokerage firm, and I can then use the money to invest in whatever assets I want."
Take Our Poll: Are You Concerned About the Safety of Your Money in Your Bank Accounts?I'm a Self-Made Millionaire: These Are Investments Everyone Should Avoid During an Economic Downturn
Those hesitant of racking up big purchases just to get cash-back should consider using a cash-back credit card instead of their debit card or cash for everyday purchases and let the money build through purchases you would be making anyway.
More From GOBankingRates