New Survey Reveals What Americans Hate Most About Credit Cards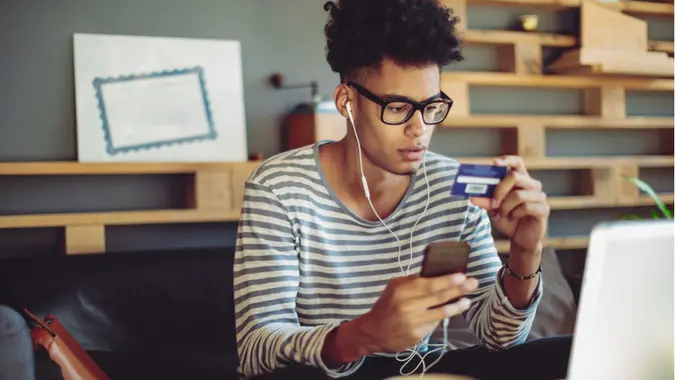 Eva-Katalin / iStock.com
Update: Some offers mentioned below may have changed or are no longer available. View current credit card offerings from our partners at CardCritics Here or on the issuer's website.
Credit cards have many benefits, from providing a financial cushion in case of emergencies, to helping build credit scores to accumulating rewards and perks. While there are endless cards to choose from, there is one aspect many Americans agree on:  Annual membership fees are the worst, according to a new survey.
Important: 
The new GOBankingRates survey, which questioned over 1,000 Americans, found that annual membership fees took the top spot in two ways: It was the top thing people tried to avoid when signing up, and 36% of those surveyed deemed it the fee they hate the most.
Indeed, 38% of Americans selected "no annual fees" as the most important factor when it comes to picking a new credit card. Those 65 and older especially ranked this as the top factor with 55% of respondents in this group picking it above all others.
Ted Rossman, senior industry analyst at Creditcards.com, tells GOBankingRates that the findings are consistent with what he's seen with customers. While he understands the hesitation, Rossman points out that sometimes "annual fees make a ton of sense. The card may come with ongoing rewards or bonuses, or perks such as getting in airport lounges."
"I would agree many people are shy, but I would note to customers that sometimes it's worth it," he says.
Sai Blackbyrn, founder and CEO of CoachFoundation.com, echoes the sentiment, telling GOBankingRates that the annual fee increases the cost of having the credit card, which can override the benefits of using that card.
Read: Jaw-Dropping Stats About the State of Credit Card Debt in America See: Why It's Still Better To Use Your Credit Card Over Your Debit Card
"In this current market, there are plenty of credit card providers who do not charge an annual fee for the card," he says.  "Individuals should only pay annual fees on their cards when there's a justification to do so, such as a large-enough onetime bonus, and/or bonuses and perks that far exceed the cost of the annual fee."
According to several experts, annual fees are so hated these days because they're so rare. It's easy to find rewards cards without annual fees. In fact, it's harder to find one with an annual fee. Howard Dvorkin, CPA and Chairman on Debt.com, tells GOBankingRates that when rewards cards first became popular in the late 80s and early 90s, many had annual fees. While many might have hated them, they didn't complain much – because there was nothing that could be done about it.
"Today, only two categories of cards regularly demand annual fees: the most generous airline-mileage cards and luxury cards like Chase Reserve and American Express Platinum – which top $500 and $600, respectively," Dvorkin says. "Even then, those cards market their rewards as covering their annual fees. So the days of paying for the privilege of using a credit card are thankfully dead and gone."
Andrew Latham,  a certified personal finance counselor and the managing editor of SuperMoney.com, says he is not surprised by this finding and it's in line with the latest data from the Consumer Financial Protection Bureau (CFPB) Consumer Credit Card Market study, which was conducted in September.
"I am not surprised that more people are balking at annual fees because the volume of annual fees has increased dramatically in the last few years. In 2020, the average annual fee was $94, according to the CFPB's report," he says.
"It's not shocking that fewer consumers are willing to pay an annual fee, particularly when they don't receive the rewards and perks available to consumers with excellent credit. According to the CFPB, all credit brackets, except superprime, have seen a decline in the number of consumers with a credit card account that charges an annual fee," he adds.
Another key finding of the survey is that building and repairing credit as a primary purpose for using a credit card becomes less important as one gets older. FICO research notes that 79 million Americans have subprime credit and 53 million don't even have don't have enough data in their credit files to generate a FICO credit.
Read More: Learn: 
The 18- to 24-year-old age group cite this as the primary driver, with 36%, followed by the 25- to 34-year-old age group, with 28%.
Creditcards.com's Rossman says that while conventional wisdom is that millennials and Gen Z Americans don't want credit cards, the reality is that they do but it's harder for them to obtain them for a slew of reasons. "Lenders got stricter, it takes credit to get credit, plus they have student debt and they're warry taking on more debt," he says.
The GOBankingRates findings are in line with those of Experian, which found in a recent survey that 36% of respondents say the primary purpose of a credit card is to build credit.
"Younger account-holders were more likely to emphasize the importance of building credit," according to the Experian survey.
Follow: Check Out: 
Jared Beilby, credit card analyst at MerchantMaverick.com, agrees as well, saying that the younger you are, the more necessary it is to flesh out your credit score because you need to apply for car loans or mortgages. "Once your credit history has matured somewhat, there's less of a need to hustle," he says.
Beilby adds that there's also overcoming the fact that credit scores factor in the length of a person's credit history. "Those with older credit histories won't be as impacted by changes to their credit reports because they already have a solid foundation and a long credit history. Younger people, on the other hand, need to work harder to overcome credit hiccups," he says.
Debt.com's Dvorkin adds that he is surprised that young people value building credit while older people value rewards, as young people don't have the income to make major purchases that result in significant rewards.
"I think that will change as more landlords accept credit cards for rent. But when that inevitably becomes commonplace, expect credit card issuers to tighten their rules – or heaven forbid, institute annual fees again on some cards!" he adds.
Read: Full vs. Partial Payments: 
The second most cited reason to get a credit card is for the rewards and perks, with 24% of the 35 to 44 age group and the 45 to 54 age group citing this; 25% of the 55- to 64-year-old age group and 28% of the 65 and over, the GOBankingRates survey finds.
The survey also shows that beyond annual fees, interest fees is the credit card aspect Americans dislike the most. The 25- to 34-year-old age group cited this reason the most, with 32%, followed by the 35 to 44 age group, with 29.13%.
"The best way is to pay in full and avoid interest," Rossman says. "One of the biggest misconceptions I see and a lot of people end up chasing rewards and carrying debt, it's a big mistake. Prioritize interest rates instead of airline miles."
More From GOBankingRates
GOBankingRates surveyed 1,009 Americans aged 18 and older from across the country on September 22 through September 23, 2021, asking twelve different questions: (1) Which of the following is the most important to you when it comes to picking a new Credit Card?; (2) How do you handle your Credit Card bill each month?; (3) Which Credit Card company do you trust the most?; (4) What age did you get your first Credit Card?; (5) What is your primary purpose for using your Credit Card(s)?; (6) Do any of the following statements apply to you? Select all that apply:; (7) Which Credit Card fees do you hate the most? Select one:; (8) How many Credit Cards do you own?; (9) What is your total current Credit Card debt?; (10) How Long do you think it will take you to pay off your Credit Card debt?; (11) Have you ever hit the credit limit on your Credit Card?; and (12) Have you ever charged any of the following to your Credit Card? Select all that apply: All respondents had to pass a screener question of: Do you own/use a Credit Card(s)?, with an answer of "Yes". GOBankingRates used PureSpectrum's survey platform to conduct the poll.
All information about American Express Platinum has been collected independently by GOBankingRates. American Express Platinum is not available through GOBankingRates.