Can You Pay Off a Credit Card With Another Credit Card?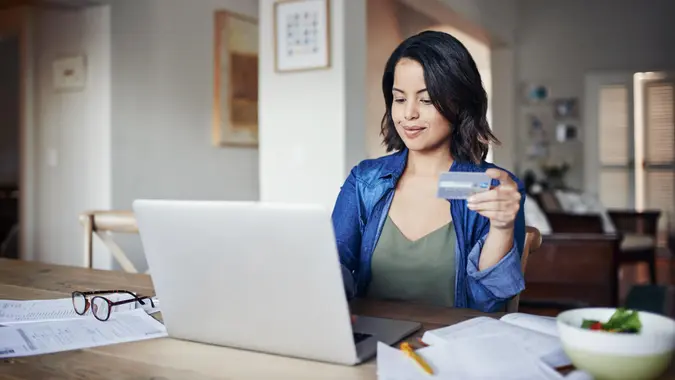 mapodile / Getty Images
It's never good to have credit card debt, but many consumers who have multiple cards might wonder whether they are able to pay off their credit card with another one. Well, the simple answer is yes, however you can't pay your monthly bills with another credit card, but instead use a balance transfer or cash advance. Therefore it's very important to understand how either option works if you're working to pay down your credit card balance.
When Can You Pay Off a Credit Card With Another
You can pay a credit card bill with another credit card, but it's not like a regular credit card purchase. This is done by using either a balance transfer or a cash advance.
Using a Balance Transfers To Pay Off a Credit Card
Used strategically, balance transfers can be a great option to save on interest. Many credit cards have 0% APR for balance transfers for the first year, among other perks, as a way to convince you to bring your debt from a competitor to the new card.
Pros
You can use this to your advantage if your current balance is something you can pay off within the first 12 months of having your new credit card.
This way you won't have to pay interest on your debt.
Cons
If you cannot pay off your balance by the end of the introductory period, then interest will usually be applied to the entire balance that you transferred, even the part you paid off.
If you had been carrying that balance for a while, that means you could end up paying interest on interest.
How To Do a Balance Transfer
You can do a balance transfer over the phone with an agent from your new credit card company or you can do it online. All you need is the account number from your old credit card and some patience. Banks want to make balance transfers as easy as possible, but they can still take some time.
Beware of Scams
Be wary of any agents that call you to take information for balance transfers that you did not initiate, especially if it's a recorded pitch. Calls like this are usually phishing scams. If this happens and you do want to do a balance transfer, then hang up and call your credit card company back on the customer service number posted online. Otherwise, you can report these scams to the Federal Trade Commission.
Paying Off a Credit Card with a Cash Advance
Take a look at some of the pros and cons of using cash advances.
Pros
The obvious advantage for cash advances is that cash is accepted everywhere.
You can take out a cash advance from one card and use it to pay off another if the card you want to pay off has a brick and mortar branch.
This works with cards that are issued through banks, but for cards that are online only, you would have to deposit the cash after having received the advance, making the whole process a little cumbersome.
Cons
This isn't a great idea if you have any other options.
Due to the Credit Card Accountability Responsibility and Disclosure Act of 2009, credit card companies can only charge a late fee once per every two statement periods.
Cash advances include an upfront fee, plus a higher interest rate than regular credit card purchases. It will probably cost more to take out a cash advance than to miss a credit card payment.
Takeaway

You can use one credit card to pay another in a roundabout way. Cash advances are rarely a good idea to pay off other credit cards. Balance transfers can save you money if used strategically, but they can increase your money woes as well. Make sure you do all your math before committing.
Our in-house research team and on-site financial experts work together to create content that's accurate, impartial, and up to date. We fact-check every single statistic, quote and fact using trusted primary resources to make sure the information we provide is correct. You can learn more about GOBankingRates' processes and standards in our editorial policy.