Survey: It's a Card-Obsessed World, but Cash Is Still King — Here's Why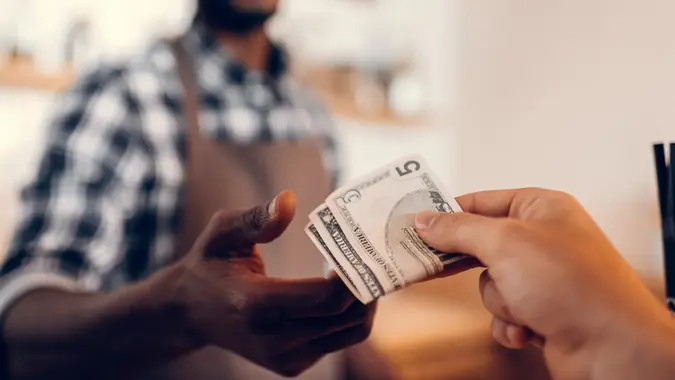 LightFieldStudios / Getty Images/iStockphoto
Unlike cassette tapes and tie-dye clothing, cash isn't making a comeback.
In a recent survey, U.S. Bank found that 50% of consumers carry cash with them less than half of the time. This discovery coincides with a New York Times report from November 2017, which found that 92% of American adults have made or received a digital payment — a sign that the mass exodus from paper currency has already begun. And, with help from new technology, some businesses across the country have even stopped accepting cash altogether.
But is cash really dead? Are Americans ready to make digital payments the norm, or will bills and coins still be a part of our lives for the foreseeable future?
To get a better idea of where Americans stand on cash, GOBankingRates surveyed 1,000 respondents and asked them about their preferred payment methods. It turns out that while cash is no longer king, it's still alive and kicking: More than 37% of Americans said they prefer cash to other traditional payment methods like credit and debit cards.
Keep Handy: Your Complete Guide to Cashier's Checks
Key Findings
Here's what GOBankingRates' survey discovered about Americans' preference for cash:
Cash keeps people from overspending. When asked why they prefer using cash, nearly 39% of Americans said it's because cash helps them avoid overspending and allows them to stay on budget. This was the most popular reason chosen among respondents who favor paper money.
Only 22% of Americans cited credit cards as their favorite payment method. This figure falls significantly behind cash, which garnered 37% of all responses.
Americans value convenience and safety. Thirty-four percent of Americans who prefer cash said it's the safest payment method that helps protect against fraud, and 33% said they use it because "it is accepted at most places and vendors."
Less than 4% prefer to pay with mobile payment apps and services. Mobile payment apps like Zelle can be convenient in certain situations, but as an everyday option, Americans would rather stick to more traditional and widely accepted payment methods.
Routing Numbers: What They Are and How To Find Them
Why Do Americans Still Prefer To Pay With Cash?
When it comes to paying for stuff, Americans appear to be traditionalists at heart. More than 37% of respondents said their No. 1 preferred or favorite payment method is cash. This was followed closely by debit cards at over 36% and by credit cards at 22%. Digital payment apps rounded out the responses, at a meager 4%.
Cash was either the most popular or second-most popular payment method among all age groups with the exception of older baby boomers, who split their responses almost evenly across credit cards (34%), debit cards (34%) and cash (32%).
Survey question: What is your preferred or favorite method of payment?
| | | | | |
| --- | --- | --- | --- | --- |
| Demographic | Cash | Credit Cards | Debit Cards | Mobile Payment Apps |
| Male | 39.5% | 22.7% | 33.6% | 4.1% |
| Female | 35.4% | 21.9% | 39.5% | 3.3% |
| Ages 13-17 | 52.4% | 11.4% | 30.5% | 5.7% |
| Ages 18-24 | 33.3% | 17.9% | 40.7% | 8% |
| Ages 25-34 | 34.3% | 25.7% | 33.3% | 6.7% |
| Ages 35-44 | 37.4% | 16.8% | 42.1% | 3.7% |
| Ages 45-54 | 37.7% | 20.4% | 39.5% | 2.5% |
| Ages 55-64 | 39.2% | 23.9% | 35.2% | 1.7% |
| Ages 65 and older | 32.2% | 33.9% | 33.9% | 0% |
In the 13-17 age group, more than 52% of respondents said they prefer cash and over 30% chose debit cards, which is no surprise due to this demographic's limited access to credit. Of all age groups 18 and older, those ages 55-64 were the most likely to choose cash as their preferred method of payment, at 39%.
While there's a popular sentiment that millennials are killing everything from the housing market to breakfast cereal, cash is apparently not among their victims. In the 25-34 age group, cash edged out debit cards by a single percentage point — 34% vs. 33% — as the most preferred payment method.
Check Out: Best Debit Card Rewards Programs
GOBankingRates asked survey respondents to explain why they prefer a specific payment method to the others. For Americans who prefer cash, it came down to a few notable reasons.
1. Paying With Cash Allows Them To Stay Within Budget and Avoid Debt
Nearly 39% of respondents who chose cash as their No. 1 payment method said using paper currency helps them stay on budget and avoid overspending. It was the most popular response among the given reasons. In addition, close to 30% claimed that cash helps prevent them from falling into debt.
However, the survey also found that 25% of cash users and 32% of debit card users live paycheck to paycheck, compared to only 16% of credit card users.
"Credit cards, particularly those with rich rewards and other perks, are often only available to the 28% of Americans who are financially healthy," said Colin Walsh, co-founder and CEO at Varo Money, citing data from a U.S. Financial Health Pulse report. "The other 72% of Americans … are more financially squeezed, and this large group of consumers often uses debit cards and cash to manage day-to-day payments and expenses."
2. Cash Is Safer — It Helps Protect People Against Fraud
One of the most popular reasons why Americans prefer cash is because they think it's safer than other payment methods. Of the respondents who chose cash as their preferred method of payment, 34% said cash is safer and protects them from fraud. Interestingly, female respondents were more likely to select this reasoning than male respondents, with 34% of women choosing this response versus only 24% of men.
Americans' fears of fraud are not unfounded. A February 2019 report from the Federal Trade Commission revealed there was a 24% increase in reported credit card fraud on new accounts from 2017 to 2018. Data also showed that credit card fraud was the most reported type of identity theft for the second consecutive year.
Given these findings and in the wake of high-profile data breaches from companies like Capital One, it makes sense that Americans might be becoming more reluctant to use their credit cards and are instead turning to cash for peace of mind and privacy.
Related: 5 Best Places To Get a Money Order
3. It's More Convenient Than Other Payment Methods
Convenience is key in the digital age, so it shouldn't come as a surprise that people's preferred method of payment is the one they find most handy. Those who chose cash as their No. 1 preferred payment method did so because it is "accepted at most places and vendors" and is "more convenient to use than other payment methods," with 33% and 29% of respondents selecting those answers, respectively.
Survey question: How often do you pay with physical cash?
| | |
| --- | --- |
| Frequency of Cash Payments | Response Rate for People Who Prefer Cash |
| A few times per week | 28.9% |
| Once per day | 14.7% |
| A few times per month | 13.6% |
| At least twice per day | 9.4% |
| Never | 9.4% |
| 3-4 times per day | 7.8% |
| 5-6 times per day | 5.9% |
| More than 6 times per day | 5.3% |
| A few times per year | 5.1% |
Using cash as a primary payment method, though, will inevitably lead to more trips to the ATM. As a result, you could find yourself being hit with pesky fees should you need to use an ATM outside of your bank's network. When asked which bank fees annoyed them the most, more than 38% of respondents who selected cash as their preferred payment method said ATM fees were the biggest annoyance.
While there are ways to find no-fee ATMs, the hassle of doing so might not be worth it for people who are seeking a little more convenience in their lifestyle.
Nearly Half of Americans Don't Use Payment Apps
Many Americans still haven't come around to digital payment apps or services. When asked which of the following payment apps they preferred, only a limited number of respondents across all age groups chose popular mobile apps — such as Venmo and Cash App — and digital wallet platforms like Apple Pay and Google Pay. Overall, PayPal was the top payment app, with 24% of respondents citing it as their favorite, followed by Venmo at 9% and Cash App at 6%.
However, nearly 50% of all respondents said they don't use any payment apps. This figure was, unsurprisingly, much higher among older generations. Of respondents ages 55-64, 59% claimed to not use any payment apps. Couple that with the 65% of respondents ages 65 and older who said the same thing, and you have a large swath of older Americans who are avoiding modern payment technology altogether.
Outside of a general lack of knowledge and understanding, there might be a number of reasons why payment app usage is so low among Americans. For instance, research by The Pew Charitable Trusts found that nearly 30% of consumers avoid mobile payments over concerns about loss of funds. Many consumers also have less trust in the protections behind mobile payments than those on debit and credit cards, with 38% of Pew survey respondents claiming that mobile payments are "poorly protected." Additionally, consumers in the survey cited mobile payment issues as being more difficult to resolve than traditional payment disputes.
How Alternative Payment Methods Can Impact Your Budget
Cash and debit cards are the two most popular payment methods among Americans, but people who prefer to pay with cash or debit cards appear to be less well-off financially than those who primarily pay with a credit card or mobile payment app.
About 19% of cash respondents and 28% of debit card respondents said they have very little money saved, compared with 16% of credit card respondents and 11% of mobile payment app respondents. Additionally, 10% of cash respondents and 9% of debit card respondents said they have trouble paying bills on time, while only 4% of credit card respondents admitted the same thing.
Survey question: Do any of the following statements apply to you? Select all that apply.
| | | | | |
| --- | --- | --- | --- | --- |
| Statement | People Who Prefer Cash | People Who Prefer Credit Cards | People Who Prefer Debit Cards | People Who Prefer Mobile Payment Apps |
| I live paycheck to paycheck | 25.4% | 15.7% | 31.7% | 16.2% |
| I have very little money saved | 19.3% | 16.1% | 27.6% | 10.8% |
| I struggle with following a budget | 10.7% | 6.7% | 21.3% | 13.5% |
| I have trouble paying bills on time | 9.9% | 4% | 9% | 8.1% |
| I have too much credit card debt | 7.8% | 8.5% | 12.8% | 8.1% |
| I don't make enough money | 10.4% | 13.5% | 13.9% | 13.5% |
| None of the above | 52.9% | 63.2% | 40.4% | 59.5% |
If you don't frequently review your checking account statements, relying solely on debit cards might make it harder for you to keep track of your budget, since you don't have the luxury of seeing how much cash you're siphoning out of your account every time you swipe.
To combat this, some banks that offer debit cards now also provide tools to help you stay within your budget. One example is Chime Bank, which touts an easy-to-use mobile app that's linked to customers' debit cards and allows them to stay on top of their spending and grow their savings. Such tools could help offset some of the pains that debit card users seem to be struggling with.
Similarly, there are situations where using a credit card makes more sense over cash. Whether a credit card helps you with budgeting or not depends on how you use it — as well as how often you use it — but if you're looking to build credit or make an expensive purchase that needs to be insured, a credit card is generally your best option. Just remember to pay off your balance in full every month.
And, while there isn't any hard evidence that suggests people who use mobile payment apps are better with their finances — in fact, a recent BBC News report claimed that contactless payment might be causing us to spend more — those who are technically savvy might be more inclined to use budgeting apps like Mint, which help consumers track their spending, create custom categories for their expenses and set savings goals.
Consumers should be open to experimenting with a mix of different payment methods to discover what works best for them. But, to avoid hurting their finances, consumers must also hold themselves accountable and take extra steps to control their budget and pay off any remaining debt.
A Case for Cash in a Card-Obsessed World
Cash's ubiquity and accessibility have helped keep it alive in an increasingly digital world. While you might occasionally run into the odd cafe or restaurant that doesn't accept cash, nearly every big-name business will take it.
Along with convenience, cash has a number of positive characteristics, some of which have already been discussed in this survey:
Physical cash can be easier to manage and budget.
Credit card fraud becomes a nonissue.
You can't carry a hefty balance.
You won't pay interest or incur any late fees.
Of course, cash comes with its share of drawbacks, like every other payment method. Theft is a major concern — if you lose your wallet or have your purse snatched, you may never see your money again. And, although a portion of survey respondents said cash helps them budget and avoid overspending, having a wad of cash in your back pocket can just as easily tempt you to spend more.
But tangible currency — despite its messy, antiquated nature — still offers consumers a level of financial control and privacy that they might not get with cashless alternatives.
The Future of Cash in the Age of Technology
Barriers for a cashless society still exist. For one, getting rid of cash could create problems for millions of people who still rely heavily on it. The most vulnerable include underprivileged, disabled and elderly people, as well people living in rural communities where high-speed internet connections are often less reliable or — in some cases — nonexistent. Should their country transition too quickly to a cashless society, these groups could face increased risks of financial abuse, isolation and debt.
"The vulnerable are rarely early adopters (of technology), and technology is often designed for the mass market rather than for the poor, rural or vulnerable," said an Access to Cash Review report from March 2019. "As it stands, there is a risk that digital payments innovation could continue to focus predominantly on the 80% who are mainstream adopters, not the 20% with more challenging needs."
Before society can truly become cashless, concerted efforts are needed to ensure that those who are most vulnerable to technological advances aren't left behind. At the same time, with more people carrying less cash and digital payment systems growing in popularity, it's not unreasonable to think that cash might become obsolete in our lifetime. But, for now, it isn't completely dead.
More From GOBankingRates
Last updated: Oct. 23, 2019
Methodology: GOBankingRates conducted an online survey, polling 1,000 people from across the United States, and asked them the following questions: (1) Think about your No. 1 preferred or favorite payment method, and select one of the following statements that apply to you the most; (2) Which of the following reasons best explains why cash, debit, credit or an app is your No. 1 preferred payment method? Select all that apply; (3) Which of the following fees annoy you the most? Select one; (4) Which of the following payment apps do you prefer? Select one; (5) How often do you pay with physical cash? (6) Do any of the following statements apply to you? Select all that apply. This survey was commissioned by ConsumerTrack Inc. and conducted by Survata, an independent research firm in San Francisco. Survata interviewed 1,000 online respondents between Sept. 20, 2019, and Sept. 23, 2019. Respondents were reached across the Survata publisher network, where they take a survey to unlock premium content, like articles and e-books. Respondents received no cash compensation for their participation. More information on Survata's methodology can be found at survata.com/methodology.